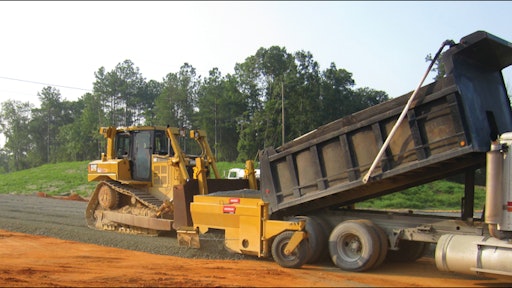 Prince Contracting was recently awarded the Fall Line Freeway project, its first project for the Georgia Department of Transportation. Construction began in July 2011. Prince's 7.5-mile segment, located east of Macon, is part of the 215-mile, four-lane highway stretching from Columbus to Augusta, GA.
Prince's crew chief, Harold Gilliam, a 25-year veteran of the road construction industry, is responsible for making sure that the road base material is correctly and efficiently installed. Although Gilliam comes from the world of using the older "dump spread" method of spreading base, the contractor chose to use an alternate solution to speed completion time and save cost.
A faster, more accurate spreading alternative
Traditionally, contractors "dump spread," or dump directly from the truck onto the sub-grade with the truck moving slowing forward. Although commonly used in road construction, it can be very inconsistent as far as the depth of base dumped along the finished sub-grade. 
It also presents a host of challenges to get the base to exact grade and compaction to pass inspection. Contractors experience road base material waste and segregation because of the need to re-grade material three to five times to get the grade right. The more the material is worked, the more difficult it is to compact.
As such, Prince chose to use a DoMor Rivinius R-600C grading attachment on the blade of its Caterpillar D-6T Tractor to spread road base material. With the base spreader attachment, road base material can be quickly and accurately installed at depths from 2 to 22 inches, and widths of up to 16 feet in one pass. The R-600C quickly attaches to a dozer or loader and can be set up and operational on a jobsite in 20 minutes.
The contractor previously averaged less than 2,000 linear feet of base using a traditional dump spreading method. Using the base-spreader attachment, Prince has been able to increase daily road spread to 3,400 tons of base material and 3,200 linear feet of graded and compacted base that passes inspection.
The results have certainly made a convert out of Gilliam. "I wouldn't want to provide a graded and compacted base on any road without using the R-600C," he states. "It would take me twice as long without it and would cost more than $ 1,000 per day more with machine and operator time."
He adds, "It used to take our motor grader nearly three days to complete what the R-600C gets done in one day. I have been in road construction for a very long time, and I haven't ever had a more predictable and consistent method for installing road base."
Check out the Domor Rivinius R-600C in action.
About Prince Contracting:
Prince Contracting is a civil construction company that specializes in highway and bridge construction and site development projects. It was founded in 1983 and is headquartered in Tampa, Florida with offices in Florida, Texas, and Georgia.
About DoMor Equipment:
DoMor Equipment has more than 40 years experience designing and manufacturing grading and gravel-spreading attachments for heavy-, medium- and light-duty equipment under the Rivinius and Duragrader brand names.