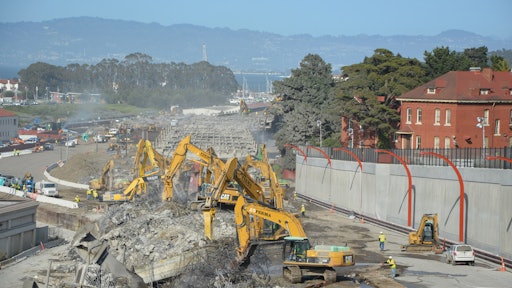 Information from this article was first published in Demolition Magazine and is being reused with permission from the National Demolition Association.
The Challenge:

Remove 285,000 square feet of roadway and separate the concrete and rebar over one weekend, finishing in time to reopen the road for the Monday commute.

The Players:

Ferma Corporation

The Process:
National Demolition Association member Ferma Corporation of Mountain View, Calif., rolled out a fleet of nearly 40 pieces of equipment and demolished the creaky and aging southern approach to San Francisco's fabled Golden Gate Bridge, known locally as Doyle Drive, in just 57 short hours over one weekend in April 2012.
Deploying up to six excavators at a time on each stretch of roadway, the contractor made sure the 76-year-old highway, a segment of U.S. Highway 101, came down perfectly according to plan. Work began Friday night after rush hour and finished – including the new temporary roadway – by the Monday morning commute.
Ferma's fleet included excavators ranging in size from the CAT 5110 down to smaller excavators including CAT 385s, 375s, 365s, 345s and 330s. The 5110 crushed through the roadway while the companion machines crushed the debris and separated the rebar from the concrete.
Using hydraulic shears and hammers, Ferma removed 285,000 square feet of roadway over the weekend, reducing it to 65,000 tons of debris including approximately 5 million pounds of steel in addition to concrete and other materials.
Ferma loaded huge chunks of the demolished roadway into its fleet of articulated dump trucks to remove it for processing later. This allowed road building and paving crews to get the temporary bypass in place. The bypass will move traffic through a new tunnel and features a movable median barrier to meet changing traffic demands while crews construct a permanent $1.1 billion replacement for the old Doyle Drive. The new roadway will be branded the Presidio Parkway when finished in 2015.
Ferma spent the next several months processing the materials. The concrete was crushed for use as roadbed for the new Presidio Parkway. The steel was melted down and recycled for other uses.
The entire project progressed smoothly and was completed ahead of schedule. Ferma's work, and the cooperation of passing motorists, was highly praised by the transportation agencies overseeing the project.