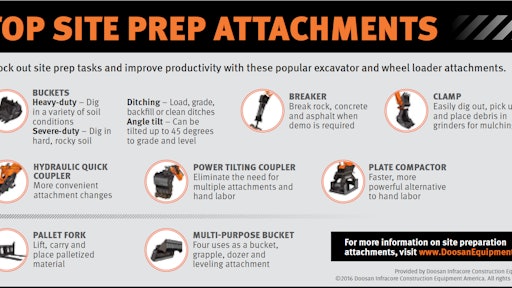 Pairing an attachment with the proper excavator or wheel loader can help you adjust to changing market conditions, replace less efficient machines and significantly increase your equipment's versatility. By considering the following excavator and wheel loader attachments, as well as attachment coupling systems, you can determine which machines and attachments will help you meet, or even exceed, project deadlines as well as increase machine productivity.
When You Need to Dig In
Most construction equipment manufacturers provide a variety of buckets to meet different jobsite ground conditions. They can include heavy-duty, severe-duty, ditching and angle tilt buckets.
Heavy-duty buckets work well in a variety of soil conditions, such as clay, gravel, sand, silt and shale, making them the most common excavator bucket type, according to Lee Smith, Doosan attachment product specialist. The buckets are manufactured with high-quality, abrasion-resistant material, durable side cutters for extra strength and protection, along with bottom wear pads.
Severe-duty buckets are best suited for handling abrasive materials or digging in hard and rocky soil. They are manufactured with abrasion-resistant material for added protection and strength when digging in rock. Reinforced gussets help strengthen the machine-fitting joints for additional uptime protection.
Ditching buckets provide optimal versatility when loading material, grading, backfilling, cleaning ditches for improved drainage and working on slopes. Standard features of these buckets include a lift eye for lifting or craning applications, weld-on side cutters and a reversible bolt-on cutting edge to leave the work area smooth once the job is completed.
Angle tilt buckets can easily grade or level an area without repositioning an excavator as frequently. The buckets can be rotated up to 45° either direction of center, and they are equipped with an adjustable tilting speed with auxiliary hydraulic flow control valves.
Beyond the Bucket
Hydraulic clamps are commonly used in site preparation, such as removing unwanted vegetation (trees, brush, etc.). When paired with a bucket, clamps can easily pick and place material or remove unwanted debris. Clamps work well in loading and filling applications such as placing organic waste from trees and other materials in a tub or horizontal grinder for mulching purposes.
Iowa contractor Dean Mount, owner of R&R Mount Farms, says combining a hydraulic clamp with his excavator's bucket expands his company's versatility for site prep projects. The excavator bucket provides more precise control for digging out tree trunks and scooping trees, stumps and root balls. The clamp secures the material, allowing him to place tree roots on the outer edges of brush piles for rinsing from the rain and better drying before burning.
"I always want a clamp if I am clearing trees," says Mount. "It speeds up the work and I can shake the dirt out of a root ball and place a tree higher. I push a button and it is out of my way for dirt work and digging deep holes, but it is there at the touch of my thumb if I need to dig up something that needs moved."
Similar to a clamp, excavator grapples easily handle hard-to-manage material. Grapples are able to grab and hold debris using their four hydraulic tines.
For demolition projects, hydraulic breakers can be used to help break rock, concrete or asphalt. They offer a choice of tool points including moil, blunt, chisel and pyramidal/nail, depending on the manufacturer.
For compaction tasks, plate compactor attachments create a more powerful compaction force, eliminating the need for workers to compact soil in a trench with a walk-behind unit. A standard flow control delivers the right amount of compaction, especially when forming trenches. Plate compactors may be attached to crawler or wheeled excavators, depending on the ground conditions, and some models feature a flat-top mount design to allow the same plate compactor to be mounted to different carriers.
Pallet forks are designed to efficiently lift, carry and place palletized materials. This loader attachment provides good visibility for picking up and placing materials, and is available with manually adjustable tines or hydraulically actuated tines, depending on the manufacturer. Tool carrier iterations of wheel loaders are ideally suited to move pallets, pipe and other materials around a jobsite.
Accessories for Enhanced Uptime
Hydraulic quick couplers make it easier and faster to change buckets and other attachments while on the jobsite, increasing overall productivity. In addition, Smith says excavator operators are more likely to use the right-size bucket to best match the digging conditions to prevent over- or under-digging.
A power tilting coupler for an excavator can eliminate the need for multiple attachments on a jobsite. Depending on the excavator model and applications, a power tilting coupler can angle a trenching bucket, ditching bucket or hydraulic breaker 90° left or right for up to 180° of flexibility. Power tilting couplers can help save time because operators may not need to reposition the excavator as frequently while working, or stop to change the attachments to perform certain tasks.
Just as jobsite conditions determine which machine is best used, they also determine which attachment to use. Evaluating the different options available can allow you to better assess which attachments can help you and your operators work most efficiently.