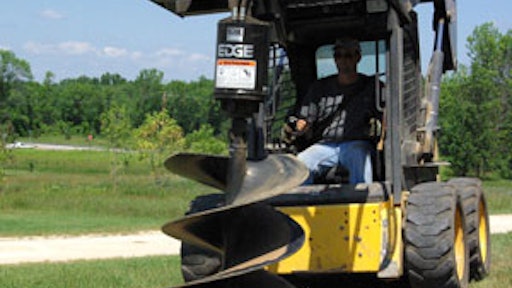 When matching an auger attachment with compact construction equipment, there are three primary items that go together to put together the overall package: Auger Drive > Mounting plate > Auger bit.
Hydraulic Flow
Before you can choose your auger drive, you need to first and foremost know the Gallons Per Minute (GPM) and Pounds Per Square Inch (PSI) of the hydraulic pump on the unit that will be running the auger attachment. "When you know the GPM and PSI numbers, you will then be able to select an auger drive that properly interacts with your equipment," says Glenn Danuser, Vice President of Danuser.
Auger Drive
When you know the hydraulic flow and pressure requirements for the unit you will be using the attachment on, your next step is to select the size of the auger drive. The size of drive you are allowed to use is dependent on the flow and pressure requirements of the unit.   Auger drives are available in planetary or chain reduction.
When choosing a planetary drive you will need to choose between torque and speed.  If your ground is rocky or tougher digging, you will need the torque route.  If your ground is mostly dirt, you will need the speed route.
Planetary drives provide more torque, less maintenance and overall longevity as compared to chain reduction units. Though chain reduction units tend to be cheaper in price.
Mounting Plate
Mounting the auger drive to the piece of construction equipment will be dependent on the type of unit being used. "Mounting plates are pretty universal for skid steers," says Ron Peters, Product Manager for CEAttachments. "The auger drive will attach to a universal mounting plate."
However, mounting plates for compact excavators typically change from model to model. Hose length also varies quite a bit on excavators, basically because there is no standard.
Though mounting plates change from skid steer to compact excavator, it is possible to use a single auger drive system on both types of machinery. "Depending on GPM and PSI requirements, you could get one auger drive for both skid steers and compact excavators," says Danuser.  A separate mount would need to be purchased or rented for the skid steer and or compact excavator. Peters adds that the user would most likely need to change hose lengths when going from an excavator to skid steer or the other way around.
Auger Bit
"You need to know the ground conditions for your job," says Danuser. "Once you know what diameter and depth of the hole your job requires, contractors can pair auger bits with an auger system. Make sure you pick an auger diameter that is within the range the auger drive system can handle."
As there are a wide range of bits that fit an auger drive unit, the other item to note is if it is a hex or a round bit.  "Hex bits are a little more popular in the construction market as hex gives users a 100% guarantee it will not shear a bolt," says Danuser. "The hex provides more strength and you'll never break a bolt. With the round, there is possibility you'll shear a bolt but the motor will typically bypass and shut itself down before it shears the bolt."
Though auger drives are set up to accept hex or round bits, Peters states that most auger drives can be fitted with an adapter that will allow a hex drive to accept a round bit or in the other direction. Danuser adds that if customers have acquired round auger bits they will want a machine to run those bits. If they're starting from scratch, they'll typically go the hex route.
Making Auger Attachments more Useful
In addition to adapters there are auger extensions for customers who want to dig deeper. Also, once you have the drive in place you can swap bits in and out to meet the demands of the project. "You could put a rock auger bit for one job and then put a standard dirt auger on it," says Peters.
Putting it All Together
Simplified, to match an auger attachment with a piece of compact construction equipment:
Use the GPM and PSI of the unit to determine the auger drive you can use
Match the auger drive to the type of mount on the machine you will be using
Select the appropriate bit(s) hex vs. round that your drive accepts (don't forget about adapters to use all types of bits) and that best fit your application
Companies in this article