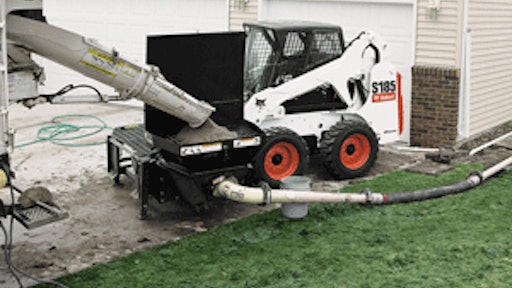 They're on the job from the beginning, and they don't leave until it's done. Through all phases of a job, they're doing multiple tasks, making them productive members of the workforce. What are they? Skid-steer loaders. What makes these machines so versatile? Attachments.
Attachments increase productivity and reduce labor by decreasing the amount of work that is done by hand. Multiple attachments used on one carrier is the solution to completing many different tasks and lowering equipment costs. When one machine can do many things, it eliminates the need for multiple pieces of equipment that are dedicated to one job.
Beyond the attachments dedicated to concrete work, a concrete contractor will find just about any attachment useful. These attachments assist with every phase of concrete projects. Here's how:
Site preparation

There is no more critical phase to a concrete construction project than site preparation. One attachment that aids contractors with this stage is the grader attachment equipped with a laser control kit. K+L Construction Inc., a commercial concrete contractor headquartered in Moorhead, Minn., uses the laser-equipped grader to level sand. "It's not unheard of for one worker to single-handedly level 6,000 square feet in 45 minutes. It would take a half-dozen guys a couple hours to do about the same work without the laser grader," says Josh Krieg, a project manager with K+L Construction. "It saves us time and manpower. We use it once or twice a week and wish we could use it more."
Krieg's crews use the Bobcat® grader and laser control package for more precise grade control in concrete flatwork. The laser system automatically adjusts the blade height to keep the base material within plus-or-minus .25 inch of grade.
Greg Rostberg, a marketing manager with Bobcat Company, recommends flatwork contractors should consider purchasing a laser control system. The system can be used with a grader or box blade attachment. "When used with the laser, these attachments can quickly pay for themselves within a couple of pours because the precise control function saves time, concrete and labor," says Rostberg. "Jobs that once took a half-day with three or four people can now be more accurately finished in a little over an hour with only one person."
Other attachments used on loaders to perform site preparation are augers, which dig footings and place piers. Backhoe attachments also dig footings, as well as foundations and trenches. Planers mill down concrete curbs and shave off high spots to level the surface. Wheel saws make clean cuts in concrete to repair damaged areas. Vibratory rollers and trench compactors compact soils prior to pours. Contractors will even find land-clearing attachments, such as brush saws and rotary cutters, useful for initial site preparation.
Often, preparing a site means demolishing and clearing away old concrete. Hydraulic breakers excel at this task. Another attachment, the drop hammer, offers contractors the ability to break large areas of concrete they might not have even considered breaking in the past. In addition to demolishing concrete up to 18 inches thick, the drop hammer does not displace the surface. This means the loader can drive over the work area until breaking is complete, which is not possible with a hydraulic breaker.
After concrete is demolished, it needs to be hauled away. Grapples are excellent attachments for this job because they easily grab odd-shaped objects, like pieces of broken concrete.
Pouring concrete

When it's time to pour concrete, there are three attachments that can assist: the dumping hopper, concrete mixer and the concrete pump. When a concrete truck can't get to the places where concrete needs to be poured, all three of these attachments can transport the concrete. Concrete can be loaded off the truck, placed in the dumping hopper, and transported to the site, similar to a power buggy. "A power buggy only has one function," says Rostberg. "Concrete contractors should get as much as possible out of their equipment investment and use machines that can do many things."
The concrete mixer can also transport concrete, but does not have the capacity of the dumping hopper and is better suited for mixing small batches of concrete on-site for sidewalks and driveways. On large jobs, the concrete mixer is good for finish work.
Even when a concrete truck can access the area of the pour, using a concrete pump to convey the concrete will prevent the truck from damaging existing property. The auxiliary hydraulic system of the skid-steer loader powers the concrete pump attachment, which can move 12 to 15 cubic yards an hour. If the skid-steer loader has a high-flow auxiliary hydraulic system, the pump attachment can move up to 25 cubic yards an hour. The attachment can pump concrete 250 feet horizontally or up two stories vertically. The pump's capabilities depend on hose length and diameter, conditions such as slump, additives and aggregate size and type. The maximum aggregate size the pump is able to move is 1.5 inches.
Gus Antoniou, owner of G & D Excavating in Lyons, Ill., does concrete work in addition to excavation. Antoniou owns a Bobcat concrete pump attachment and runs the attachment on his Bobcat S300 skid-steer loader. Antoniou likes the concrete pump because hiring a concrete pump truck is expensive and sometimes the truck cannot reach the areas where he is pouring concrete.
During one project, Antoniou poured 50 cubic yards of concrete on a second-story floor in a warehouse. Due to the jobsite conditions and where the concrete was to be placed, a concrete pump truck wouldn't work. Antoniou turned to his concrete pump attachment to transport the concrete. The concrete mix trucks delivered the concrete directly to the pump.
With his crew waiting on the second floor, Antoniou controlled the concrete pump with an integrated remote attachment control. This remote saves labor because it eliminates the need for a second operator to be at the machine and enables Antoniou to operate the skid-steer loader and the pump from the second floor. Should any unforeseen problems occur, the remote has an emergency stop button.
"The concrete pump attachment is more convenient when we place the material because we can control the speed at which we place it. We don't get big surges in concrete. We get a steady, constant flow of concrete, and that gives the laborers and finishers the right amount of time to place the material," Antoniou says.
Since the concrete pump helped Antoniou meet his deadlines, he was able to pay for the attachment after three jobs. The concrete pump does more than pour floors. Other contractors have pumped concrete for vertical wall forms or Shotcrete applications for swimming pools, hot tubs and retaining walls.
Cleanup

A job isn't complete until everything is cleaned up, and attachments make quick work of this phase. Sweepers and angle brooms clear away debris.
"The sweeper attachment allows a contractor to collect debris like rocks, concrete rubble and dust in the bucket and remove it from the jobsite," Rostberg says. "The operator can then dump the debris in a Dumpster, truck or pile outside the work area."
Get more done with one machine

Rostberg recommends that concrete contractors rent an attachment before deciding to purchase. How often an attachment is rented will determine whether a contractor should make a purchase. "A general rule of thumb is that if you find yourself renting an attachment more than 25 to 30 percent of the time, then purchasing the attachment will likely save money," Rostberg says.
In tight economies, there's still work to be done, but it needs to be completed as efficiently as possible. Attachments allow skid-steer loaders to perform a variety of work and replace a fleet of machines that are dedicated to certain tasks, which lowers equipment overhead. Attachments cut down on the number of people it takes to do the work, saving on labor costs. These benefits make attachments a valuable commodity for any concrete contractor.