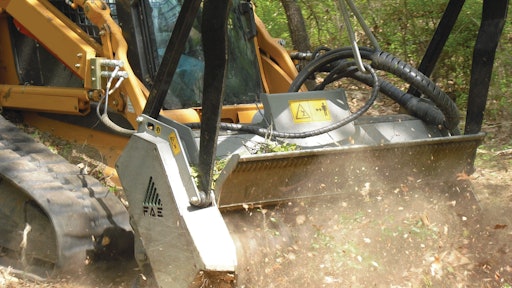 Mulching attachments can equip your skid steer eat up to 8-in. branches and stumps for effective land clearing, but your success depends on finding the right combination.
"When matching a mulching attachment to a skid steer or compact track loader, important considerations include available power to the attachment, operator protection and tractor guarding, lifting capacity of the tractor, type of undercarriage (wheels or tracks) and performance expectations," says Mike Slattery, Fecon. "In most cases, this category of equipment is suitable for a steady diet of 3- to 4-in.-diameter material with intermittent processing of 6-in. to 8-in. material."
Ron Peters, product manager with CEAttachments, emphsizes that the most important consideration is to match the hydraulic requirements of the attachment and the machine.
Go with high flow
"We always suggest our clients outfit their high-flow carriers with our attachment when possible," says Francisco Rosales, marketing coordinator at FAE USA Inc. However, the company offers its UML/SSL mulching attachments for both standard- and high-flow skid-steer loaders.
"Production speed greatly depends on available horsepower, the type of hydraulic motor (variable vs. fixed displacement) and the type of cutting tools used," Slattery points out. "Most heads in this class today are being shipped with variable-displacement motors that provide greater performance over fixed displacement.
"When it comes to horsepower, it is important to have a high-flow circuit and at least a 70-hp engine," notes Slattery. "Most current production tractors equipped with high flow have engine options of 70 to 100 hp and high-flow circuits producing appropriate hydraulic horsepower for mulching."
But there's more to consider than engine size and hydraulic flow. "One brand of skid steer may have more or less flow than another. But depending upon pressure, they could offer similar hydraulic horsepower, which is ultimately what counts," explains Slattery.
Hydraulic horsepower is calculated by multiplying flow and pressure, and dividing the product by 1,714. "As a rule of thumb, most people will go for as much horsepower as they can afford, especially for commercial use," Slattery notes. "But there are users – mostly non-commercial – that may be willing to trade off some performance to save on the equipment purchase."
Options for standard-flow loaders
Because standard-flow skid steers are much more common than high-flow machines, many mulcher manufacturers offer attachments specifically designed to maximize standard-flow hydraulic horsepower.
"The hydraulic requirements of the EDGE Mulcher attachment are 16 to 21 gpm and 2,500 to 3,500 psi for running on standard-flow machines," says Peters. "The EDGE Mulcher comes standard with all of the features you would want, including a safety pusher bar, rear chain shield, pressure gauge, relief valve, skid shoes, carbide-tipped teeth, as well as the necessary hoses and flat-face couplers."
A safety pusher bar forces brush or small trees down and allows the mulcher teeth to contact the lower portion of the brush to mulch it. The rest of the plant gets mulched as the machine moves through the working area up to 1-in. below grade.
"The rear chain shield helps contain the debris that has been mulched," explains Peters. "A pressure gauge is located on the back of the mulcher, in view of the operator."
Skid shoes keep the teeth grinding at ground level for a smooth, level mulched surface.
"There are 96 carbide-tipped teeth for long tooth life, smooth operation and fine mulch," notes Peters. "The rotor is designed with six staggered rows of teeth around the rotor circumference. A relief valve in the hydraulic circuit prevents overloading any drive components."
Another option is the self-powered brush shredder attachment. Unlike hydraulic heads, these attachments carry their own engine and will do not impinge on the carrier's hydraulic power. Sneller makes a 60-hp shredder that weighs 2,500 lbs., which is compatible with large skid-steer loaders. The Shredder 60 delivers all 60 hp from its Caterpillar 2.2 engine directly to the cutting head.
Find the safest combination
Cutting widths for mulching attachments typically range from 50 to 70 in., with the majority of sales around 60 in. When pairing the attachment with the carrier, make sure the tractor can effectively manage the weight of the head while still performing other functions. Also consider balance. "Some brands offer counterweights or winch options to help with balance if necessary," says Slattery.
Take typical ground conditions into account when selecting a machine to pair with an attachment. "Tracks and wheeled skid steers both have their strengths," Slattery says. "But in the mulching industry, tracked vehicles have become the popular platform for characteristics including lower ground pressure, traction and stability on slopes."
It's also important to make sure the carrier has effective guarding to protect both the operator and tractor. "Most tractor manufacturers offer forestry protection packages for mulching applications," says Slattery. "At a minimum, the packages will include an approved polycarbonate front door and Falling Object Protection (FOPS). Brush screens over the front door and side windows are also common.
"The manufacturer may also provide better sealing of the air intake areas of the engine and hydraulic cooling systems, and offer an optional rear bumper to protect the tractor," he adds.
Safety features should be a priority. Some attachments offer doors as an option and charge more for this key safety feature. "Our equipment comes standard with hydraulic doors and protective debris chains," says FAE's Rosales. "The door keeps material from flying away. By keeping the door closed, you also give the material a longer time inside the rotor, which will produce a finer mulch at the end."
Match teeth to the task
"Selecting the right tool for the job is one of the most important things an operator has to do to get the desired results at the jobsite," says Rosales.
FAE offers four types of tools for different applications and conditions. "We are aware of the different types of terrain and applications. This is why we have created tools for different jobs," says Rosales. "We have tools that will be able to withstand contact to the ground, rocks, sand, etc., without compromising the mulching ability of the tool."
Do your research. "People often ask what tools to run in their mulcher and the response depends on their requirements," says Slattery. "Fecon offers a variety of tool choices, including double carbide (standard), knife tools, stone tools, narrow carbide tools and severe-duty tools.
"For the compact class, most people run the standard double carbide tool, the knife tool or a combination," he points out. "For all-around use, the double carbide tool provides a great balance of production, durability against impact with rock and service life against abrasive soils."
Slattery notes that 300 to 500 hours of tool life is common, but results vary based on conditions.
In some cases, knife tools offer advantages. "Optional knife tools are chosen for faster cutting. [Customers report 30 to 50% improvement] and finer material size," says Slattery. "Some people even report better fuel consumption using knife tools.
"The trade-off for knife tools is a shorter life and recommended daily sharpening that may or may not be required based on conditions," he continues. "Knife life varies greatly, but we suggest about 100 hours per edge. Knife tools are not intended for operation in areas with rock, or applications where working the soil regularly is required."