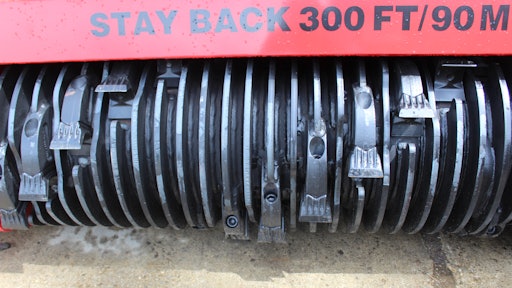 Fecon
Excavator-mounted mulcher attachments are gaining in popularity and are rapidly overtaking a larger portion of total mulcher attachment sales. Whether they are clearing brush for new construction, maintaining rights of way for pipelines or utilities or clearing fence rows, these attachments are now heavily relied upon for a myriad of reasons. However, all of these applications have one thing in common -- they often result in a severe-duty environment. Properly maintaining a mulching attachment keeps it performing at its best and avoids downtime. 
Unlike a skid-steer-mounted mulcher, which typically works out in front of the machine, an excavator-mounted mulcher is often reaching up into a tree, over a creek bank or up a steep slope where a skid steer can't access. Proper preventive maintenance gives operators the confidence to know that the mulcher is in proper working order even when they can't always see it.
Planning preventive maintenance for the attachment can eliminate significant potential downtime and allow you to better budget your maintenance costs. Developing a budget for maintenance involves consideration and evaluation of the following components weighed against your operating conditions.    
Drive Components 
Like skid-steer-mounted mulchers, excavator-mounted mulchers transmit power from the hydraulic motor to the rotor through polychain belts, which should be inspected weekly prior to operation. There is a belt inspection cover that allows for easily checking the condition and tension of the belt. Always follow manufacturer guidelines for proper belt tension. Although polychain belts can last much longer, in most cases budgeting for changing them at 1,000-hour intervals will help ensure uptime and should leave you with a usable spare belt for an unexpected emergency.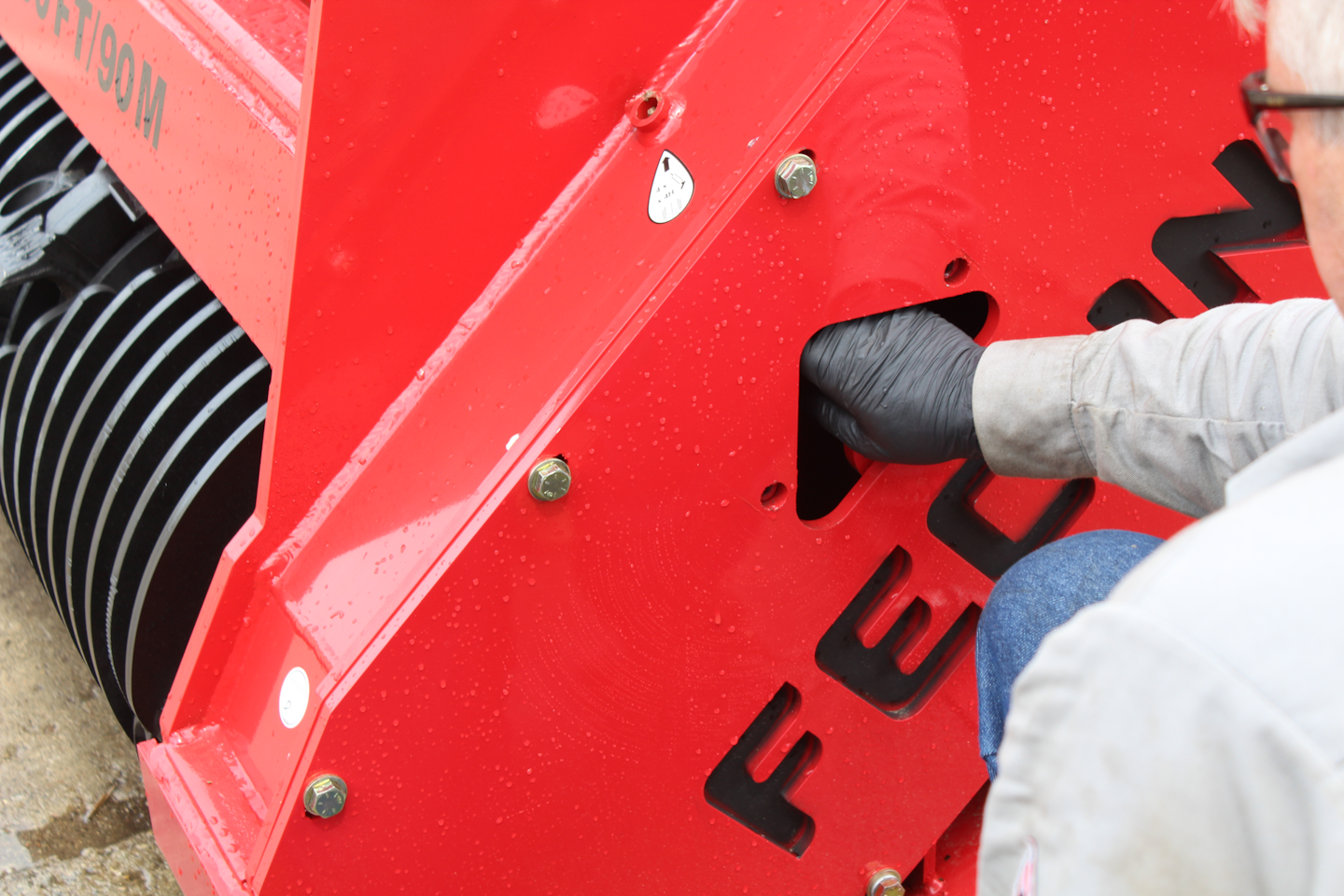 A belt inspection cover allows for easily checking the condition and tension of the belt.FeconSheaves and bearings are also components that enable the belt to transfer energy from the motor to the rotor. Generally, the sheaves themselves last many thousands of hours, but should always be inspected for damage or wear to ensure their service life. Bearings will need much more frequent replacement. The service life of bearings is heavily dependent on many factors, including type and rating of the bearing, frequency and type of grease, exposure to water, dirt, sand or debris or even the position of the mulcher during use.
If the operator is swinging through brush or reduces a tree that's laying on the ground, then the bearings are being used in a position for which they were designed and should last for 1,000 hours or more if properly maintained. However, when the mulcher is used to reach up into a tree to fell it or for trimming branches from the side of the tree, the bearings are not in a position for which they were initially designed. This is called side loading and it can significantly shorten bearing life.
In general for preventive maintenance purposes, manufacturers suggest budgeting 1,000 hours for mulcher bearings. However, if you are side loading the bearings often, you should cut that in half and plan on a 500-hour scheduled replacement. Actual experiences will also vary by size and weight of mulching attachment.
Each bearing should also be lubricated according to the manufacturer's recommendations. Too much grease is as bad as not enough. Fecon recommends greasing the main rotor bearings with four pumps of grease every four hours of operation.
Hydraulics
The hydraulic motor in a mulching attachment is the "heart" that pumps the lifeblood of your system (hydraulic fluid) to keep the mulcher producing results. One of the most common and most costly failures experienced during mulcher operation can be a shaft seal failure or even a ruptured hydraulic motor case.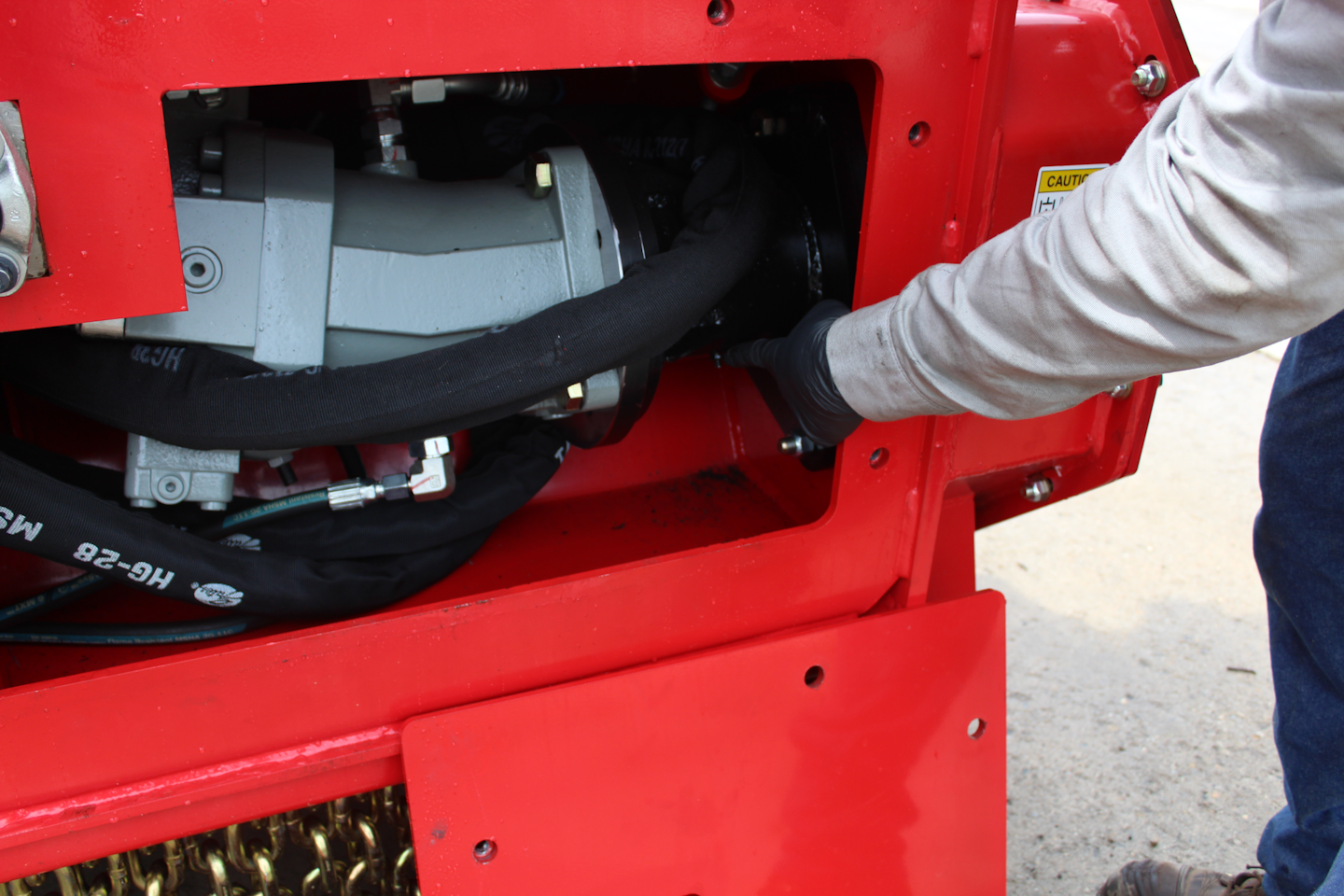 During the daily inspection, always look at the hydraulic motor area for leaks in the attached hoses and fittings and to ensure the area remains clean and free of debris.Fecon

During their daily inspection, operators should always look at the hydraulic motor and the area it is housed in. Make certain there are no leaks in the attached hoses and fittings and that the area remains clean and free of debris. Also inspect hoses and fittings from the mulcher back to the carrier to ensure tight, leak-free connections. A loose case drain line connection can restrict hydraulic flow.
Cutter Teeth
The cutter teeth are where the work happens, so this area is typically the most high maintenance on the implement. With the power off, operators should rotate the cutter head and inspect each knife or tool looking for worn, damaged, broken or missing cutters. Worn blades can be sharpened, while broken, damaged or missing teeth should be replaced. Replace any bolts or nuts at this time, as well. 
If the manufacturer supplies a gauge for sharpening their tools, use this to keep the correct angle on the knife edge. For example, Fecon supplies a gauge for sharpening the Viking Axe and Sword tools to ensure maximum service life.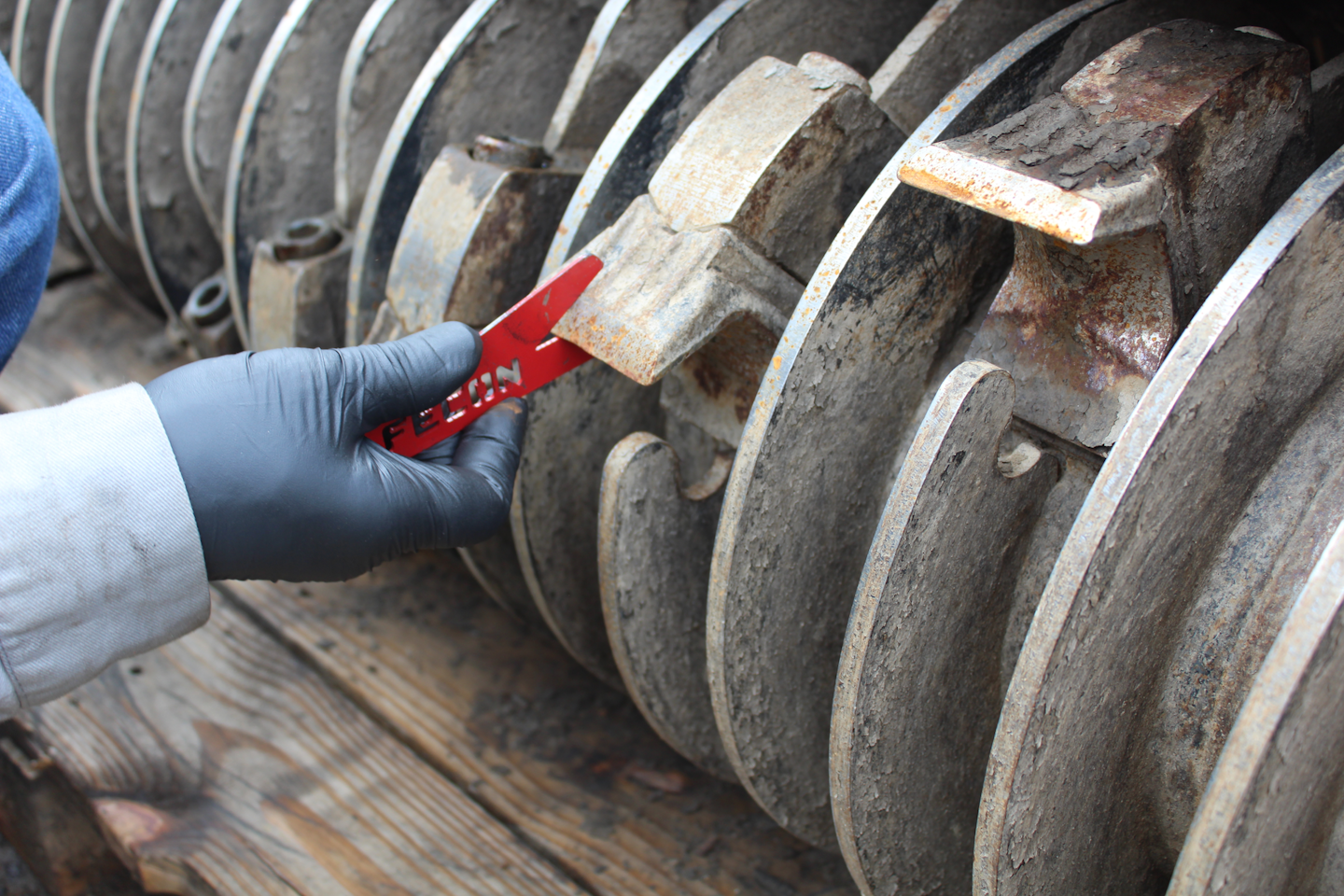 Excessively worn teeth will not engage the material to be shredded.FeconExcessively worn teeth will not engage the material to be shredded. As teeth become smaller (and less effective), the material being shredded comes into contact with the rotor more frequently. This leads to undue wear on the rotor.
Missing teeth are also problematic, as they create an off-balance situation and impart vibration throughout the mill. If balance issues are a problem, mobile balancers, like the FMB-100, are available to help determine the severity of the problem and where adjustments are needed. Re-balancing a rotor will have a dramatic impact on its operation.
Making daily maintenance checks a part of your pre-startup routine can save hours of time not to mention repair costs. An operator can accomplish the tasks described in just minutes. Once a week, a more in-depth schedule may be required, but it will still be less than an hour. But most operators will find that spending a few minutes each day ensuring that there are no problems will far outweigh the hours spent in fixing neglected ones.
Information for this article provided by Fecon.