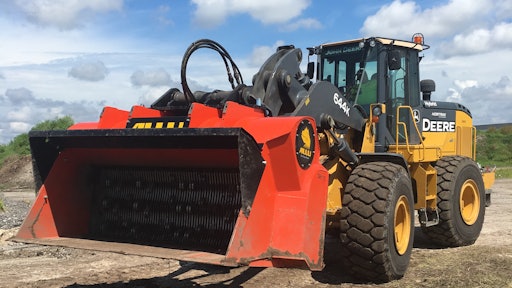 ALLU screener and crusher bucket attachments are finding applications in state and local infrastructure projects along the East Coast.
The Pennsylvania Department of Transportation (PennDOT) recently took delivery and received training on its third ALLU DH-17-40 Transformer Screener Crusher bucket attachment. All three are designed to quick couple with existing wheel loaders in the agency's fleet.
PennDOT uses the attachments to crush and screen waste material stored at its numerous regional field sites. Applications include crushing of asphalt millings; light concrete crushing; gravel sizing; and soil and clay crushing, screening and mixing for reuse in infrastructure maintenance work.
The portability and efficiency provided by the attachments and loaders are saving Pennsylvania taxpayers money, as the equipment can easily move from site to site around the state and quickly process material. Prior to its purchase of the screener/crushers, PennDOT had hired contract materials processors, and often was required to wait months or even years to deal with the construction waste at its field locations.
Debris Transformation
The City of Kissimmee, FL, also recently took delivery of a Transformer Screener Crusher bucket with Top Screen. Kissimmee's Public Works department will use the attachment with its 2014 John Deere 644K Hybrid loader to screen rocks and trash out of dirt, saving the city and taxpayers money by reclassifying the dirt into suitable material for use in maintaining the city's infrastructure.
In February 2017, Kissimmee offered the invitation for bids to purchase a screener/crusher bucket for the loader. The city noted that the unit must be an ALLU bucket, or its equal, with quick release, working with the loader's existing coupler. Based on the city's specs, the bucket must process and load a wide variety of material types in numerous applications. The DSH 3-23-16/32 TS Screener Crusher Bucket with top screen capabilities exceeded the city's required specifications, winning the bid.