MB Crusher
Equipment used to process concrete on site typically includes various kinds of crushers, whether it be a jaw crusher or a crusher plant, or pulverizers, hammers and universal processor attachments. Crusher and shaft screener buckets and drum cutters can also be used to accurately size concrete materials. According to MB Crusher, crusher buckets reduce hauling fees by crushing the material directly on site for immediate reuse.
Many attachments can be used for processing concrete on a jobsite. "The product that is most useful for this process will be determined by the specific task to be accomplished and the jobsite conditions," says Rich Elliott, product and application specialist, Epiroc. "Taking down a concrete structure (building, bridge, foundation, etc.) may require a different attachment than processing concrete that is in a pile."
For example, deconstruction of a building, bridge or structure will be best suited for a multi-processor or concrete cracking attachment. Yet, other contractors may prefer a hydraulic breaker for this task.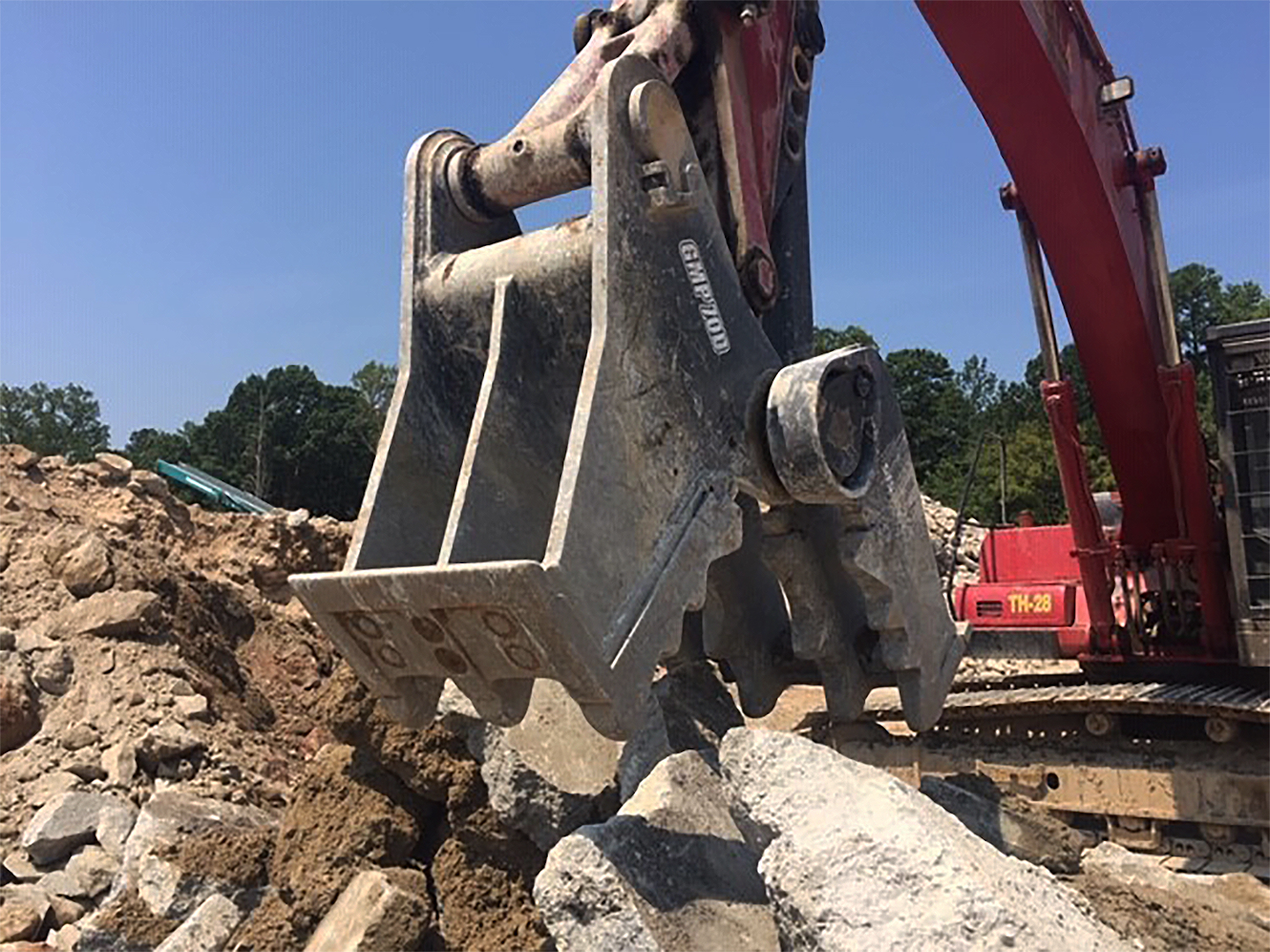 Mechanical pulverizers can be very effective at downsizing concrete and can work very quickly compared to a hydraulically powered attachment.GenesisUnderstand options and the trade-offs before choosing the attachment. "We have the Combi Cutter with three separate jaw sets," says Elliott. Universal, steel and pulverizer jaw sets can be changed in 30 minutes or less on site to easily adapt to the job requirements. "We also offer a Concrete Buster [for] where noise pollution and vibration are an issue when working on structures and/or foundation demolition. There is the Demolition Pulverizer, which has a single moving jaw and is configured as a straight jaw, and the Bulk Pulverizer, which has a curved jaw like a bucket."
No single attachment is the best solution for every job. "This is completely dependent on the end use for the concrete," says Chad Wood, Genesis product development engineer. "Are you feeding an on-site crusher, or pulverizing concrete to a reusable size?
"If feeding a crusher, a dedicated concrete cracker-style tool will most efficiently get the concrete down to a size that you can feed a crusher or haul off site," he points out. "If you are processing concrete to a size that is reusable on site, then a dedicated pulverizer or linkage pulverizer would be your tool of choice. These tools would downsize the concrete into 3-in. minus, if necessary, as well as make clean rebar that can be taken directly to a recycling center."
Multi-processors vs. dedicated attachments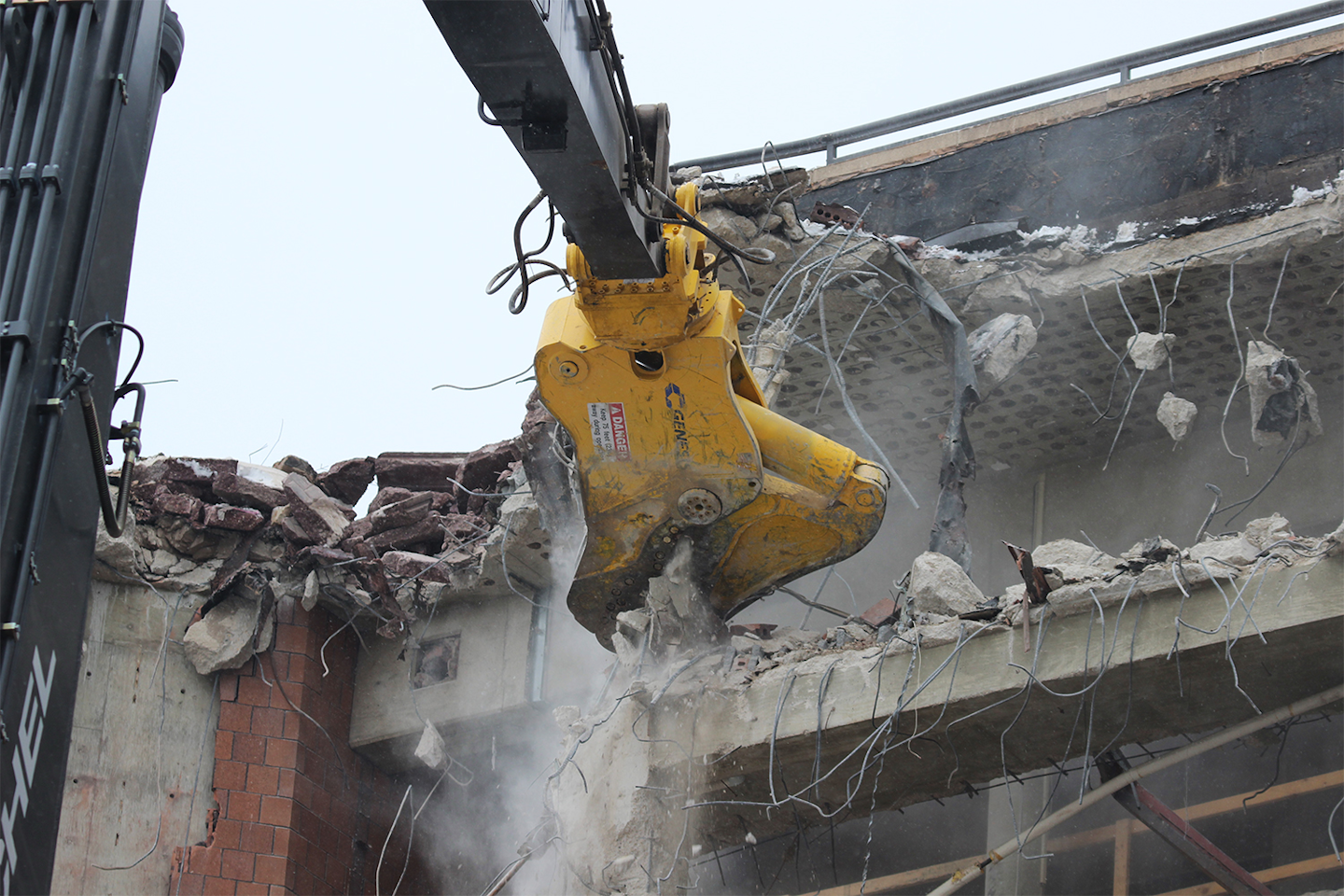 The Genesis Razer multiprocessor attachment provides the versatility of being able to process multiple materials with one tool.When choosing between a dedicated pulverizer attachment and a universal processor, consider the pros and cons associated with each choice.
According to Wood, the dedicated pulverizer offers a larger jaw size, more power and a lighter weight in some instances. The universal processor offers more versatility in processing multiple types of material. Without the universal processor, a contractor may need multiple attachments or machines on a site, which may be difficult on small sites or for smaller contractors.
"There is a trade-off with a universal processor," says Wood. "To have the versatility of being able to process multiple materials with one tool, you give up some performance and productivity. Universal processors typically will have a smaller jaw or less power than a similar-size dedicated tool."
Elliott adds, "Typically, for the same size carrier that a dedicated pulverizer would fit on, it would have a larger jaw opening to allow larger pieces of concrete."
It makes a difference whether the attachment is being used to pull a concrete structure apart or process concrete that has been piled up. "A dedicated pulverizer is typically best used for material that is loose (already on the ground)," says Elliott. "These have one stationary jaw and one moving jaw. They come in two different styles — a straight jaw configuration and one with a curved jaw to assist with grabbing concrete that is in a pile.
"The universal pulverizer is a better product to use for demolition of concrete structures because there are two moving jaws," he continues. "If one jaw contacts the material first, the other jaw will quickly catch up. Once the pressure is equalized, then both jaws will start to crush/cut/pulverize the material."
Separating concrete and rebar is possible with both the dedicated pulverizer attachment and the universal processor with a pulverizer jaw set. "If you have a concrete cracker-style jaw set installed in a universal processor, you may not be able to separate all the rebar as this type of jaw typically makes larger chunks of concrete," says Wood.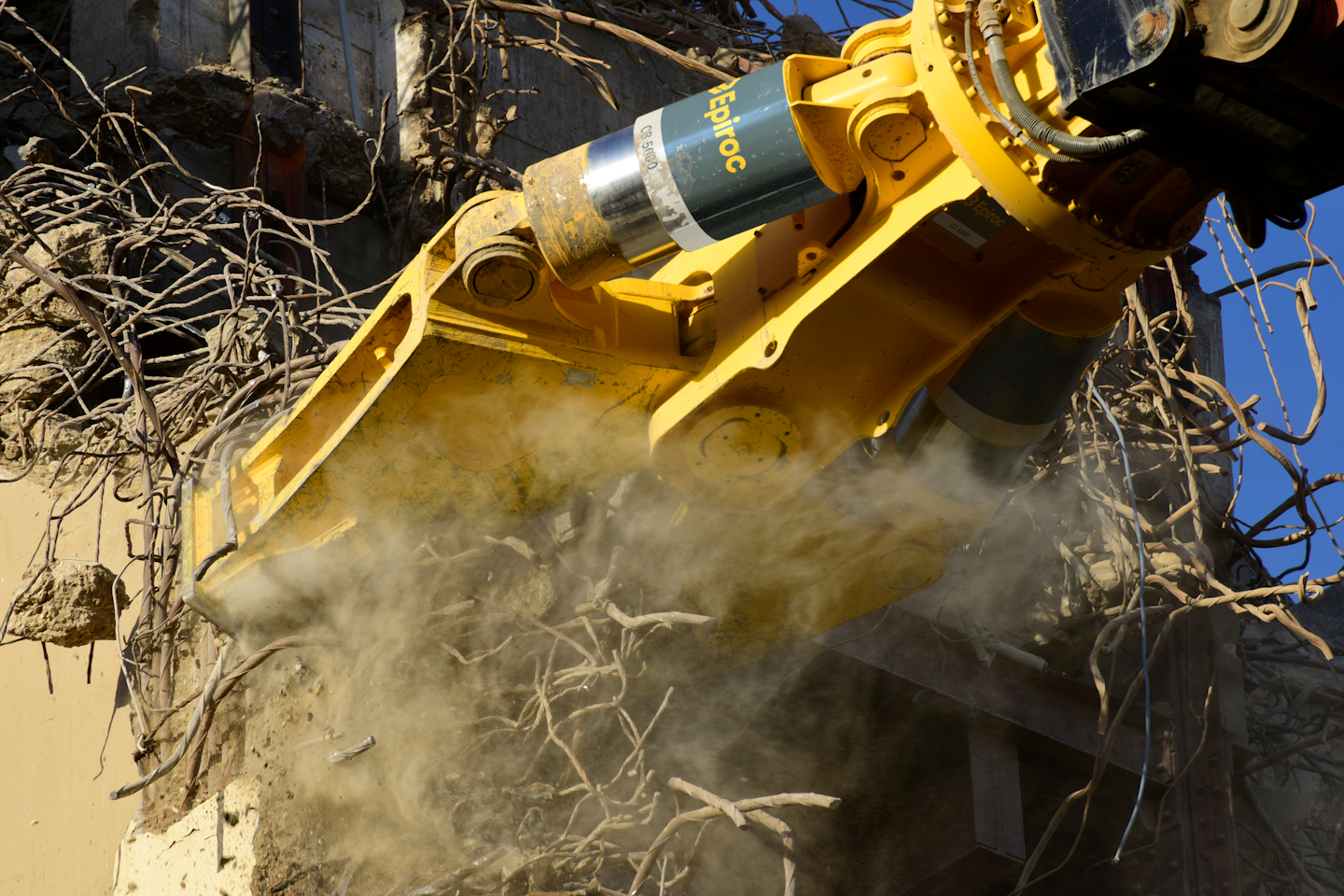 Concrete crushing and cutting attachments are effective for concrete building demolition. The product that is most useful for this process will be determined by the specific task and jobsite conditions.Note that the pulverizer should not be relied upon to remove all metal from the concrete. "There may be small pieces of rebar that may get mixed into the concrete and a magnet would be helpful to gather the smaller steel pieces," says Elliott.
It's worth noting that hydraulic-powered attachments are not the only solutions for processing concrete. "Mechanical pulverizers can be very effective at downsizing concrete and can work very quickly compared to a hydraulically powered attachment," Wood states. "Also, they are typically a significantly lower upfront investment cost. The downside to a mechanical pulverizer is it relies on the bucket cylinder and linkage of the excavator for its power, which is less than the power generated by a hydraulically powered pulverizer. This limits the size and strength of material you can process with a mechanical pulverizer."
No matter which attachment is selected, it needs to be sized and matched to the carrier and jobsite conditions. "The specific attachment size will be determined by the size of the carrier that the attachment will be mounted to, as well as the thickness and reinforcement inside of the concrete that needs to be processed," says Elliott.
"This may also be a factor in the hydraulic kit that is on the specific carrier being used," he points out. "The Combi Cutter (multiprocessor), Concrete Buster (concrete cracker) and Demolition Pulverizer all require a bidirectional auxiliary circuit and rotation circuit. The Bulk Pulverizer will require a bidirectional circuit also, but can be fitted with or without the rotation device."
Sizing the product
Using pulverizing attachments is usually the first step in recycling concrete on the jobsite.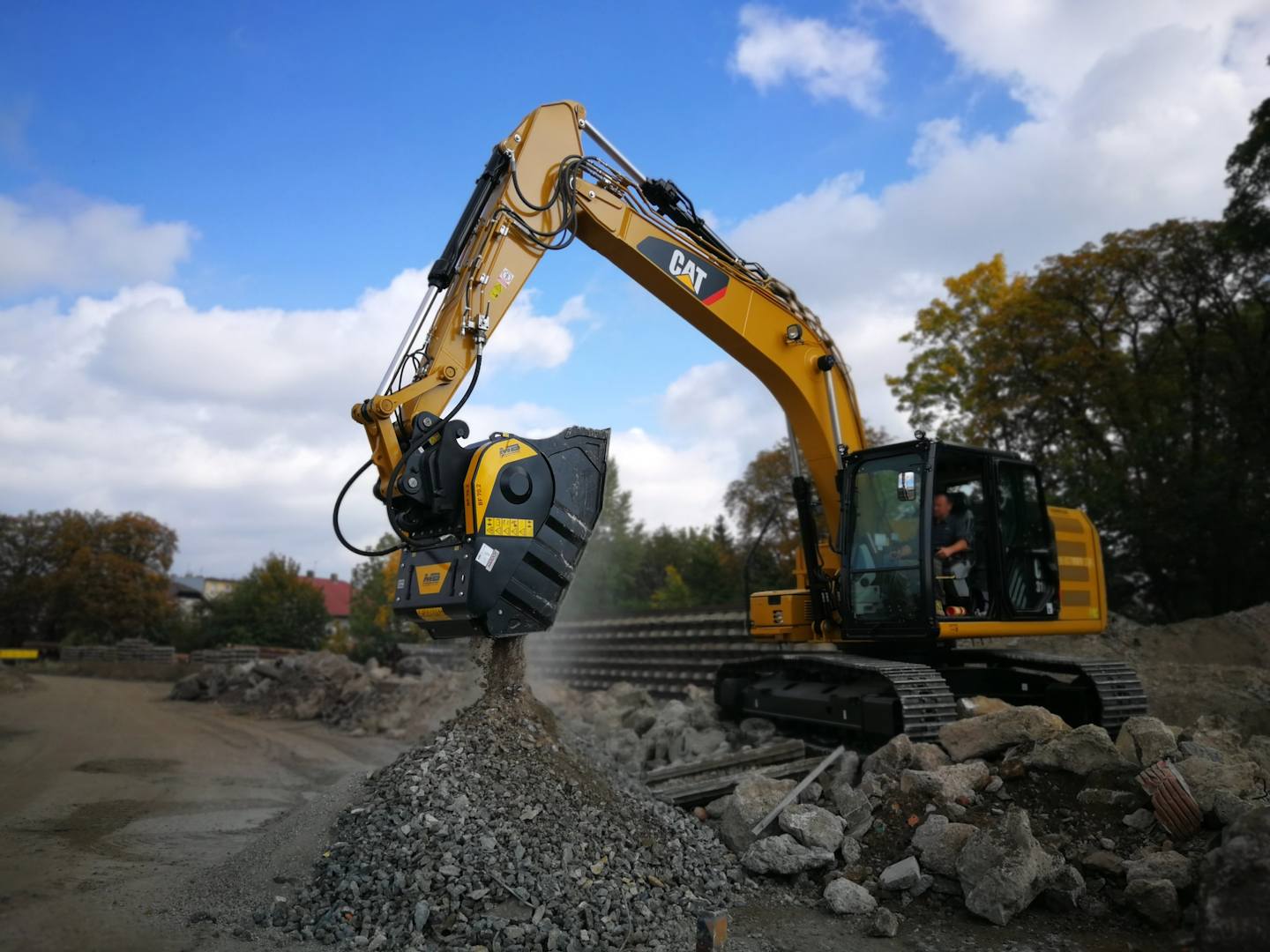 Crusher bucket attachments allow concrete to be accurately sized and reused as aggregate on smaller jobsites, requiring minimal investment in support equipment.MB Crusher"The pulverizer does not produce any specific size material," says Elliott. "The use of this product is strictly to reduce the size of concrete to manageable sizes and/or to separate the reinforcement from the concrete. This means that the material will vary in size from dust on up.
"If there is a specific size material than can be used on the same jobsite, then a crusher bucket can be used to process the larger pieces of concrete to a specific size," he notes. "You could also use a bucket screener to separate material of a specific size or smaller."
According to Wood, "With a dedicated pulverizer or a universal processor with a pulverizer jaw set installed, you can achieve 3- to 4-in. minus material. This may take some additional time to achieve as you may need to take smaller bites of the concrete each time."
Portable crushers, crushing buckets and screening attachments are necessary to produce accurate aggregate specifications on the jobsite. While production requirements on larger jobsites may require a portable crushing plant and the necessary support equipment, crusher buckets can prove an economical alternative on smaller projects.
Crusher bucket attachments allow concrete to be accurately sized and reused as aggregate on smaller jobsites with minimal support equipment.
"The advantages of bucket crushers are they are compact and can easily be transported and installed on any carrier with an auxiliary circuit," says Elliott. "If the material can be used on site, this will reduce transport costs. Limitations are they will not be able to produce as much as a portable crusher. Bucket crushers can produce material size from 3/4 to 6 in."
Crusher Bucket Benefits
Crusher bucket attachments can offer an alternative to dedicated mobile crushers for many demolition applications. According to Kimberlee Askew, marketing manager, REMU, they offer savings in several key areas:
Transportation of machinery — one machine vs. multiple machines to transport
Require one person and one excavator — a mobile crusher may need an excavator to feed it and a loading shovel to remove material coming out of the crusher on the product conveyor to stockpile it elsewhere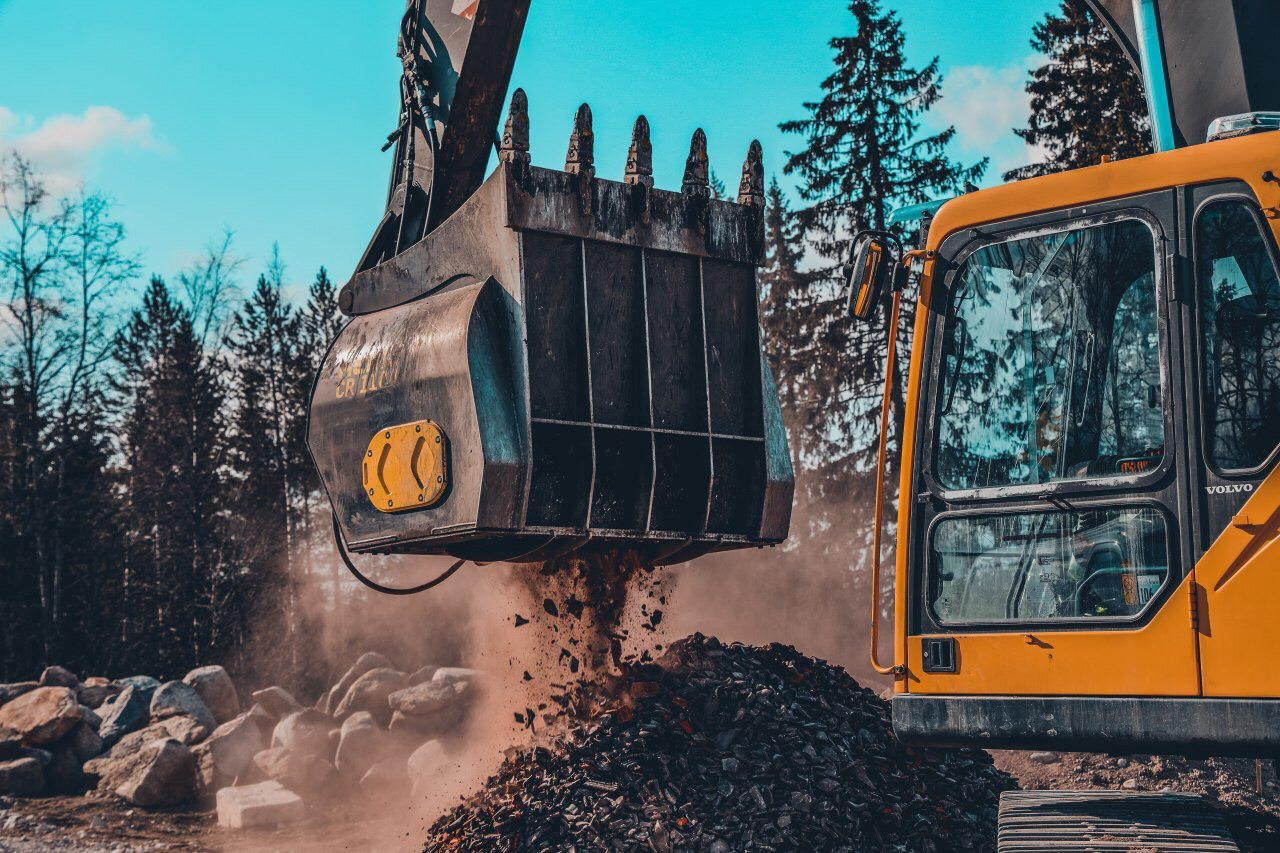 In many applications, mobile crushing buckets are an alternative to mobile crushing plants. Throughput varies and is a function of the material hardness and density.REMUMaintenance — One bucket to grease and one excavator to maintain vs. one excavator plus one tracked crusher and a loading shovel; simplified maintenance makes it quicker and cheaper to maintain
"Buckets are already replacing portable crushers all around the world," says Askew. "Throughput varies a lot and is a function of the material hardness and density. Think of wood vs. concrete. You will get many more tons per hour of concrete through the bucket because of its density. The production of our bucket can be around 40 cubic meters/hour (52.3 cubic yards/hour)."
The REMU CR 1100 crusher bucket is designed to reduce the volume of most common materials from demolition sites using a slow rotating crushing drum powered by two direct drive motors. It is operated with a 25- to 40-ton excavator and produces a maximum cutting force of 38,500 ft.-lbs. "Our bucket produces a 0 to 100mm product (0 to 4 in.)," says Askew. "A two-way hydraulic circuit is recommended for use of the CR 1100 as the reversible function would not be available if the excavator only has a one-way hammer line."
The CR 1100 is designed for minimal maintenance. "The REMU bucket requires greasing and perhaps occasional cleaning if there was a lot of wire in the material processed," says Askew. "Teeth on the rotor are quick and easy to change, and very convenient to transport to the site — unlike jaw plates which will weigh hundreds of kilos and cannot be manipulated without some sort of lifting equipment."
MB Crusher manufactures a line of crusher buckets that ranges from a less than 1-ton model with a production rate of 10 cubic meters/hour to a more than 10-ton model with production that exceeds 120 cubic meters/hour. Advantages include the crusher bucket is portable and compact and can reach inaccessible sites or those with limited space, making them ideal for smaller jobsites. Anywhere a skid steer, backhoe or loader goes, the crusher can go, as well.
By replacing a portable crusher with a crusher bucket, MB Crusher notes, transportation costs are eliminated because the bucket can be transported with the skid steer or loader. The unit's easy maintenance process also means everything can be done on site, significantly reducing downtime.
Jobsite conditions will influence maintenance requirements. As MB Crusher points out, how often the attachment needs to be maintained will depend on how often it is used and what it is used for. Jaw rotation and replacement tends to be the most common maintenance need, but regularly lubricating any grease fittings is also very important. With MB Crusher models, minimal maintenance is required beyond basic preventive services.
When selecting a crusher bucket, consider its design, its ability to be adjusted for the specific aggregate size required and its associated maintenance demands.
"We have a timing belt system that turns the eccentric by two hydraulic motors," says Epiroc's Elliott. "These belts are like a timing belt in an engine with minimal maintenance needed. The auxiliary hydraulics can be single flow with a direct return to tank or a bidirectional flow hydraulic system (recommended) and a case drain for the motor. The bidirectional circuit will allow the unit to be operated in reverse if needed to easily remove any jams that may occur."
Crusher Bucket Limitations
Consider the limitations for the specific crusher buckets being compared, some of which will depend on the density of the material, MB Crusher notes.
While a crusher bucket can crush anything a stationary crusher can, the harder the material becomes, the smaller it will need to be before feeding it into the crusher bucket, MB Crusher indicates. There are also physical limitations in terms of size. The limitations will depend on the size of the jaw, but typically you need to stay within 75% of the jaw opening. Again, the harder the material is, the smaller it will need to be before it can go through the crusher.
Elliott adds, "Limitations of the concrete size will vary depending upon the size of the bucket crusher, which in turn will be fitted to the specific carrier (excavator) size that it will be used on. The larger the carrier and the larger the bucket crusher, the larger pieces that it will be able to accept."
Epiroc jaw-type crusher buckets have a reverse function. (Not all crusher buckets have this feature.) It allows the unit to easily remove any jams than may be caused by too many large pieces and/or rebar that might not pass through the crushing jaws due to being mangled or bent into unpassable sizes or positions.
There are also production limitations. "On smaller jobsites, a bucket crusher can be profitable. However, the production of a bucket crusher will not match the production of a portable crusher. The throughput will depend on the material size as well as the bucket crusher size," says Elliott.
For any brand of crusher bucket, the output size will depend on the unit itself. For example, MB Crusher's crusher buckets have a range from 3/4 in. to 5 in. and are capable of producing material that is a uniform size. The attachment will need to be matched to the appropriate size carrier. In addition, you should consider hydraulic flow requirements.
At CONEXPO-CON/AGG 2020, MB Crusher demonstrated the benefits of using a bucket crusher on a small jobsite. According to one of the company's sales managers, "It will produce a 7-in. stone all the way down to a 5/8-in. minus. For an average, you can produce 2-in. minus at 40 tons per hour. It will allow you to manufacture your own aggregate in very small, contained situations without having to stockpile any additional material to be reused on site."
The demonstration took raw material of various sizes and broke it down to a 3-in. minus material. With the availability and cost of aggregate, this can prove to be a very cost-effective solution.
With the right attachments, you can set up a cost-effective concrete recycling operation on even small or confined jobsites, saving the cost of trucking in expensive aggregate while reducing the amount of construction debris leaving the jobsite.