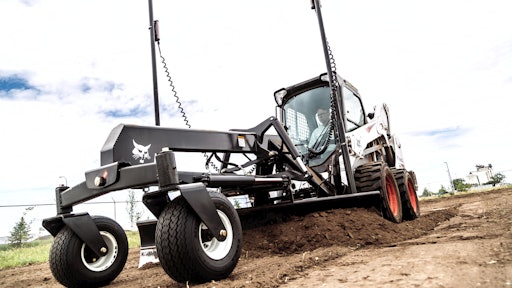 Bobcat
Compact track loaders (CTLs) and skid-steer loaders with box blades have become popular options for spreading materials on the jobsite. The versatility of these compact machines allows them to continue to generate revenue after the finish grade is complete.
"One of the main benefits of using a CTL for fine grading applications is the fleet utilization component of it," says George MacIntyre, product manager for CTLs and skid steers, Case Construction Equipment. "Today's large-frame CTLs pack plenty of power, and it makes sense to put them to work in new applications instead of possibly investing in another more specialized piece of equipment that may not be utilized as often. Another benefit of using a CTL in this application is the maneuverability. Many fine grading applications in metro areas or residential neighborhoods require highly maneuverable machines that can get into tight spaces."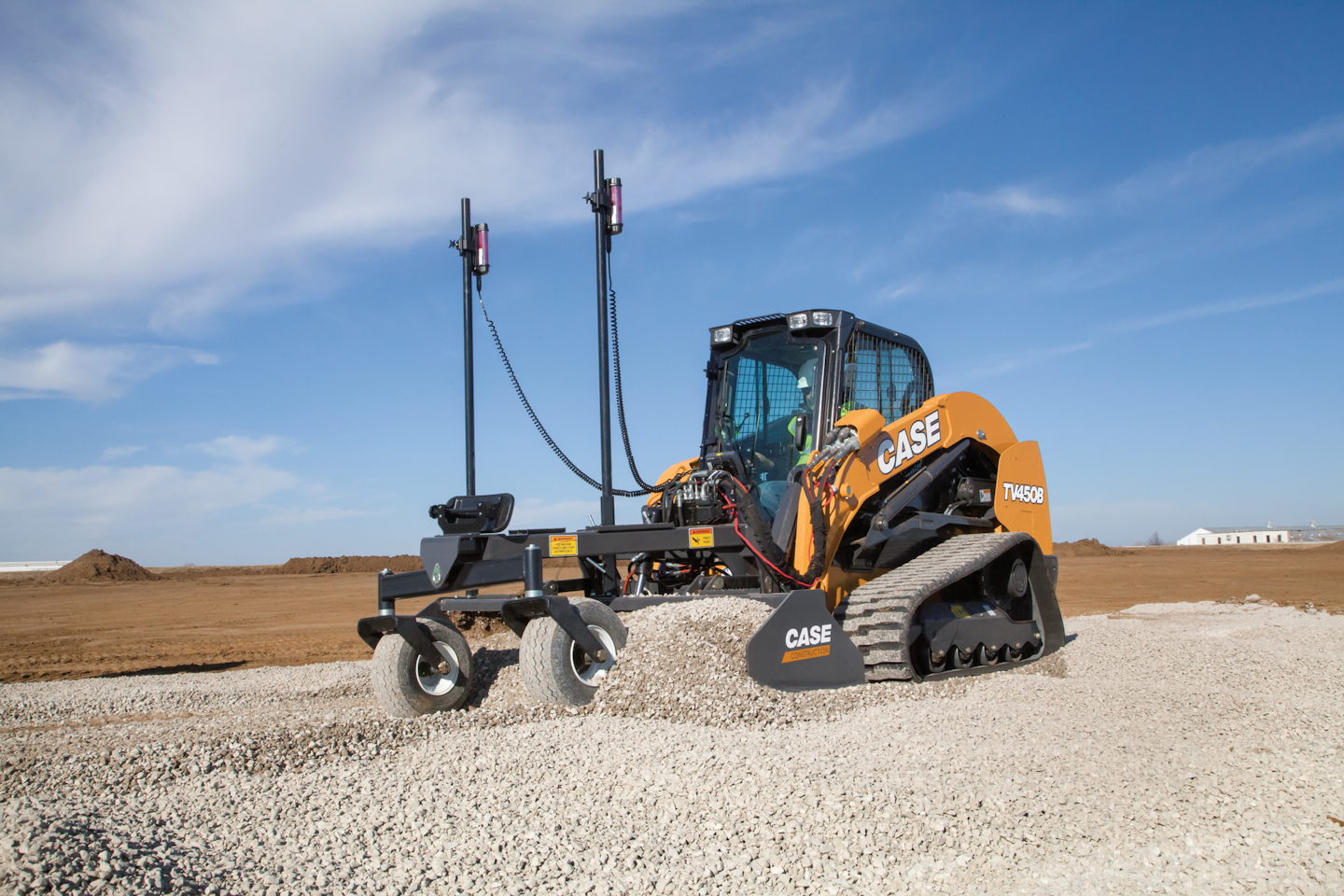 There are several options for fine grading with a CTL. If you're getting more and more fine-grading jobs, it makes financial sense to invest in something like a laser grading box blade.Case Construction Equipment"Using an attachment on a CTL is the definition of versatility," says Kevin Coleman, product specialist, Caterpillar. "Not only can you finish grade with the machine, but you can do an innumerable number of other tasks by simply changing the attachment connected to the machine. Other more dedicated grading pieces of equipment do not provide that versatility for maximum asset utilization.
"Speed is also an advantage," he says. "The smaller, nimbler CTL has more travel speed that can be utilized vs. a small dozer and can be easier to transport."
Larger CTLs tend to excel in grading. "Depending upon jobsite conditions, the weight distribution of a CTL truly lends itself to fine grading applications," says MacIntyre. "When spec'ing a CTL or other piece of equipment for fine grading, pay attention to the overall weight distribution of the machine. You want a large-frame CTL with an operating weight and track width that will help benefit the machine's performance in your most common grading applications."
There are several options for fine grading attachments. Two of the most popular are box blades and six-way dozer blades. "Contractors should look for a solution that is going to be best suited to their day-to-day work," says MacIntyre. "If you only do a few small grading jobs a year, then a simple dozer blade may be all you need. If you're getting more and more fine grading jobs, it makes financial sense to invest in something like a laser grading box [blade]."
Box Blades Provide a Proven Solution 
Box blades offer many advantages over other grading attachment alternatives. "A box blade attachment gives more control, less ground disturbance and the durability operators have come to expect," says Britta Kopp, marketing manager - attachments, Bobcat Company.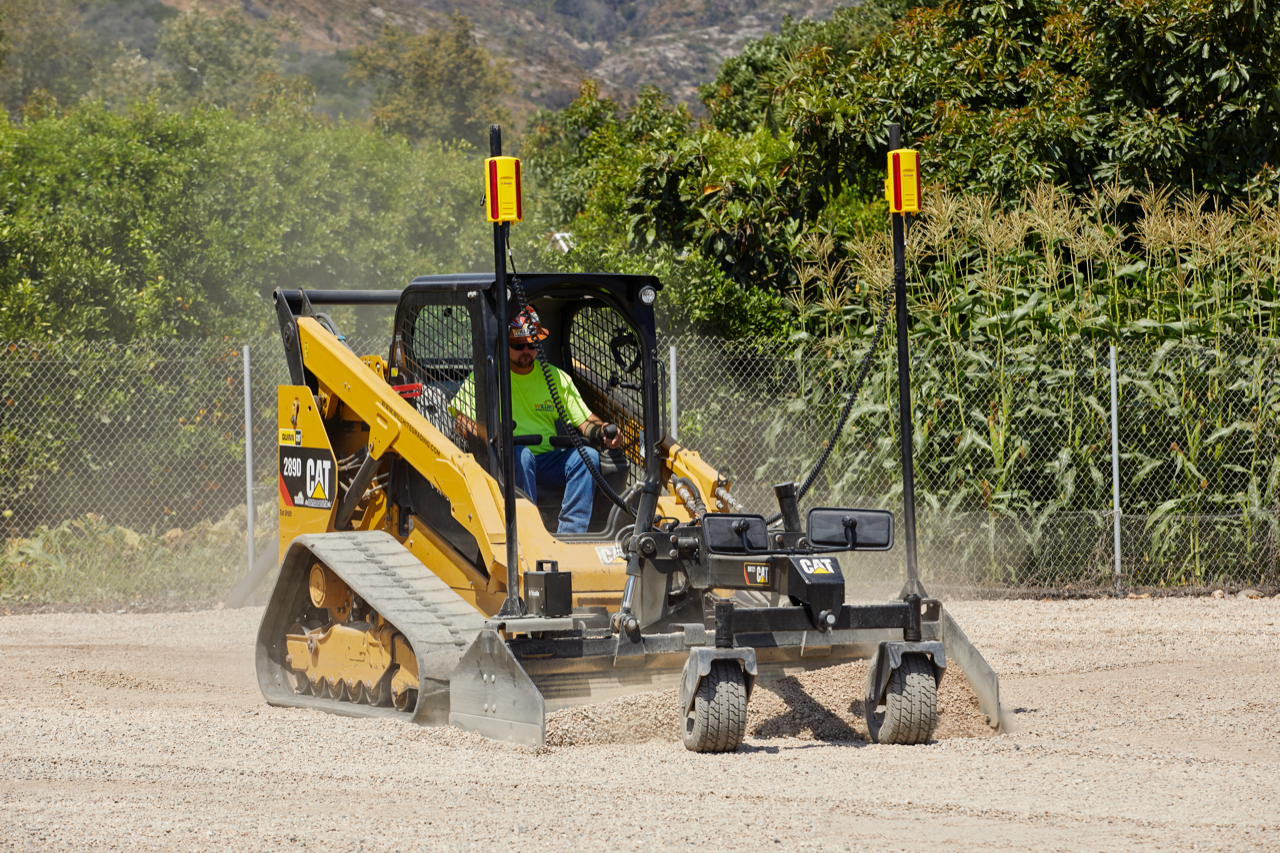 Caterpillar offers a grading solution that consists of a Caterpillar CTL and box blade attachment equipped with Trimble Earthworks GO technology. This simplifies setup and operation.CaterpillarGregg Zupancic, product marketing manager, skid-steer and compact track loaders, John Deere, agrees that box blades have their place. They allow CTLs and skid steers to precisely place aggregate, and they can utilize the mobility of the carrier working in both directions. "They have a blade that you can pull in reverse and you can smooth out your grade. You can also go forward and cut your grade or spread your material," he notes.
This maneuverability speeds production. "The ability to operate a box blade in both forward and reverse allows operators to really take advantage of the maneuverability and productivity that CTLs can provide in these applications," says MacIntyre.
"The box blades typically have wheels out in front or wheels in between the box blade and the machine itself to create stability," says Zupancic. CTLs and skid-steer loaders have a short wheelbase that makes it difficult to grade a smooth surface with a six-way blade. The box blade addresses this issue with the extra set of wheels.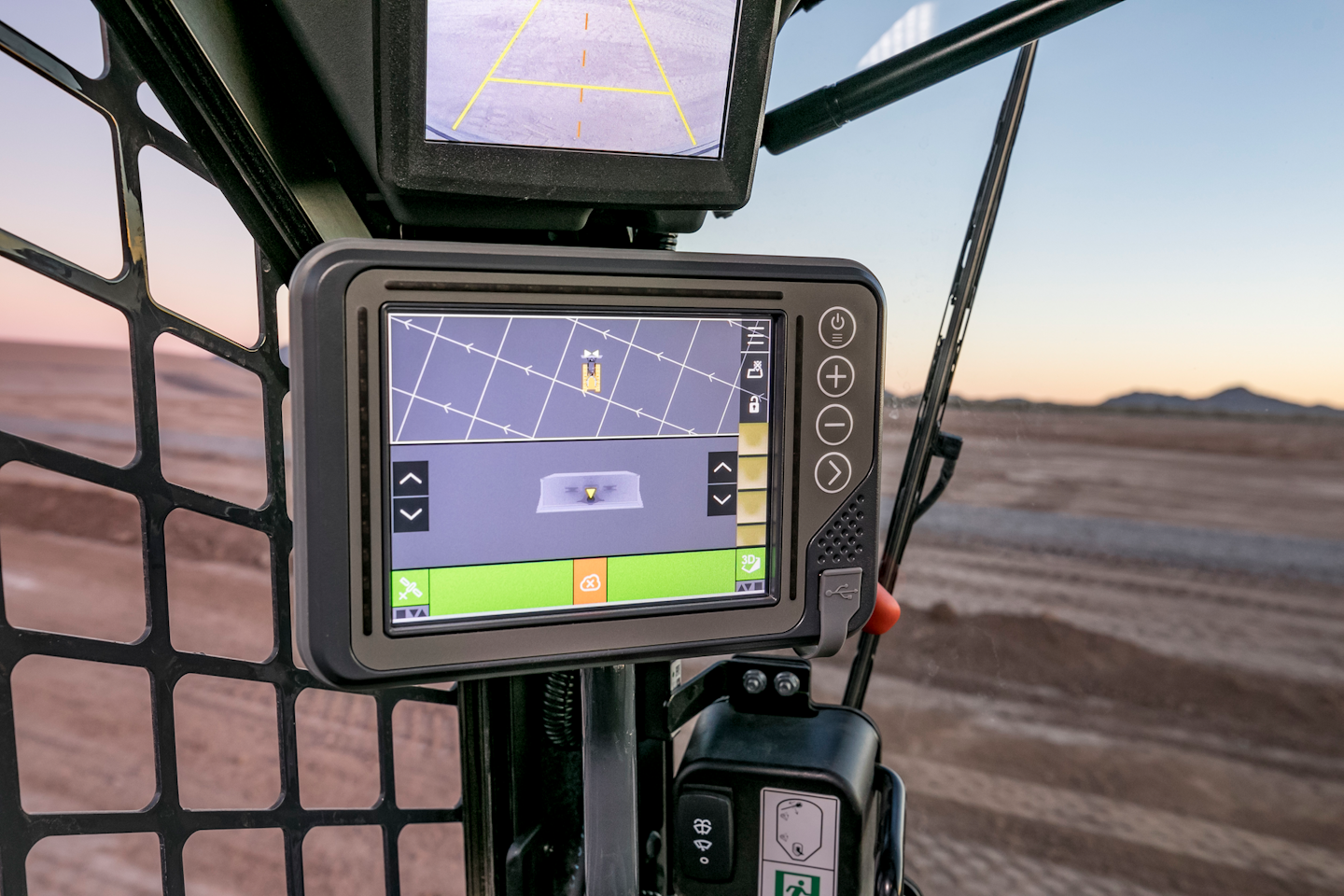 John Deere launched its 333G CTL with integrated grade control at ConExpo. It uses an am Inertial Measurement Unit (IMU) unit in the mainframe of the machine, similar to the SmartGrade technology introduced on larger John Deere dozers.John DeereEquipped with grade control technologies, box blades have proven a very effective tool for achieving final grade, especially when spreading small aggregate. Three popular systems include laser, sonic and slope and 3D (total station or GPS).
A CTL paired with a box blade using a grade control solution can reduce the operator skill required to achieve grade. "The labor force is getting tighter, less skilled and less available, so we've come up with a box blade solution," says Kris Nagy, industry sales representative for Caterpillar. This solution consists of a Caterpillar CTL and box blade attachment equipped with Trimble Earthworks GO! technology. "We can take a lower skilled operator and get a pad or a two-dimensional surface within a 1/4 in. of grade."
To test the solution, Caterpillar performed a study with a 40' x 60' pad. "We did one traditionally with three workers. One worker was driving stakes and one was checking grade," says Nagy. "The third [worker] was actually using the machine. It took them one hour and 45 minutes to do a 40' x 60' pad. That's reasonable. They were placing 3 in. of gravel to get a 3-in. lift for the concrete.
"We did the same exact size pad using the Caterpillar system with the Trimble Earthworks GO!, a track loader and a box blade," says Nagy. "It allowed us to do that same job that took one hour and 42 minutes in 36 minutes with one [worker]. We eliminated two people and we did it in a third of the time."
Grading with a box blade manually requires operator skill. "When you incorporate Trimble Earthworks GO!, it's a laser level system. It automatically lifts and lowers the blade, articulates the blade, to give you the best, flattest surface," Nagy explains.
The Caterpillar trial also proved that the automated box blade system saved 1 cu. yd. of concrete due to the increased accuracy of the subgrade. "If we were to multiply it out and get a larger pad 10 times that size, 24,000 sq. ft., [the traditional method] would be off by 10 cu. yds.," Nagy points out. "That starts adding up."
An alternative to the box blade is a grading attachment. "Even delicate tasks can be completed with powerful precision with grading attachments," says Kopp. "For instance, the grader attachment has a blade that moves six or eight different ways to grade any surface. The bolster oscillates to minimize the effect of uneven ground, delivering consistent grading performance in a variety of environments."
Dozer Blades Step Up Cutting Performance 
The downside of the box blade is that it is not an ideal tool for cutting hardpack material. "Box blades tend to be really good at spreading small aggregate, but they don't cut hardpack very effectively. They're not heavy enough or rigid enough," says Zupancic.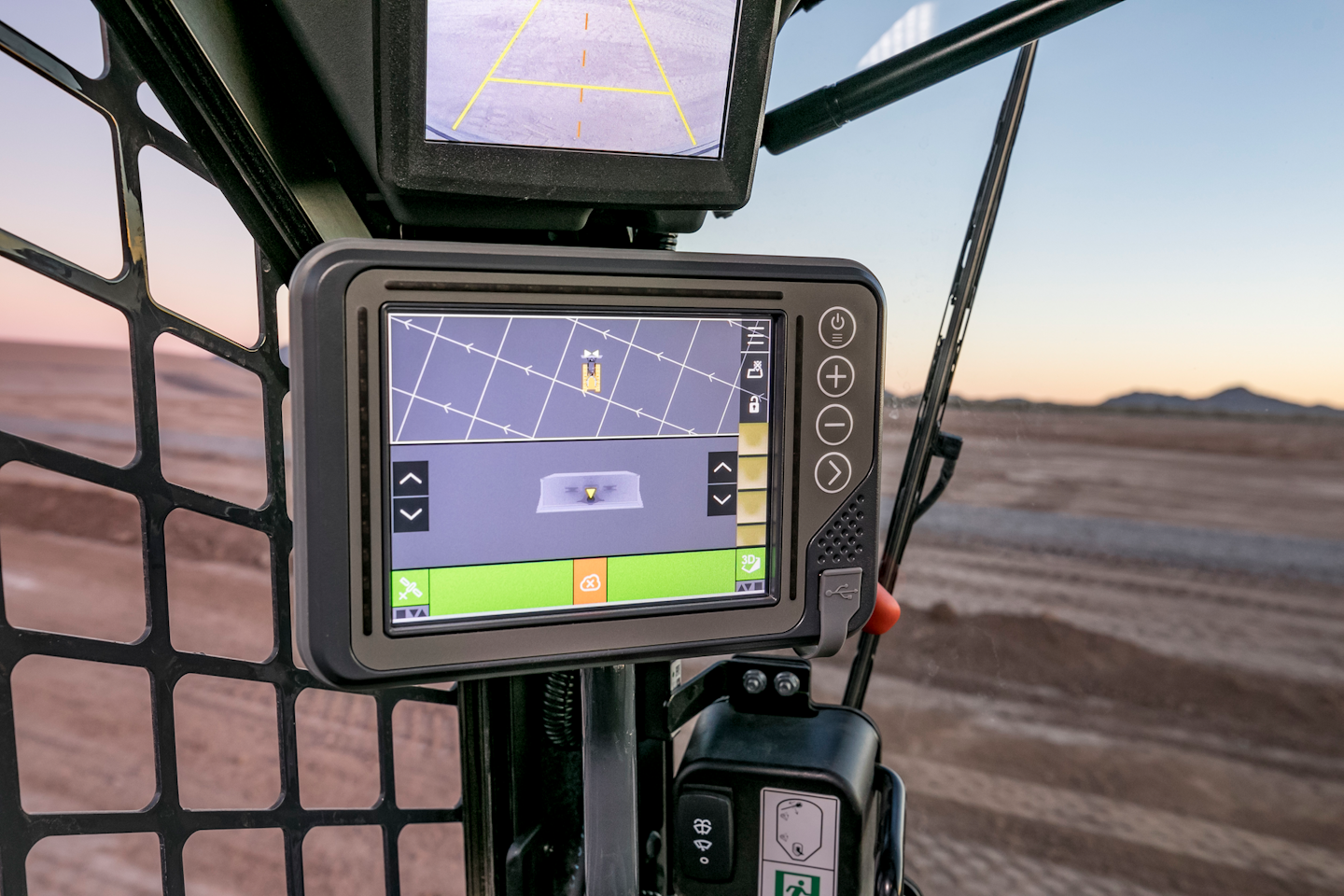 John Deere launched its 333G CTL with integrated grade control at ConExpo. It uses an am Inertial Measurement Unit (IMU) unit in the mainframe of the machine, similar to the SmartGrade technology introduced on larger John Deere dozers.John DeereThe same wheels that provide stability for the box blade make it difficult to get close to corners and curbs. If the wheels can't be moved out of the way, edge work may have to be completed manually. They also become a challenge in uneven terrain. "The wheels tend to run uphill first. That lifts the blade and changes the elevation you're trying to cut on a slope," says Zupancic.
A dozer blade attachment is an alternative that solves some limitations associated with box blades. "A dozer blade attachment excavates and grades material with optimum performance and durability," says Kopp. "The dozer blade turns loaders into mini-crawlers. It's ideal for construction and landscaping markets. The blade moves and pushes a large amount of material quickly and easily, accomplishing jobs that would otherwise require dedicated equipment."
But there have been some challenges with manually controlled dozer blade attachments. "Part of the reason that customers don't buy dozer blades on track loaders today is because it's really difficult to achieve a grade without the automation," says Zupancic. "Very few operators are able to make a smooth pass."
The short wheelbase creates a challenge. "It is also very difficult because not any blade can work on a machine. There's a lot of kinematics that have to go together," says Zupancic. "The robustness of the blade and the size of the blade to handle the height of the machine, the angle of the quick tach — all of that has to be put together."
To address these issues, John Deere launched its SmartGrade 333G CTL with integrated grade control at CONEXPO-CON/AGG 2020. It uses an Inertial Measurement Unit (IMU) in the mainframe of the machine similar to the SmartGrade technology introduced on John Deere dozers. This product will be available at the beginning of next year and is designed as a package to maximize the effectiveness of a proprietary six-way dozer blade.
"It will have electrohydraulic software that will, at the push of a button, change the control pattern to mimic a dozer," says Zupancic. It will revert back to a CTL control pattern again at the push of a button.
EZ Grade Software will sense when the machine is tipping either fore or aft. "The blade will automatically adjust itself rapidly so you can cut a smooth path," says Zupancic. This automation will make it easier for those who wish to use a dozer blade on a CTL for fine grading. "If we can make that dozer blade also spread material very efficiently like a box blade and not have wheels out in front for stability, we think we have a winner."
Solutions like the SmartGrade 333G CTL are all about utilization. "There are hundreds of attachments that can go on the front of these machines, so you get versatility and utilization out of that machine when it is not actually dozing," Zupancic comments. "That combination is why we're seeing this iteration of more expensive, purpose-built, bigger construction equipment coming down into the compact world to take advantage of some of that versatility that skid steers and track loaders offer today."
To aide in ease of use, Caterpillar introduced Smart Technology. "All Cat D3 Series CTL models support a line of new Smart Attachments for grading," says Coleman. The attachments include the Smart Dozer with Assist and Smart Grader Blade with Assist. "This advanced machine technology (Smart Technology) recognizes the Smart Attachments and tailors the controls and operator information to match the tool to the task and deliver a higher level of integration between the machine and new Smart Attachments.
"Three things comprise the Smart Technology and Smart Attachments: attachment recognition, tailored controls and special information/control screens," he continues. The machines recognizes when a Smart Attachment is connected, and with the press of a button, the operator can enter the Attachment Control mode.
"The machine's existing joystick controls are changed from drive/implement functionality and are now tailored to meet the control needs of the specific Smart Attachment that has been attached," says Coleman. "As an example, when the Smart Dozer is connected to the D3 series CTL models, with the press of a button, the right hand joystick is converted to allow the machine and Smart Dozer combination to be controlled like a full-size dozer."
Sizing Up the Options
Choosing the most appropriate grading tool comes down to your most common applications.
"If you're going to just spread material [such as] small aggregate and do some finish grade on top of that aggregate, you're going to use a box blade," says Zupancic. "If you want to cut the final grade and it is 1 ft. below where you're standing, you're probably going to use a track loader with a dozer blade."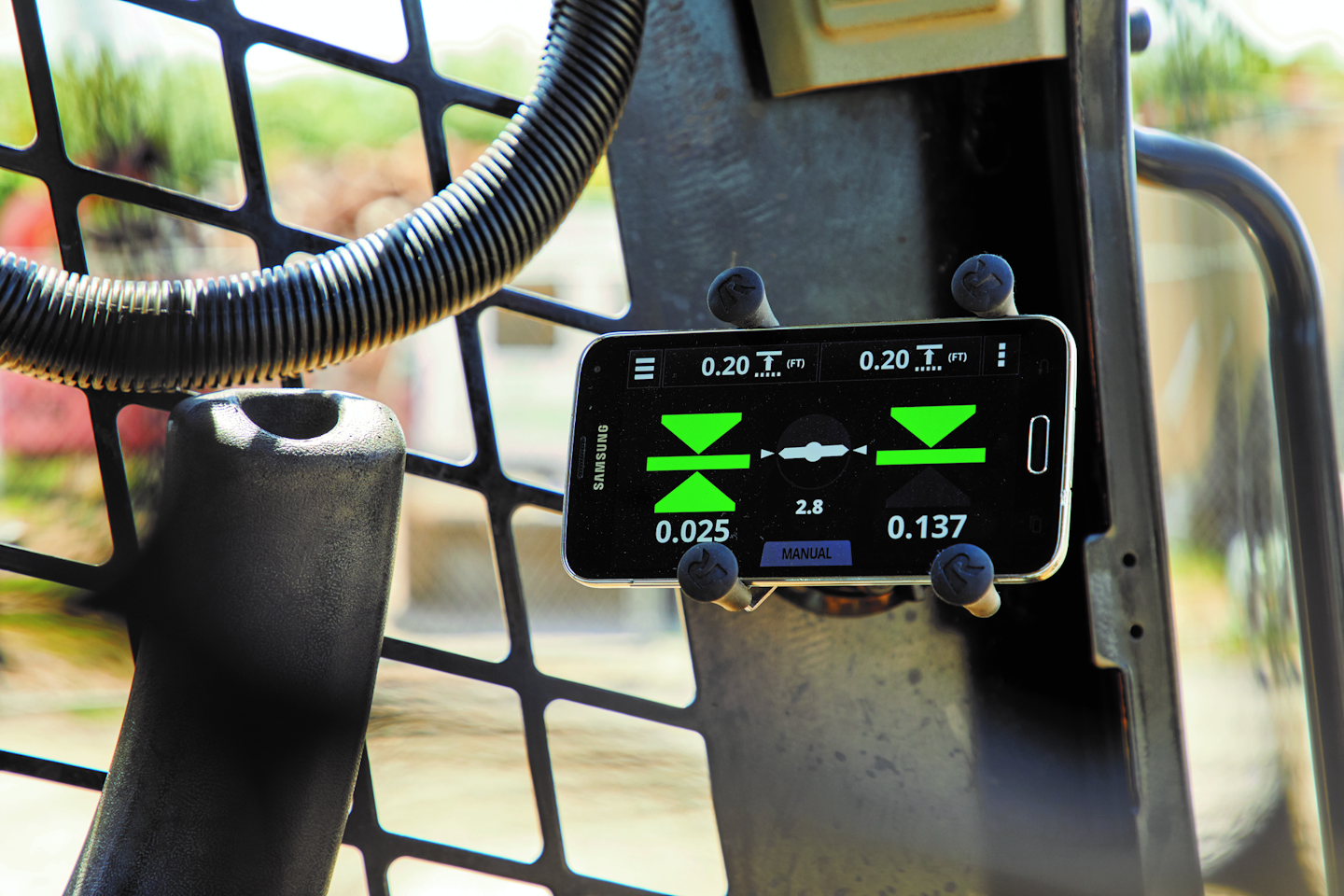 The Trimble GO uses a smart device as the in-cab grade control.CaterpillarAs the task grows, the case for a compact machine and attachment becomes less clear. "If you have to go 8 ft. below where you're standing, you're probably not going to use a compact track loader," Zupancic states. "You're probably going to get a dozer to do that. They both have their places. Pioneer work down to 1 or 2 ft. below where you are standing, you are probably going to use a dozer blade on a track loader. But if it's 10 ft., you're going to just use a dedicated dozer."
Caterpillar has tailored its Smart Grade Attachments for specific tasks. "The Smart Grader Blade with Assist offers a multipurpose solution for grading dirt, gravel, sand and virtually any other base material," says Coleman. "The Smart Grader can be used to cut material, but the independent, suspended blade delivers superior grading angles to windrow material as well as achieving a grade on main fall and cross slope.
"The Smart Dozer blade with Assist is best suited for cutting, moving and grading dirt, gravel, sand or any other material used as a base," he adds. "And the assist feature of the blade takes the unit beyond smart by making it easier to get a smoother grade with fewer passes and helping eliminate the washboard effect that has long been associated with grading with SSL/CTL dozer attachments."
There are also transport considerations. Take a CTL with attachment vs. a dedicated fine grade dozer. "Our [CTL] solution weighs about 13,000 or 14,000 lbs. with the blade on the front, so you can typically transport it without a CDL from jobsite to jobsite. That gives contractors much more flexibility," Zupancic says. "Typically, a small crawler gets up into anywhere from 18,000 lbs. or higher, so you need to have a scheduled lowboy come and take it, which adds some costs."
Compact machines also typically require less operator skill. "With the compact piece of equipment, you can have a little lower skill level operator. That helps save costs," Zupancic says. "There's more of an installed operator base available, as well, that can run a skid steer and make that solution work."
Even after making the choice to utilize a compact equipment solution, you need to ensure the machine matches the jobsite demands. "Before deciding on a specific CTL model, customers should consider what grading attachments may be used to ensure they choose a model with enough engine power and hydraulic flow required to operate the attachment," says Kopp. "For example, [Bobcat's] 96-in. HD grader is best paired with the T76 R-Series loader up to the T870. If a customer would like more compatibility options, the 80-in. dozer blade and box blade attachments are compatible with 60-frame Bobcat R-Series loaders or the T76, T450 and T630.
"Ultimately, customers shouldn't just rely on machine specs to decide on the type and size of machine that they need," says Kopp. "Operating or demoing the machine they are considering for purchase also helps give the customer an idea of whether it will be able to perform the specific tasks they will demand from it."
You also need to make sure the machine is set up properly. "In addition to selecting the grading attachment that best matches the job requirements, also think about equipping your CTL with a bar-style tread pattern," advises Coleman. "The bar tread-style track differentiates itself in its ability to minimize ground disturbance, making it ideal for anyone who performs finish grade work. The new bar-style option features a tread with narrowly spaced bars that leaves behind a light footprint on narrow, shallow ridges.
"Not only does the bar-style track provide excellent finish qualities," he continues, "it also delivers the extra traction when operating in snow, especially compared to the traditional 'block' tread pattern, for customers desiring better traction in the winter months. The bar-style tracks will allow these CTL models to be even more versatile by making jobs such as grading or snow clearing less time consuming and less intensive." ET