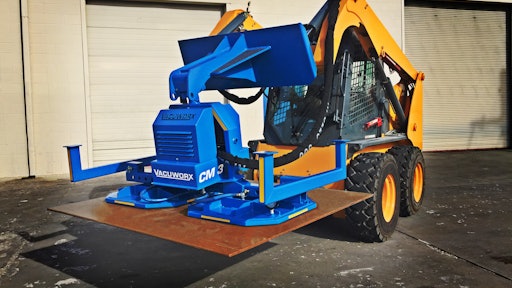 The first vacuum lifting solution of its kind, the Vacuworx CM 3 Compact Modular Vacuum Lifting System was designed to help contractors stay competitive by giving them even greater versatility with a vacuum lifting attachment. With the CM 3, contractors who run compact equipment such as skid steers, track loaders, articulating wheel loaders and mini excavators on the job every day can now use them to handle materials such as concrete slabs, steel plates and pipe up to 6,600 lbs.
Brings heavy-duty material handling capabilities to larger-capacity compact equipment such as skid steers and track loaders
Unique modular design and lift capacity of up to 6,600 lbs. depending on the pad - or pads - used
Adaptable to a wide range of applications including concrete slab removal, road or trench plate placement and some pipe applications
CM 3 with standard mounting plate weighs the same as a standard skid steer bucket, so it does not affect the lift capacity of the host machine
Rugged all-steel unit is designed to accommodate single or double pad configurations interchangeably to be able to lift a variety of material weights and sizes
Adjustable spreader bar for double pads extends from 61 to 85 in. (measured from outside to outside of the seal channels)
Flat and pipe pads are sold separately to fit your specific needs.
Request More Information
Fill out the form below to request more information about
Vacuworx CM 3 Compact Vacuum Lifting Attachment