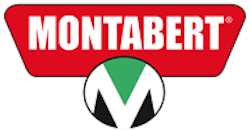 Montabert, a global manufacturer of hydraulic demolition and drilling attachments and pneumatic equipment, has completed a transition that extends its brand into North America and replaces the Tramac brand name on select products.
The rebranded products include hydraulic breakers, plate compactors, drilling attachments and pneumatic equipment - which formerly had been branded "Tramac by Montabert." Now that the Montabert brand is established in North America, the "Tramac" name has been dropped on these Montabert attachments.
"Joint branding on our products introduced the Montabert name to the market without a complete departure from what people were accustomed to," said Stephane Giroudon, business manager for Montabert North America. "It provided a good foundation for us to move in this direction."
With the transition to simply "Montabert," customers and dealers will benefit from a heightened level of product support and service.
Companies in this article