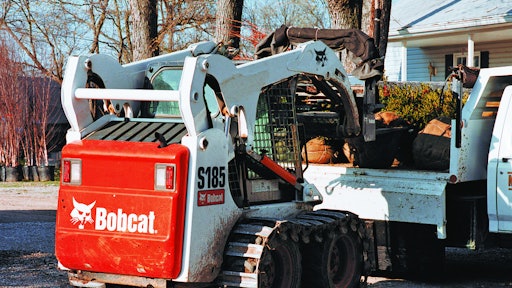 Compact track loaders (CTLs) have been on the market for only 10 years, yet already they rival skid-steer loaders in application and popularity. The concept of using track systems and over-the-tire (OTT) tracks to give skid steers added traction and versatility was, in fact, the impetus behind the development of the CTL. But it also created a dilemma for contractors and other operators who have to decide which machine will work best for their application.
If price were the only consideration, a skid-steer loader would be the likely choice, according to Mike Fitzgerald, loader product specialist for Bobcat Company. "A compact track loader will cost between 30% and 40% more than a comparably-sized skid-steer loader. Even if you add in the $2,500 to $4,000 for the cost of OTT tracks, the compact track loader would still be substantially more expensive," he indicates.
As he points out, however, price isn't the only consideration, and that's why Bobcat offers both options for customers. "It's not one vs. the other," says Fitzgerald. "For us, it's a matter of addressing the customers' needs, and there are definite applications for both skid-steer and compact track loaders."
A question of versatility
"If the application calls for the use of tracks all the time, then a compact track loader would likely be the best machine," says Ron Peters, CEAttachments product manager. "Conversely, OTT tracks are perfect for the operator who needs tracks for a temporary job."
Outfitting a skid steer with tracks gives the machine better flotation and traction, he adds, which increases performance and productivity on muddy construction sites and in tough forestry conditions.
CEAttachments offers three types of Grouser OTT tracks: two steel and the third comprised of a steel frame with polyurethane pads. As Peters explains, cross-bar steel tracks, which cost between $2,500 and $4,000, are ideal for muddy conditions. Hard-pad steel tracks, which fall within the same price range, are suited for sandy soils where better flotation is required. The slightly more costly soft-pad track is designed for applications where a machine has to traverse hard surfaces, such as concrete or asphalt, to reach a site where more traction is required.
OTT tracks can usually be removed in less than an hour, transforming the skid steer from a track to a tire machine. "Still, if the application always calls for tracks, a compact track loader would be the best option, in large part because a solid rubber, wider track provides better flotation than an OTT track," Peters states.
Fitzgerald agrees, noting that the bigger platform and longer ground contact area provided by a compact track loader will make it more attractive in a variety of terrains and working conditions. "A dedicated track system also has positive drive, compared to steel OTT steel tracks that naturally allow for some slippage between the tire and track," he explains. "And the added weight of the compact track loader allows it to generate more pushing power than a skid steer."
Bobcat has 13 skid-steer models and eight compact track loaders. OTT tracks are available on all but two of the smaller skid-steer loaders.
When it comes to versatility, there is little difference between the two machines. "Ninety percent of the attachments available for skid-steer loaders are available for use with compact track loaders," says Fitzgerald. "Again, application and ground conditions will determine whether or not a skid steer equipped with tracks or a compact track loader would be the best option."
Where additional flotation is a requisite, a compact track loader will outperform a skid-steer loader with OTT tracks, he adds. Conversely, OTT steel tracks will deliver more traction than a compact track loader in wet clay conditions.
Merits of removability
Terex Loegering offers customers both OTT and track system options for skid-steer loaders. "The F-Series steel pad track provides both traction and flotation to cover the widest range of applications and materials in the construction industry," says Roddy Mears, regional sales manager for Terex Construction Americas. "The Z-Series steel bar tracks are designed for traction and aggressive terrain, such as clearing land. Both have beveled edges on the pad to minimize turf damage."
The company's Versatile Track Systems (VTS) is a complete rubber track undercarriage. "Our VTS can be quickly bolted onto almost any brand of skid-steer loader," says Mears, "allowing contractors to quickly decide whether rubber tires or a rubber track undercarriage is best for a particular application. Thanks to adjustable components, a VTS can be 'fit-up' on multiple skid-steer machines. So a single VTS system can be used on several different machines within a fleet, depending on the need."
He continues, "Compared to OTT tracks, the VTS is extremely stable when digging and backing out of trenches or when hauling and dumping heavy loads. In addition to increased traction and flotation, the rear idler positions the track underneath the ballast of the machine, providing stability for grading up inclines and traversing side hills."
Terex also manufactures and distributes a full line of compact track loaders and skid-steer loaders. "There are applications where compact track loaders make the most sense and where skid-steer loaders outfitted with OTT tracks or our VTS system make the most sense," notes Mears. "They share a market, and they also have their own niche in the market."
Mears believes the greatest advantage of OTT tracks over compact track loaders is cost. "There are many applications where the increase in productivity of a track loader does not outweigh the initial investment and continued maintenance of its undercarriage," he asserts. "In this instance, OTT tracks would give the greater ROI."
CTL advantages
John Deere entered the compact track loader market in 2005, and today offers five models with rated operating capacities from 1,500 to 3,300 lbs. It also offers seven skid-steer models with operating capacities from 1,300 to 3,200 lbs.; OTT track attachments are available for all of them.
"At first we were surprised by the impact compact track loaders had on our OTT track sales," says Gregg Zupancic, John Deere product manager for skid-steer loaders and CTLs. "Certainly, the big advantage to OTT tracks is the versatility they lend by being able to put them on and take them off. But compact track loaders have advantages of their own.
"The planetary drive system on our CTLs, plus the additional weight, gives them greater pushing power, and CTLs are all about flotation, too," he notes. "They are purposefully designed to perform like little dozers, whereas the additional weight of OTT tracks can rob skid-steer performance in some applications."
And while CTLs have dedicated track systems, manufacturers typically offer the option to change the rubber tracks to accommodate different conditions. For example, less aggressive tracks are available for working on turf and a more aggressive design can be used for pushing dirt.
Yet, there are pros and cons and applications for both systems. "CTLs don't go as fast as skid-steer loaders, which gives the latter an advantage when pushing snow or in other applications where a faster forward speed would be desirable," Zupancic points out. "Then again, when using a bucket attachment, a CTL -- with its weight and track configuration -- is less prone to tipping."
(Keep in mind when comparing rated operating capacities, the industry standard for skid steers is half (50%) of tipping load, whereas the operating capacity for CTLs is calculated by multiplying the tipping load by .35 (35%).)
While Peters acknowledges that the emergence of compact track loaders has impacted sales of track attachments, there is still a market for them. "The tracks are inexpensive when compared to the cost of a compact track loader," he states. "They are also durable and give added versatility to an already versatile piece of equipment."
Companies in this article