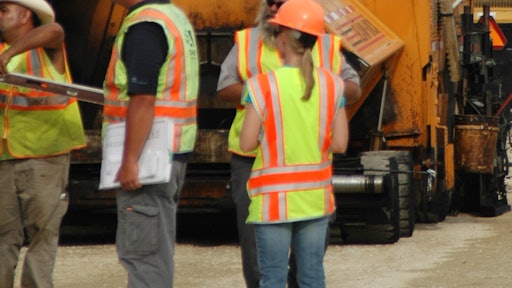 According to the U.S. Bureau of Labor Statistics Job Openings and Labor Turnover Survey (JOLTS) and National Association of Home Builders (NAHB) analysis, the number of open construction sector jobs hit a cycle high of 382,000 in December 2018. With Associated General Contractors of America (AGC) and Sage Construction and Real Estate survey results showing 79% of construction firms planning to expand their payrolls in 2019, an almost equal percentage are worried about how they will be able to locate and hire enough qualified workers to meet their needs.
Interestingly, an article from Curbed.com, citing the U.S. Department of Labor, asserts that "if twice as many women worked in the construction field, the industry's labor shortage would be wiped out." Women make up nearly half of the U.S. labor force, yet represent just 9% of the total construction workforce, a percentage largely unchanged since 2002.

The Curbed.com article by Amanda Abrams, entitled "Women are the solution to the construction industry's labor shortage", goes on to state: "With gender disparities narrowing in industries across the board, figuring out how to get more women into construction seems like a no-brainer."
But there are a number of hurdles to overcome: "There's a perception that it's not an industry friendly to women," Katrina Kersch, chief operating officer of the National Center for Construction Education and Research is quoted as stating. She attributes this to things such as the scarcity of images depicting women at work in the industry and stereotypes of male construction workers as unwelcoming to women.
In the article, Kersch also points to the difficulties women face in getting into the construction field, citing the lack of a clear path to entry. Traditional avenues such as vocational classes at high schools or community colleges, apprenticeship programs through unions or jobs directly with contractors "are overwhelmingly targeted to men" and are far less obvious to those unfamiliar with the industry.
There are other barriers to entry. The city of Portland and The Portland Metro Workforce Development Board conducted a study that found only 4% of the Portland Metro area construction workforce consisted of women. The study cited several reasons, including lack of industry connections, absence of exposure to construction careers, inadequate funding for pre-apprenticeship programs that serve women, lack of steady work and jobsite culture among other things.
Overcoming Perceptions
The construction industry is a largely untapped source of good, high-paying jobs, and one of the few where the gender pay gap is almost negligible. Bureau of Labor Statistics show women in the industry earn nearly 96 cents for every dollar a man earns, compared to the US average of 81 cents. The Curbed.com article cites a $30 per hour industry average wage (as of October 2018), with the potential to go up from there as workers gain new skills.
So why aren't more women entering the field? One longstanding reason is the perception that all jobs in the industry require extensive physical labor in frequently challenging and/or dangerous conditions. And while there are individuals, including women, who are open to this type of work, today's workforce is less enamored with these types of roles.
Attracting Next-gen Construction Workers Calls for Change of Minds
There are "traditional" roles for women, such as office and administrative positions. But as my colleague, Kim Hegeman, managing editor of ForConstructionPros.com, points out in "Let's Fill the Construction Labor Shortage with Women", the growing presence of technology creates many new job opportunities that women may excel at, plus there are managerial positions available such as project managers, crew foremen, safety managers and more. She writes: "There are so many different kinds of jobs in the construction industry that I feel women don't even know about or consider."
Fortunately, there are an increasing number of examples where women excel, and thrive in the industry – a win-win for both employee and employer.
Throughout Women in Construction Week, there have been numerous examples and quotes from women working successfully in the industry on social media. One of my favorites is from Sara Leach, field office coordinator at Level 10 Construction. She's quoted on the company's Facebook page:
"As a woman in construction, I believe that construction has significantly transformed and progressed my professional development. Being in this industry has brought me new abilities including adapting to changing environments of the project and addressing any task thrown my way."
The benefits go both ways. Hegeman's article cites Sundance Construction owner Sundance Keeper, who wanted to show that gender boundaries shouldn't exist for construction jobs. His company put together an all-female framing crew for a two-story apartment complex. A specific benefit he discovered was how detail oriented the female workers were. In an industry where details matter for both successful job completion and safety, this is a very desirable attribute.
During an interview  this week with Tony Rader, vice president of National Roofing Partners, and 2019 National Chair for the Associated Builders and Contractors, we chatted about the issue of diversity in the workforce. He commented, "If I had a choice of two individuals who have the same qualifications and one was a woman and one was a man, I'd hire the woman." His reason, again, was the attention to detail that women often bring to a project.
Take It National
So how does the industry attract more women into construction careers? Going back to the Curbed.com article, the author points out that women need help to enter the field in any major way. While Abrams acknowledges the networking and mentorship opportunities provided by groups like the National Association of Women in Construction and Women in Construction Operations, she adds that most of the programs to recruit and train women in the hard skills required to work in the field are largely occurring at the local level.
"If general contractors are serious about reducing the industry's labor shortage, they might want to start lobbying for increased funding to help train and bring in women, or invest in an advocacy campaign alerting women that job opportunities exist in the field," she writes.
"There are signs that this work is beginning," she continues. "The Association of General Contractors (AGC), for example, says it's committed to attracting more women, and has lobbied for increased funding for technical education."
At the time the Curbed.com article was written, the AGC was about to launch a targeted digital advertising campaign to hit certain demographic groups, including women, in seven cities.
Abrams closed her article with a rather succinct quote from Brian Turmail, AGC's director of public affairs, that I'll also share here:
"We need to do a better job of telling the story of all the opportunities that exist in this industry... It's not your father's industry anymore."