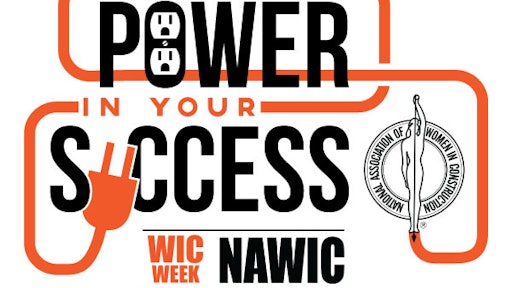 In my role as a journalist, there is no shortage of women in the workforce. Even within the construction industry media, there are a lot of women present. However, the same cannot be said about women working directly in the construction industry.
That's partly why Women in Construction Week is celebrated. This year, Women in Construction Week is recognized March 3 through the 9. The National Association of Women in Construction's (NAWIC) event highlights women as a visible component of the construction industry. The week of recognition is also a time for the industry as a whole to raise awareness of the opportunities available for women in the construction industry and emphasize the growing role of women in the industry.
According to data from the U.S. Bureau of Labor Statistics, by the end of 2016 there were approximately 939,000 women employed in the construction industry. That seems like a large number; however, that's only 9.1% of the U.S.'s construction industry. The majority of these women held roles in sales and office (45%) and professional and management (31%).
Those are great positions to hold, but with the construction labor shortage there is much more opportunity for women. Of the over 800,000 women employed in construction in 2010, only 200,000 of them were employed in physical labor occupations such as laborers, electricians, plumbers, etc.

The number of women employed in the construction industry saw substantial growth between 1985 to 2007 — growing by 81% during that time span and peaking over one million working in the industry by 2007. However, when the Great Recession hit between 2007 and 2010 the number of women in construction declined sharply. In fact, according to the numbers, more than 300,000 women left the construction industry by 2010.
There are many reasons the number of women in the construction industry is not as high as men, but that doesn't mean we should discourage women from pursuing construction careers. And we should recognize, acknowledge and celebrate those (both men and women) working to make a difference for women in a male-dominated industry.
So with Women in Construction week next week, make sure you take time to recognize and highlight specific women in the construction industry or the role of women in the industry in general.
NAWIC has a few suggestions for things your construction company can do for Women in Construction Week:
Display the Women in Construction Week poster at your office, jobsite, local high schools and colleges

Promote a STEM event for girls/women

Promote NAWIC's scholarship to local students

Host a Women in Construction career day

Post about Women in Construction Week on social media

Receive a proclamation or official recognition for Women in Construction Week
Does your company celebrate Women in Construction Week? How? We'd love to hear from you at ForConstructionPros.com.
Just for fun

After you've finished celebrating Women in Construction Week, consider adding some of these other special holidays to your monthly calendar.
March 3 - I Want You to Be Happy Day

March 6 - National Frozen Food Day

March 11 - Worship of Tools Day

March 14 - National Potato Chip Day

March 20 - Proposal Day (could be any kind of proposal)

March 22 - National Goof Off Day (going to make Friday even harder!)

March 26 - Make Up Your Own Holiday Day (this could be a fun contest at work)

March 29 - National Mom and Pop Business Owners Day (you probably know a few in this industry)
Did you like this blog? Read more Construction Toolbox blog posts on ForConstructionPros.com.
Also, check us out on Facebook and connect with us via Twitter.