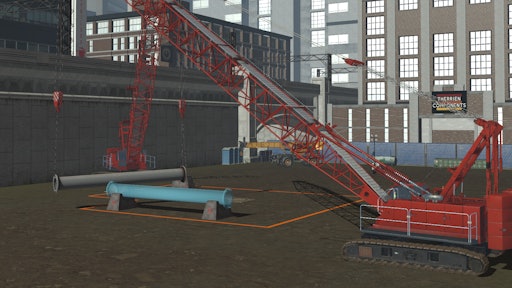 CM Labs Simulations, developer of Vortex training simulators, announces that it will be releasing a host of new training technologies at bauma 2019. Each element is designed to work independently, or as part of a total team learning solution.
The company will be launching its new augmented reality (AR) application, which makes it possible for instructors to bring a virtual mobile crane right into the classroom, where trainees can interact with it, conduct walkarounds and learn the fundamentals of machine inspection.
Once trainees are familiar with the equipment, they can get behind the controls of an equipment simulator and work through the built-in training curriculum, or focus on the development of specific operator skills.
CM Labs, Manitowoc Partner for Next-Generation Crane Control System
Two training simulators will be on display at CM Labs' booth: the immersive Vortex Advantage and the desktop Vortex Edge Plus. Both simulators can run the company's full catalog of lifting and earthmoving training packs, including Mobile Crane, Flat-top Tower Crane, Luffing Tower Crane, Crawler Crane, Excavator, Wheel Loader, Backhoe, Dozer, Motor Grader, and more.
The simulators are designed to run independently, or as part of a unique tandem lift operation that will be on display for the first time at bauma 2019, allowing two trainees to work simultaneously and cooperatively to complete a crawler crane lifting exercise.
In addition, CM Labs will be displaying its Signalperson Training Station, which allows a third team member to provide hand signals to the operators, while a fourth team member can supervise the operation, or inject challenges using the Instructor Operating Station.
"The impact of today's training simulators goes far beyond equipment and controls familiarization," says Drew Carruthers, CM Labs' Director of Training Solutions. "With full team training, each member of the team is fully engaged in developing skills and best practice techniques, while also acquiring the collaboration skills that are vital to safety and efficiency on the work site."