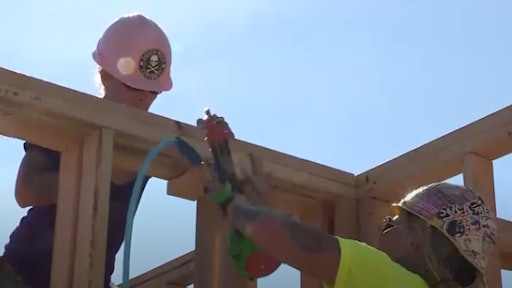 There is a labor shortage in construction. And there's also a lack of diversity in the construction workforce in many areas. Recently, I've seen a few stories pop up about women in construction — specifically the lack there of. Yes, for a lot of women, the construction industry is not their calling. However, that doesn't mean women shouldn't work in the construction industry or the industry shouldn't actively pursue adding women to the workforce.
There are women who can and want to do the physical work of a construction laborer. But there are so many different kinds of jobs in the construction industry that I feel women don't even know about or consider. Yes, there's office and administrative positions often times filled by women. But the growing presence of technology creates many new job opportunities that women could excel at. Plus managerial positions such as project managers, crew foremen and more. Sometimes I wonder if the perception that construction jobs only involve the heavy labor may be prohibiting some women from pursuing this field.
That's not to say that women can't do the construction labor work. In fact, in Springfield, MO, Sundance Construction owner Sundance Keeper wanted to show that gender boundaries should not exist for these jobs. Sundance Construction put together an all-female framing crew for a two-story apartment complex. According to Keeper, "People need to know that really all it takes is motivation."
Keeper also noticed another benefit of the all-female crew. He noted how detail oriented the female workers are. In an industry like construction where details matter not only for job completion but for safety, adding some detail-oriented workers would be beneficial.

Women in the construction industry is not a new concept. However, the amount of women working in the industry has consistently remained low. The current share of women working in the construction industry is about 9%. That number hasn't changed much since 2002. Of the women working in the construction industry, the majority of them hold sales and office positions. Even more disappointing, the number of women in the construction industry started to drop in 2009 and has only started to increase since 2013.
Earlier this year, the city of Portland and The Portland Metro Workforce Development Board conducted a study that concluded only 4% of the Portland Metro area construction workforce was made up of women. The study cited many reasons for this lack of female workers including lack of industry connections, absence of exposure for women to construction careers, inadequate funding for pre-apprenticeship programs that serve women, lack of steady work and jobsite culture among other things.
Back in 2016, Construction Dive published an article highlighting 10 ways to create a more inclusive environment for women in construction. One suggestion was acknowledging there is, in fact, an inclusion problem and raising awareness of that problem. The article goes beyond just acknowledgement and makes suggestions to implement policies for inclusion as well as steps both women and men in the industry can take to eliminate the problems.

The efforts to support women in the construction industry have been around for over 50 years. Back in 1953, 16 women working in the construction industry founded Women in Construction of Fort Worth, Texas. The goal was to create a support network for the small fraction of women in the construction industry. Within two years, the organization became so successful it gained its national charter in 1955 and became the National Association of Women in Construction (NAWIC). NAWIC's purpose is to "provide its members with opportunities for professional development, education, networking, leadership training, public service and more."
NAWIC even celebrates Women in Construction Week each March to "highlight women as a visible component of the construction industry." NAWIC members and nonmembers use Women in Construction Week as a chance to raise awareness of opportunities for women in the construction industry and highlight the growing role of women in the industry.
There are many other organizations and construction companies making strides in highlighting career opportunities and training for women. One of the largest construction companies in my area of Wisconsin, Miron Construction, has started a youth program called "Build Like a Girl" to introduce young girls to the construction industry. ForConstructionPros.com also highlighted a summer camp in Portland called Girls Build, which teaches young girls skills in 10 trades.

Some construction companies may see a catch 22 in recruiting women to the industry. With all the talk of diversity and inclusion and treating everyone equal, why (and should we) place special emphasis on recruiting women separately? The reality is, until it is no longer uncommon to see women in the construction industry we do need to place special efforts into exposing, recruiting, training and retaining females into the construction industry. Until young women and girls see someone like them working in construction the industry will need to focus and tailor recruitment strategies specifically to the female population.
There is another effort being made to highlight the current women working in the construction trades and hopefully expose these role models to the younger female generations. It's called Hard Hatted Woman, and it is the first feature-length documentary telling the story of women in the construction industry.
The documentary follows five women through their daily experience on and off the job. At the time this blog was written, Hard Hatted Woman was in post-production but still fundraising to complete the film. I hope that by the time this blog is published the documentary will be well on its way to the public.
There's no denying that there is a lack of women in the construction trades. And this should be seen as a huge problem. With an industry struggling to to fill a labor shortage and the inevitable transitions and changes technological advances will bring it is time for the industry to focus on how to expand its female work force, and it's time for women to see the construction trades as a viable career path.