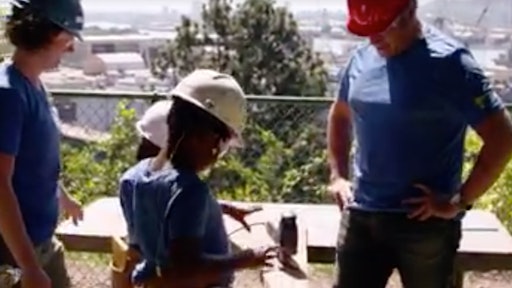 As part of our research for articles for Careers in Construction month, my editor sent me this video of Returning the Favor with Mike Rowe. This particular episode featured Katie Hughes, a female carpenter who created and runs a skills trade camp for young girls called Girls Build. Girls Build is a non-profit organization based in Portland, OR.

After watching the video I had a lot of thoughts going on in my head. First, I thought Girls Build is awesome. Another opportunity for young women to learn about, train and hopefully get inspired to pursue careers in the skilled trades. Not just that, but programs like these empower girls to learn skills many people may not think they are capable of. There are so many people like Katie (and Miron Construction which I wrote about earlier this month) teaching young girls skills that will help them be independent, self-sufficient young women as they grow.

Immediately after that I thought, "I'm sure there are so many programs like this across the country, and it's unfortunate that can't all get exposure like this."
Then I thought, how amazing of Mike Rowe and this program to give back to Katie's effort. They donated a new mobile tool trailer/workstation for her program, and Mike Rowe's foundation also donated $10,000 to the Girls Build program.
But just like before, I thought about all the other programs that must exist with these same needs. Hopefully, this good deed can help Katie and her program develop a new generation of female skilled workers. And hopefully, all the other programs similar to this can make an impact, too, even if they don't get the same high exposure a program with Mike Rowe provides.
As I think about Careers in Construction month, the skilled labor shortage and the negative perception of working in the construction industry I think about programs like these. While reaching out to young children not entering the workforce for years may not seem like the best short-term solution, I'm hoping the industry will reap the benefits in the long run.
I have a three-year-old daughter, and I'm always trying to capitalize on the activities and toys she gets excited about. She loves reading, so we read to her everyday and encourage her enthusiasm. I feel if you introduce something while they're young and excited about it, hopefully the more likely it is they remain excited about it as they grow.
I feel that is likely the same with the construction industry. Whether it be young girls or boys, if we reach out to them with these types of fun opportunities while they are still eager to learn (before they get older and everything becomes uncool) hopefully we can keep them engaged and interested by the time they are old enough to enter the workforce.
Do you know of other programs similar to Girls Build that is working with youth (boys or girls) to teach them trade skills? Please share those with us.
Is your construction company making efforts to engage and reach out to the younger generation before they are ready to enter the workforce? If so, what are you doing to engage them?
Share your thoughts and experiences with ForConstructionPros.com. We may not be Mike Rowe, but we'd love to learn about and share more programs like Girls Build here on our website.