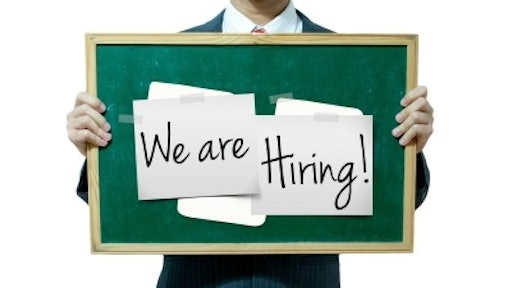 freedigitalphotos.net
October is Careers in Construction month, so I wanted to focus my blogs this month around that topic. We all know there's a labor shortage in the industry, and despite so many efforts it doesn't seem to be getting any better just yet. It's hard to find people who want to work in the construction industry. But if there was a place where those people were, wouldn't you want to have a presence there, too?
While many contractors may be looking for innovative ways to recruit and hire, what about a tried and true way — online job boards. Ten years ago when I was looking for a job as I was graduating college I often scanned job board websites like CareerBuilder and Monster. I'm not sure how popular those still are today (I certainly don't see commercials for them on television anymore). However, posting your open positions on a construction-specific job board could be a very good idea for your company.
We hear a lot about how this next generation of workers is very tech savvy. These potential employees are online all the time. Why not be where they are?
iHireConstruction.com

Well I'm sure there are many construction job boards on the Internet, one I recently came across is iHireConstruction.com. As the name would imply, this online job board is for construction jobs only. iHireConstruction brings construction employers and construction job seekers together in one place.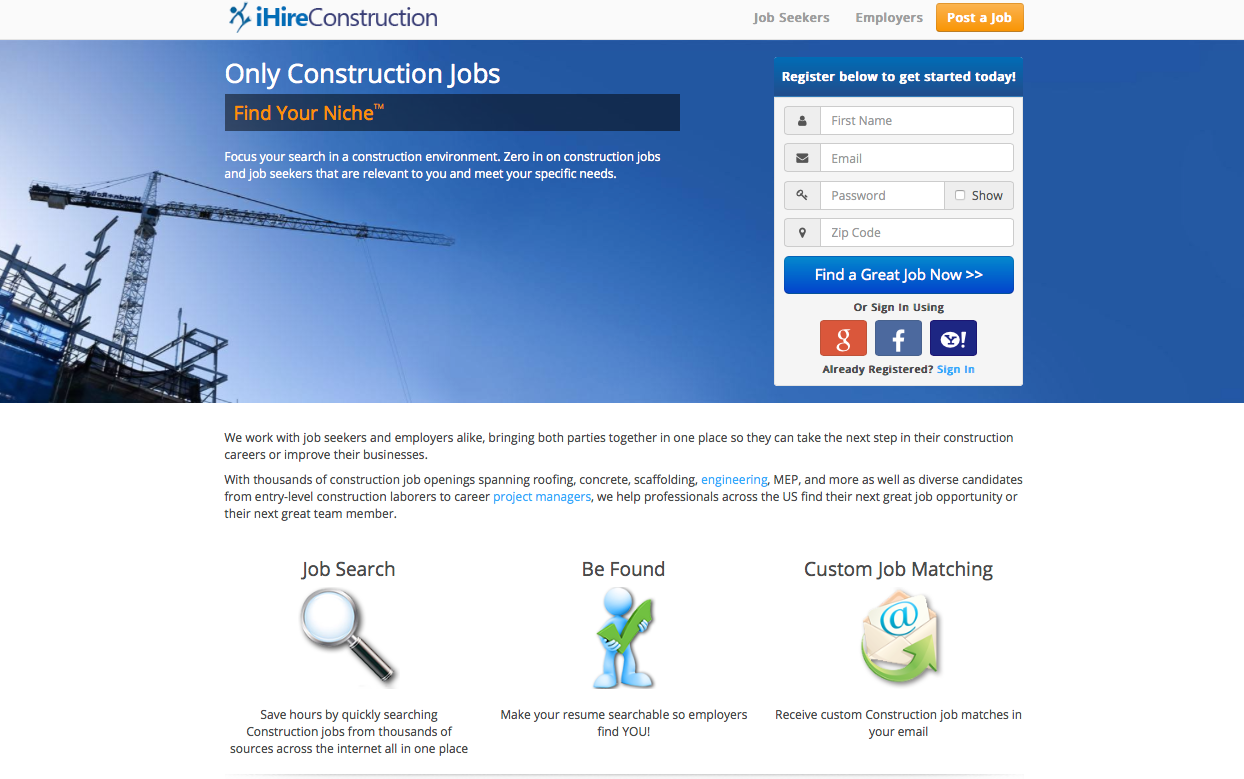 Why use iHireConstruction.com? According to the website, the site has a network of over 494,000 qualified construction candidates. And since it's an industry-focused approach and not just a general job board you know the majority of candidates want to work in construction. iHireConstruction.com also claims it has 8.5k visitors a month of which 88% have at least one year of professional experience.

For employers, iHireConstruction provides the opportunity for you to create and add a job posting as needed or the ability to integrate all of your company's job openings if you are frequently hiring through iHireConstruction.com's job wrapping. According to the website, "Job warpping is a process that captures job ads from an employer's website and automatically posts them to a job board or select group of external sites."
The benefits of the job wrapping service on iHireConstruction.com is that you post a job opening once and it becomes visible in multiple places. Plus, a Customer Success Manager from iHireConstruction makes sure job ads get qualified traffic.
A quick scan of iHireConstruction.com's employer page shows that employers can buy job postings by the number of postings (one, two, 20, etc.) You can also choose from a 30-day or 60-day posting period. One nice perk — unused postings never expire. So if you only have two openings now but anticipate more in the future you could buy more postings now and reap the savings while holding on to unused postings until needed.
Job postings on iHireConstruction.com include features such as, custom questions, branded email alerts, sharing jobs to iHire's Twitter accounts, and the ability to view, track and save notes on applicants. You can even add video to your job postings.

iHireConstruction.com also offers resources to help employers get the most out of their job postings. You can find articles on writing effective job postings, mobile recruiting, interviewing, resume searching and more.
If you'd rather be more active in finding the right candidates, iHireConstruction also provides a resume search service, for a price. Depending on the package you purchase, this service allows contractors to search through the website's database of submitted resumes. You can search through resumes by job title, skills and interests, location, relocation preferences, education level, last activity and more. In addition, saved search alerts send matching resumes directly to your email.
Contractors approve
Many contractors have left testimonials on the iHireConstruction.com website touting the success of their employee search using the website. Many of these contractors site the fast turnaround time in receiving resumes and the number of qualified resumes received as top benefits from using the site.
ConstructionJobs.com
Another construction-focused online job board that came up in my recent searching was constructionjobs.com. Similar to iHireConstruction, Construction Jobs is designed for job seekers and employers in the construction, design/build and engineering industries. With Construction Jobs, contractors can post job openings using a daily rate, 30-day posts or a custom plan. Plus, Construction Jobs claims it will cross post your job posting on other popular job boards at no extra cost. According to the website, the goal is to offer employers the best option for their hiring needs and budgets.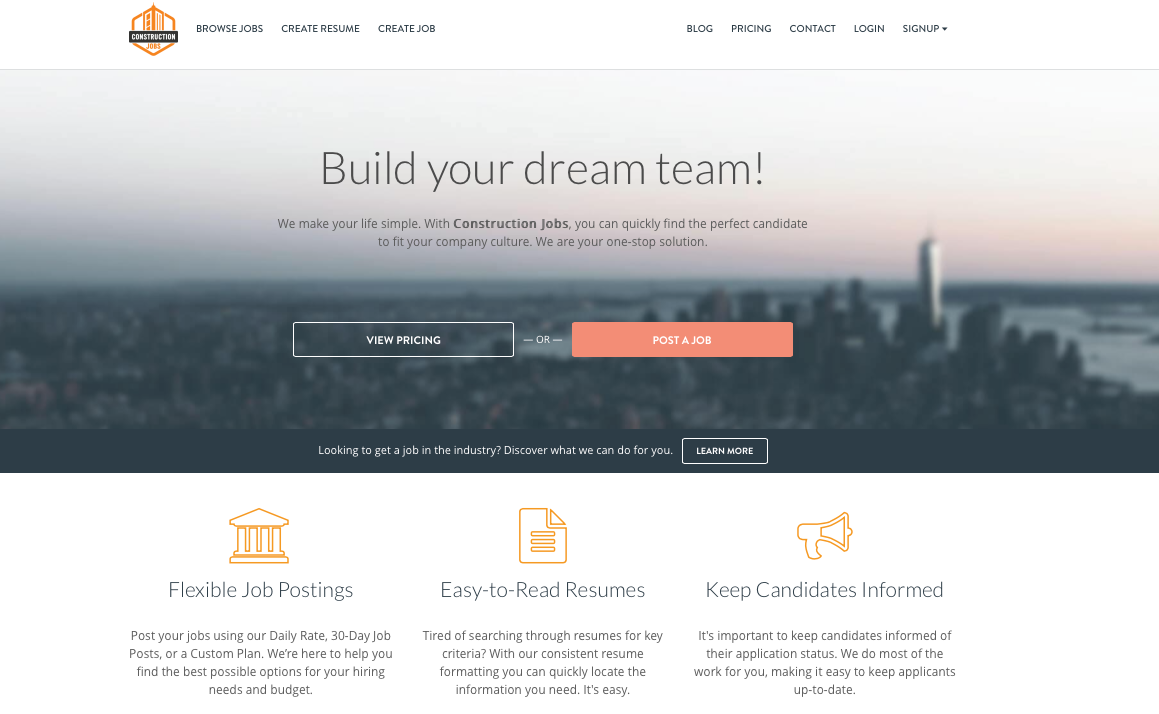 No matter what pricing package you choose, your job post on constructionjobs.com includes applicant tracking, unlimited edits and automated feedback to candidates. The automated feedback means applicants are automatically notified when a position has been filled. The applicant tracking feature utilizes a candidate management system where contractors can download, share and print resumes. It allows employers to mark candidates of interest versus those not a match for the position.

Constructionjobs.com features a consistent resume formatting allowing employers to quickly locate the information they are searching through resumes for. While active job seekers can contact you about your job posting, you can also search through the website's database of passive candidates who may be qualified for your open position but may not have applied.

The resume search is available on a pay-per-view or monthly/annual plan basis. Contractors who purchase a resume search plan can search by keywords, location or more specific filters such as certifications, education, etc.

Is it worth it?

What are your thoughts about an industry-focused online job boards like iHireConstruction.com or Constructionjobs.com? Would you or have you used this site? Have you used similar online job boards? What has your experience been?
Is this a worthwhile, viable way to fill your open construction positions?
Share your thoughts with us.