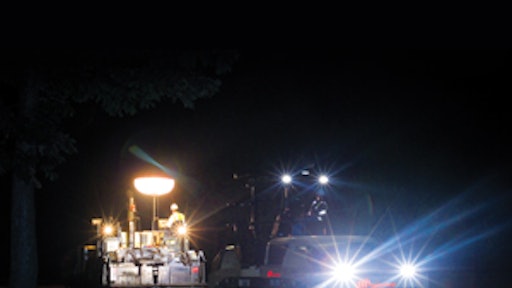 Compacting a new road surface for optimum smoothness, rideability and density can be challenging enough during the day given the number of variables that affect them. Coupled with a veil of darkness at night, the goal can become even more difficult.
But contractors such as Highways Inc. are up to the task. Like a growing number of construction firms nationwide, the Tennessee-based company is experiencing an increased demand to take on night roadbuilding projects, due in part to the driving public's aversion to bottlenecks and detours during periods of high traffic volume typically found during the day.
Mark Odom, vice president of Highways Inc., took on his first night roadbuilding project roughly eight years ago. He currently handles about six of these jobs a year, and anticipates the number of night job bid requests to continue to rise. He certainly isn't shying away from accepting them.
Carefully monitor temperature
According to Odom, one of the biggest challenges of nighttime operations is maintaining sufficient heat in the asphalt mix to ensure proper compaction. "Cooler temperatures are more conducive to workers," he notes. "But when combined with the wind and rush of air created by excessive highway truck traffic, they cool down the polymers."
"Monitoring the temperature drop in asphalt material is very important to the success of the compaction process," states Bruce Monical, marketing manager, Hamm Compaction Division. "That rapid fall in temperature has to be handled differently at night than during the day."
The level of temperature drop between day- and nighttime operations varies depending on the region of the country in which a job is located.
For example, a compaction crew in Phoenix, AZ, will need to handle asphalt much differently at night, when temperatures may reach only 50° F, than during the day, when the ambient temperature is 110° F. "That asphalt is going through a much more rapid cooling off process, which means you have a shorter period of time for compaction," Monical points out.
Compare that scenario to crews working in central Illinois, where the temperature may be 92° F during the day, but only drop to 80° F at night. "That temperature differential may not affect the compaction process as much," he says.
In extreme cases, a dramatic temperature drop may require that more rollers be brought onto the jobsite. Operators may also have to run their rollers at higher speeds.
"Higher frequency machines can allow the operator to operate the machine at faster travel speeds, while maintaining the optimum impact spacing, which is important for density and smoothness," explains Wayne Tomlinson, training specialist, Volvo Road Institute. "If the mix cools beyond a certain point, you can't compact it anymore. You can break the rock in the mix because it can't take the energy that the drum is trying to put into it. If that happens, you're making paths for water to get in. You can also damage the machine."
The use of Superpave mixes has helped to minimize some of the challenges of nighttime operation. Because they can be successfully compacted at lower temperatures, these mixes provide crews with a longer window of opportunity to achieve optimum results.
"Polymer modified asphalt is a great invention," says Odom. "When compacted properly and at the right times, they give you a tremendous riding surface as far as smoothness and degree of compaction."
Manage logistics
Odom also emphasizes the importance of logistics in achieving proper compaction - a task that can become even more complex at night.
Odom's crews work every night, except Saturdays and holidays. "Traffic is just too great on those days," he says. "On days where you have a lot of traveling public and/or truck freight, you don't want to be trying to travel on an Interstate that is bogged down or clogged with excessive traffic."
This can factor into the allowable cycle times for the trucks from the plant to the paver. "We strive to never let the pavers stop. Gauging the rate of the paver travel, the rate of the asphalt plant production and the travel times of the truck are all important factors in determining how many trucks you put on the haul to make sure the paver never stops," Odom states. "That helps avoid segregation, which helps improve compaction and rideability, as well as the overall flow of the job."
Light it up
Generally, the process of compacting asphalt at night is the same as it is during the day. Equipment sizing, drum width, drum diameter, etc., remain unchanged. However, required precautions are different, notes Odom.
One of the main precautions is the need to obtain an adequate and acceptable means for quality lighting, so workers can truly see what they're placing, compacting and finishing. "In the absence of daylight, that can be a challenge," Odom says. "For instance, if the water spray bars quit working, you can get a piece of asphalt caught on the roller drum. Once it sticks, it can scar the asphalt. You could more easily see it during the day. But at night, you have to keep an eye out for it and have as much lighting as possible."
This lighting can come from lights mounted on the equipment, as well as those used remotely to illuminate the jobsite. Odom appreciates that his Hamm rollers come standard with extra work lights already mounted to the machine.
Many manufacturers provide special light packages for their compaction equipment. For example, Volvo Road Machinery offers several onboard lighting systems for its asphalt rollers, says Tomlinson. In addition to standard work lights on the front and back of the machine, HID (high intensity discharge) lighting can be added to simulate daytime conditions. Additional trapezoid lamps and drum edge lighting provide maximum illumination to the work surface around the machine.
Industrial bright white LED lights mounted on the machine enable operators to safely use the steps on either side. They also light up the side of the machine. "We mount them on the ROPS so operators can see both the front and rear drums to ensure they're not picking up any material," says Tomlinson. "You need good lighting to prevent picking up asphalt."
In addition to traditional onboard lighting, Highways, Inc. relies on generators and balloon lights to ensure operators can more readily see the results of their work. This decreases the chances for error.
Balloon lights are becoming popular due to their ability to provide glare-free lighting. The diffused light is softer than traditional tower lights, and there is no reflection off the ground or equipment. And since they cast no shadows, construction workers and drivers are not blinded if they look directly at them. In addition, the lights are highly transportable and have no outriggers to set, masts to crank or lights to position. When mounted to a piece of equipment, they easily move with the job.
Of course, traditional light towers are still a popular source of light because they provide a wide area of light coverage, plus you can tilt them to illuminate other areas.
Added precautions
Even with proper lighting, other precautions must be taken to maximize safety. "Visibility changes so drastically at night," says Monical. "Drivers also aren't as alert, so more incidences occur around night paving crews."
This requires implementing adequate traffic control measures, with barriers and cones to identify areas where crews and equipment will be working. In addition, crew members must wear proper safety gear with adequate reflective material.
Although they may spend most of their time on their machine, equipment operators are no exception to proper safety precautions. Operators should not only wear appropriate apparel, they should be alert to potential hazards at all times.
"It's important that the worker on the machine is safe," emphasizes Bill Nittinger, Northeast regional manager, Dynapac.
Successful night compaction on I-75
One of Highways Inc.'s most recent projects involved resurfacing a 7-mile stretch (28 lane miles) of Interstate 75 between Chattanooga and Cleveland, TN. The three-month-long project consisted of milling/cold planing 1.5 inches of old pavement, then resurfacing it.
To mill the original road, the contractor used a Wirtgen 2200 full-lane (12.5-foot wide) milling machine equipped with a fine grinding (micro milling) head featuring twice the amount of milling teeth compared to a traditional milling machine. "The milled surface is tremendously smoother," says Mark Odom, Highways Inc. "You encounter less rattling, and it requires less cleanup than conventional milling methods. It enables us to achieve higher degrees of rideability and smoothness."
Once the milling was completed, the project required the placement of 40,000 tons of 76-22 polymer grade BM binder on the roadway and shoulders. The final application included placing 25,000 tons of silicious "D" surface material. Highways Inc. relied on Hamm 90 OSSI and Hamm 120 OSSI rollers for compaction operations.
To accommodate the cooler temperatures during the I-75 project, Odom had the asphalt mix super heated to 340° to 360° F. Trucks were then loaded and tarped to retain heat during the 20- to 25-minute drive to the final destination. "When [the mix] arrived at the site to be dumped into the shuttle buggy, we hoped it retained enough heat to achieve proper compaction, which for this project was 92%," he says.
"Our goal was to lay the asphalt at 315° to 340° F," Odom continues. "We figured we had about an hour window to do it properly. If it's too cold, the texture/finish of the mix is not as rich and smooth as it could be. From the time it's dumped on the truck, freighted to the job and placed and compacted, we were looking at about a one-hour cycle."
The crews were able to finish the job 10 days ahead of schedule. "And we were able to achieve outstanding rideability performance," Odom says. "We achieved one of the company's highest rideability performance ratings for large projects."
Odom attributes some of the success of this as well as other night compaction jobs to the rollers' OSSI (oscillation) technology. The oscillating drum on the rollers compacts asphalt by moving backward and forward rather than up and down. "It gently rearranges the particles," he explains.
"As long as those particles want to [shift] to remove the air voids and tighten up, they will do so regardless of the temperature of the asphalt," adds Bruce Monical, Hamm Compaction Division. "There isn't necessarily a preset ending temperature. The stopping point is whenever the asphalt doesn't move anymore. The quality control person with a nuclear or sonic density indicator will tell you when it's done, not the person with the temperature gun."