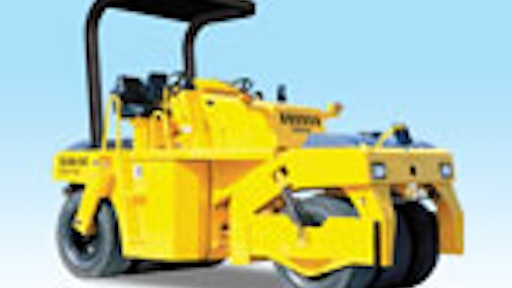 Sakai America's new GW750 vibratory rubber-tired roller is perfect for tender mix Superpave applications, stiff HMA mixes and SMA. It develops a new gyratory action that combines the field-proven kneading action of a pneumatic-tired roller with the high forces generated by a vibratory. It develops an equivalent of up to 55,000 pounds of compaction effort in a fast-moving 20,500-pound package.
This new pavement integrator is especially useful for achieving thorough compaction from top to bottom of a typical HMA lift. It takes the top-down compaction of a static roller, the bottom-up compaction of a vibratory and the kneading action of a rubber-tired roller for a totally integrated compaction effort and consistent density from top to bottom of the lift.
The process has proven useful in overcoming the problem of bridging typically found with overlays of profiled pavements where the mix does not seat properly in the grooves, even under vibratory compaction of a steel drum roller. The gyratory action of the GW750 "massages" the mix into these grooves for a much-improved interlock of the new mix with the profiled surface and integrated density of the newly-combined foundation.
Super on Superpave
NAPA/FHWA recommendations for use of conventional pneumatic-tired rollers as intermediate rollers in a Superpave train generally don't work because the pneumatic roller slows up a process that requires speed to succeed.
Sakai has determined that the combination of two Sakai 4000-vpm double-drum vibratories, followed by one GW750, followed by one Sakai R2H-1 balanced three wheeler or an 84-inch-wide double-drum running static is the perfect combination for overcoming any and all tender mix problems, giving the contractor the ability to move fast and make bonuses on incentive-based projects.
The GW750 has also proven effective for moving materials fast on stiffer HMA mixes where a higher percentage of crushed aggregates break down faster under the gyratory action of the new roller. The GW750 is also excellent on SMA mix designs.
Small roller, big results
The GW750 incorporates multi-amplitude eccentric weights in both the front and rear axles. These amplitudes can be set to develop compaction efforts from 20,500 pounds (static) to 55,000 pounds right from the operator station.
Running either statically or with dynamic force, the machine is designed for balanced pli over the width of each tire at both the front and rear axles, which translates to balanced density and excellent smoothness over the rolling width of the machine.
In addition to the excellent traction capabilities of this system, the driven tires eliminate the bow wave build up and hairline cracking typical of non-driven drums or tires. Fourteen inch-wide, super flat tires provide ample coverage and overlap for a smooth surface finish.
The articulated steering system of the GW750 is designed so that the front and rear tires track precisely for even compaction and optimum smoothness over the 77-inch-wide coverage of the machine.
The system offers an outer turning radius of less than 213 inches — ideal for maneuvering around cul-de-sacs, without shoving material due to hydrostatic differential effect. In addition, the dual variable flow motors in the rear of the machine compensate for the speed differential between the outer and inner tires and further eliminate pushing and shoving of the mat.
Dual spray systems located over both the front and rear tires provide both pressurized release agent and pressurized water that will enable the operator to get on the mat quickly and stay on the mat throughout the shift. Like all Sakai spray systems, the GW750 includes ample water reservoirs, convenient back-up pumps and spray nozzles that are quick and easy to clean or replace on the job.
The GW750 is powered by a fuel-efficient 104-hp Isuzu water-cooled diesel engine with a displacement of 264 cubic inches. This engine meets Tier II emission standards. As on all Sakai rollers, ROPS and seat belts are standard.
Braking systems of the new roller include spring-applied, hydraulically released disc brakes actuated hydrostatically via the forward-reverse lever, mechanically via a foot pedal or manually-operated parking lever or via an emergency stop button on the control panel.
Hamm HD 10 and HD 10K Compactors
The HD 10 and HD 10K asphalt compactors feature a 39-inch-wide double drum.
HD 12K combination model includes four smooth tires across rear
5,805 pounds of centrifugal force
31.5-hp engines
Traveling speed of 6.5 mph
Shannon Chastain BASIC Model 700
The 1 1/2- to 3-ton BASIC Model 700 pneumatic roller features a 7-wheel design that provides more compaction than 9-wheel machines in its class.
Hydrostatic drive and power steering
28-hp Kubota diesel engine
Wheels oscillate independently
Multiquip V30-4 Roller
Multiquip's V30-4 single-drum vibratory roller features 3,730 pounds of centifugal force.
4,400 vpm
30-inch-wide drum
Three engine options: 10-hp Yanmar diesel, 11-hp Robin gasoline engine and 11-hp Honda gasoline engine
Customized transport hooks that allow the operator to easily load the unit on the tailgate of a dump truck
MMD PavingPro 270
MMD Equipment offers the PavingPro 270 compact vibratory ride-on roller by Sakai.
ProDrive Hubs enclosed within the drums
13-inch curb clearance and zero overhang on both ends
ProRide double-drum suspension system
18-hp Honda GX610 easy start engine
50-gallon frame-enclosed water tank
34 percent gradeability
All-steel construction
Beuthling Compaction Equipment
Beuthling offers 14 different static and vibratory, rigid frame and articulated models.
Models range from 1 to 5 tons
B105 static, rigid-frame compactor features a 16-hp twin-cylinder gas engine, hydrostatic internal drum drive, hydraulic power steering and heavy formed drums with non-marking edges
Sakai CV550 Track-Driven Compactor
The CV550 track-driven vibratory soil compactor is able to climb up to 45-degree slopes while compacting.
Generates 61,729 pounds of centrifugal force or 917 pounds per linear inch of total applied force over its 84-inch drum
110-inch blade
156-hp Isuzu liquid-cooled, direct-injection diesel engine
Combination of hydrostatic, mechanical foot and multiple wet-disc brakes
Ingersoll-Rand DD-158HFA Compactor
The DD-158HFA double-drum compactor features SMART technology, offering eight amplitude settings that are automatically adjusted to the highest frequency for the specified amplitude.
Maximum centrifugal force of 44,120 pounds
Vibration frequency from 2,500 to 3,400 vpm
33,810-pound operating weight
185-hp Cummins six-cylinder turbocharged diesel engine
59-inch drum diameter with an 84-inch rolling width
Rol-Mol 203/304 Rollers
The Rol-Mol models 203 and 304 rollers are powered by Briggs & Stratton gas engines or Kohler diesel engines.
Rolls asphalt slick with no roller marks
Full compaction as close as 1 inch to wall or curb
Hydrostatic drive in one forward/reverse lever
Rear drums 38- to 40-inch-wide
Split front steering drums with scrapes
Epoxy coated water tank
Flo-Jet water pumps and sprayers optional
Wacker RD 27 Series
This 2.5-ton class ride-on roller series includes two models featuring 39.4- (RD 27-100) and 47.2-inch (RD 27-120) drums.
Dual vibration frequencies
Throttle level controls exciter frequency in each drum, adjusting centrifugal force to the high or low position
Ergonomic design with improved visibility and vibration-isolated operator's station
Single, hydraulic control lever with built-in vibration control
Bomag BW120AD-4 Roller
The Bomag BW120AD-4 tandem vibratory roller is powered by a 33.7-hp, three-cylinder water-cooled Kubota diesel engine.
Operating weight of 5,732 pounds
47.2-inch-wide drums
Maximum centrifugal force of 10,125 pounds
Choice of two vibration frequencies, 3,300 and 4,200 vpm,
Maximum working speed in high frequency is 4 mph
Dynpac CC900G
Dynapac's new CC900G offers an operating weight of 1.5 tons.
Air-cooled 20-hp Honda gas engine
50-gallon water tank
Maintenance-free steering hitch and steering cylinder
Spacious operator's platform with ergonomically positioned step
Sliding operator's seat with safety switch
Towing eyelet, front and rear
Fail-Safe breaks on both drum drives
Vibration on front drum
Propulsion in both drums
Warning lights for brakes and hydraulic oil temperature
High clearance adjacent to the edge of the drum on both sides
Ammann AV 16 Double-Drum Roller
The AV 16 double-drum roller is powered by a 20.3-hp water-cooled three-cylinder Yanmar diesel engine.
35.4-inch-wide smooth drums provide up to 3,147 pounds of compactive effort at each end of its 3,747-pound chassis
"Full-flush" cantilevered chassis is designed with 2 inches of offset for zero-clearance compaction against obstacles
Lifetime-lubricated spherical center joint
Ingram AS315 Roller
Ingram's AS315 static drum roller is powered by a Cummins 4-cylinder diesel engine.
84-inch rolling width
Three static steel drums
Ballasted weights to 15.5 tons
350 pounds/square inch in compression
Standard ROPS
Dual operator seats
Optional 160-gallon sprinkler system
Caterpillar CB-300 E-Series
The CB-334E and CB-335E asphalt compactors are powered by the 50-hp four-cylinder Caterpillar 3024C Tier II diesel engine.
CB-334E double-drum unit has a 51-inch compaction width and an 8,731-pound operating weight
8,092-pound CB-335E combi unit has a 51-inch-wide drum at the front and four smooth tires at the rear
Hydrostatic propel system
High-frequency vibratory system generates 4,140 vpm
Vibromax W 10 Roller
The Vibromax Model W 10 offers 10 metric ton perimeter frame construction.
3,840 vpm is Superpave capable
68.1-inch-wide drums offer increased area coverage
13-hp water-cooled Deutz turbocharged diesel engine
Maintenance-free articulation joint
Easy access to engine and hydraulic components
Two independent spray systems
Two 145-gallon poly water tanks
180-degree swivel operator's platform
Terex TV900 Asphalt Roller
The TV900 asphalt roller features a heavy-duty articulated chassis.
22-hp

Kubota

engine
Optional hydraulic power pack
Operator vibration isolation
6-in-1 control lever
Anti-vandal protection standard
Stone WolfPac 3100D
The WolfPac 3100 asphalt roller now features a 20-hp water-cooled Kubota diesel engine.
Also features a double-drum drive, internal vibration, center point articulation and short wheelbase
3,472-pound impact force (ballasted)
40-gallon reinforced polyethylene water tank
Contoured, high-impact, thermoplastic swing-away hood
Ergonomically designed operator compartment
Companies in this article