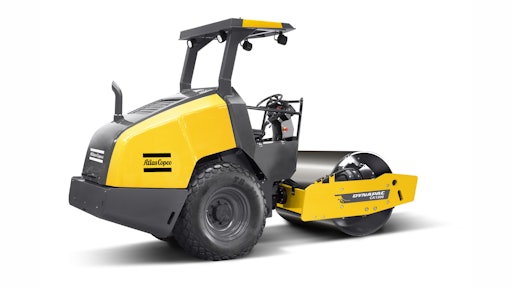 According to Vijay Palanisamy, product marketing manager for Atlas Copco's Road Construction Division, misapplication of vibratory rollers is a common problem. Use of the wrong size roller for a project can affect both productivity and costs.
"If the roller doesn't have enough force or weight to compact the material efficiently, the contractor will be making more passes to get to the desired density. On the other hand, a roller with too much force and weight will crush the material rather than compact it, and it will need to be replaced. This all results in more fuel costs and more time needed to finish the job," he explains.
"Having the right roller is particularly critical on asphalt projects where contractors have a much shorter timeframe for compacting the material," he continues. "Once the temperature of asphalt falls below 150 degrees Fahrenheit, it no longer can be compacted to increase the density. A contractor who misses this window of opportunity will put the integrity of the asphalt at risk and, in the worst-case scenario, will need to start over. "
A little prep work to ensure the right model is selected for the task can go a long way toward delivering efficient and economical results. To assist with this process, Atlas Copco has developed the CompBase software, which allows contractors to enter a project's parameters, such as type of material, density required and hours of operation, and the program provides recommendations for amplitude and rolling speed. Charts and graphs illustrate compaction depth and average degree of compaction for various models.
The program also identifies the optimal vibratory roller to achieve the desired results within a specific amount of time. "If the software suggests a roller that a contractor doesn't own, he can enter the model number of his company's Atlas Copco vibratory roller," Palanisamy notes." With the information the software provides, the contractor will know exactly what to expect for the specific job."
Tool to Reduce Over-compaction
"Double jumping is a major issue that results from over-compacting material, and often operators don't even know it's occurring," says Palanisamy. "Continuing to use a vibratory roller on over-compacted material will cause the drum to double jump, which sends vibrations to the frame and drum. This can cause significant damage to the machine and considerably reduce its service life."
To prevent double jumping, many Atlas Copco soil vibratory rollers are equipped with optional compaction meters to continually monitor the density of the material being compacted. The system transmits these compaction meter values (CMV) to the operator console.
Atlas Copco has taken this a step further with the Active Bouncing Control (ABC) system. "ABC eliminates double jumping altogether by detecting double jumping as soon as it begins to occur and shutting off the roller's vibration," says Palanisamy. "With this system, contractors get more life out of their equipment and greater ROI."