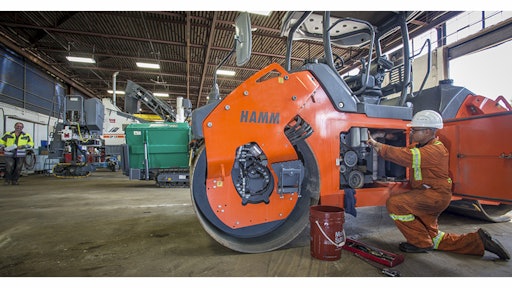 Because they are relatively low-maintenance machines, vibratory rollers have a tendency to be neglected. "In our service training, we emphasize that following the suggested service intervals found in the operator's manual is really key to keeping the machine at top performance. However, we also understand that this is not always the reality," says Richard Boward, technical service trainer, Wacker Neuson.
Yet, the potential costs associated with a roller going down on a hot mat can be severe. In addition to the costs of job delays, unexpected repairs, emergency parts orders, etc., there is the challenge of getting that roller off the mat. "That can be pretty tough, especially on fresh asphalt," comments Josh Weston, product support manager, Hamm Compaction Equipment, Wirtgen America. "You're jeopardizing your finished mat."
There is also the risk of fines if the project is not completed on schedule. Take an overnight mill and fill job, for example. "You have to have that road completed by the next morning so traffic can go on it. If that doesn't happen, you can get some serious fines. So it all adds up," says Weston.
Daily Inspection and Service
Daily service checks of rollers are essential to keep rollers working properly. At minimum, Boward recommends checking engine oil and coolant levels and replacing the air filter if the light is on. Also check water and hydraulic filters and visually inspect external hardware for loose connections or leaks. "These basic steps are quick, easy and can eliminate a number of problems down the road," he says.
Katie Pullen, brand marketing manager, Case Construction Equipment, takes it a step further, noting, "Important components to check daily are grease points, engine oil level, engine coolant levels, engine belts, the cleaning fan, the crankcase breather pipe, the air filter vacuum valve and fuel and hydraulic oil levels, and check that all controls and alarms seem to be working properly."
Because the engine and hydraulics are the two major systems that keep a roller operating, Weston advises regular checks of engine, hydraulic system and fuel filters. "These days, you never know where your fuel is coming from," he comments. "You need to try to get the best quality fuel that you can, but also keep your fuel filters changed and maintained."
And as with all equipment, follow recommended service intervals, such as engine oil changes. "Some contractors forget that compaction equipment needs a break-in period, usually between 50 and 100 hours of operation," says Vijay Palanisamy, product marketing manager for Atlas Copco's Road Construction Division. "After that, contractors need to begin performing preventative maintenance procedures based on the schedule recommended by the manufacturer.
"Failure to do so following the break-in period can reduce the life of the drive components significantly," he continues, "and in extreme conditions can even lead to failure. To make performing scheduled maintenance easier, we've built our rollers with service alerts on the consoles that notify operators when it's time for routine maintenance or service."
Boward suggests, "Keeping the maintenance charts close at hand is an easy reminder to check other areas of the machine at longer intervals, such as greasing the articulated joint and all bearings, checking the scraper bars and batter, cleaning the water filter, etc."
Maintain Drums to Protect the Mat
The vibratory system housed within the drum(s) of a vibratory roller is typically designed to be self-maintaining. "We have routine maintenance on it, but it's every 2,000 hours," Weston notes.
But that doesn't mean the drums can be ignored. "You always want to make sure the drums are clean and have not been damaged," Pullen emphasizes. "If you've been running your drum over a lot of rock or other material and it's scraping up the drum — that will show on the asphalt.
"If you are using a single-drum vibratory roller, you want to make sure that there are no problems with the tires and that the tires are inflated to the recommended pressure," she adds.
One of the biggest contributors to mat damage actually stems from neglect of the drum scraper bars. "Scraper bars are often overlooked as a regular maintenance procedure," says Boward. "It's important to keep them clean and adjusted so they work properly."
"Scrapers not only keep the drums clean of material buildup, they also hold the water in between the scraper and the drum to keep it wet and lubricated. That drum has to be wet at all times," Weston explains. "A common problem is the edges sometimes don't get enough water to them and that will cause the asphalt to start sticking to the drum, which means it's coming off that new mat."
Check scraper bars regularly for proper adjustment and excessive wear, and replace them as needed.
Keep the Water Flowing
"With asphalt rollers, one of the most common maintenance concerns is that there is debris in the water system," says Pullen. "This can cause nozzles to get clogged, pumps can fail — any components that circulate water can be subject to problems with debris."
"Some of the signs of failure or [that it's] about to fail are that the water system hose connection is leaking and/or the filter cup is filled with sediment or dirt," Boward notes. "This rust or dirt will get into the spray bars and spray nozzles and clog the system."
The initial filtration for the water system is at the fill point. "A lot of people remove that screen at the fill point and never replace it because it slows down the rate at which you can fill the water tank," Pullen comments. "That's a bad idea. You want to filter the water before it ever enters the tank, and this filter is the first and best line of defense."
For many roller models, there is only one additional filtration point before debris enters the pump, although some models include a third filtration point at the nozzle. "These machines are working in dusty environments. You're going to get debris that wants to enter that water tank, and you have to take every step to eliminate it," Pullen stresses. "If debris does enter the water tank, operators will note that they're not getting good water flow even when it's turned up to the highest pressure setting, because it's getting clogged in the mid filter before it goes to the pump.
"If debris gets past that mid filter, the pump itself could become compromised and fail," she continues. "And if debris gets all the way to the nozzle heads, the nozzle heads get clogged up and there might not be enough water to create the steam barrier to properly compact asphalt. Then you may have hot asphalt that sticks to the drum as you're working."
To maintain proper water flow, it's important to keep the initial filter screen on and clean. "You want to check your filters on a regular basis," Pullen advises. "The sprinkler bar nozzle usually requires no tools to remove to check them, so you want to check those periodically and make sure that there is no debris present there."
Pullen advises filling the water tank daily, and cleaning water filters every 250 hours or as needed. In addition, the water tank should be cleaned every 1,000 hours.
Regular checks should also be made to ensure water is reaching where it's needed. "The nozzles in the water system have to be adjusted properly so they're actually distributing the water all the way across the drum," says Weston.
Of course, the water pump is the key to proper overall system performance. "We have two pumps on our Hamm double-drum asphalt rollers," Weston indicates. "Only one pump works at a time, so you always have a backup. If one water pump goes down, you can finish out the day with the other water pump."
Case also equips its rollers with dual water pumps to ensure consistent availability of water. "If one pump goes down for any reason, the operator can switch to the other pump," says Pullen. "Depending on the model, Case vibratory rollers also feature dual or triple filtration, and nozzles are easily accessed without tools to make checking and cleaning them very simple."
As a rule of thumb, Weston suggests operators run one pump for half a day and the other for the second half. "That way, you're constantly rotating pumps and one isn't just sitting there not [being used], and all of a sudden when you need it, it might not work as effectively because it's been sitting for so long." Cycling between pumps is done via a simple flip of a rocker switch.
Prep for Cold Temps
With cooler weather hitting many areas, prepping rollers for cold temps is essential. Winterizing the machine for storage starts with draining the water system.
Empty all water from the tank. "This will prevent it from freezing and cracking the tank, as well as water system-related component failures," says Palanisamy. Also make sure all of the water is out of the pumps, lines and nozzles.
"One simple method that's generally used in the industry is flushing the water system with antifreeze mix to prevent any water from freezing in the pipelines or tank," says Palanisamy. "Also, don't forget to drain the gas or add a fuel stabilizer. All fuel contains water and if it's allowed to sit over time, that water can cause corrosion and clog the water separator."
It's also good practice to change the oil prior to storage. "Contaminants collect in the oil during operation that, when the machine is left idle, can also cause corrosion," says Palanisamy.
Other recommendations include disconnecting water system bars (where possible) for storage in a warmer environment; unhooking the battery and storing it indoors and/or placing a trickle charger on it; and covering the operator seat and instrument panel to prevent moisture ingress and resulting damage.
Of course, not all rollers go immediately into storage when the temperatures start to fall. This requires some extra attention to keep them running smoothly. "If it's really cold at night but you can still work during the day, every day you're going to have to winterize the water system like you would if [the roller] were going to be sitting for six months in the winter," Weston states. "It has to be able to withstand the freezing temperatures at night."
Pullen also advises checking the concentration of the engine coolant; replacing the engine oil with one recommended for the external temperature range; using hydraulic oil with a viscosity rated for use in cooler temperatures; using winter diesel; and maintaining a full battery charge at all times.
Failing to take time to follow such steps could result in damage to key systems. "It's a high risk, honestly," says Weston. "I know things get neglected because you've been working all day, the job is done and the last thing you want to do is stay an extra half hour. But the contractors that have the [best-performing] machines are the ones who stay over and take time to do it."