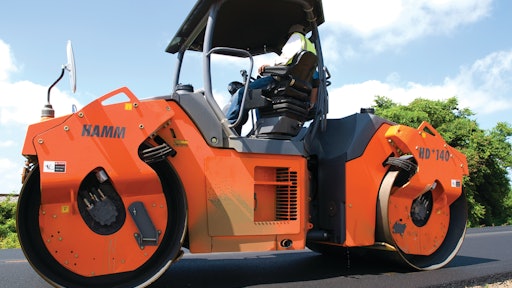 In addition to traditional vibratory rollers, Wirtgen America offers oscillation rollers that utilize a rocking motion, rather than a vertical motion, to compact pavement. Their unique design comes with specific service requirements.
"It's a belt-driven system and it's recommended that you change the belt every 2,000 hours," says Josh Weston, product support manager, Hamm Compaction Equipment. "Otherwise, it's a self-maintaining system. The bearings have lifetime grease in them."
Because of the service time required to change the belt, Weston suggests being proactive. "If your roller is near 2,000 hours and you're approaching the off season, I recommend changing them," he states. "Change them during the off season when it's a lot easier and you're not on the jobsite having to worry about a roller in the shop for a day to get the belts changed."
An oscillation roller also requires checking the drums for signs of wear. "The drum is a wear item depending on how much you use it," says Weston. "You have to regularly look at the thickness of the drum to [monitor] how much life you actually have on it.
"On a vibration roller, the drum actually moves physically off the ground," he explains. "An oscillation roller never leaves the ground. It's a constant back and forth motion. That's what wears the drum because it's actually dragging across the ground."