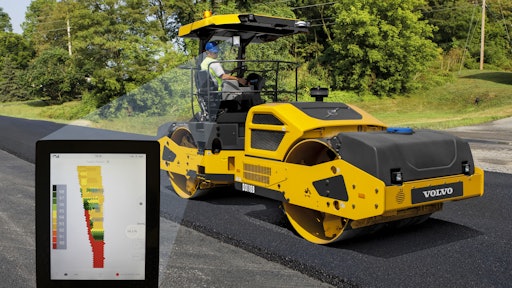 In March, Volvo Construction Equipment launched its first offering in intelligent compaction (IC) for select asphalt compactor models. Its base Volvo IC system provides pass mapping and temperature mapping. Volvo IC with Density Direct adds what is touted as the industry's first real-time density mapping technology.
"For years, contractors have relied on IC systems with stiffness calculations instead of density, which is not the true metric by which contractors are evaluated and paid," notes Dr. Fares Beainy, research engineer at Volvo Construction Equipment. "With Density Direct, operators have real-time access to the metric that ultimately determines the success of their work — density."
Video: Volvo Density Direct Provides Operators with Real-time Density Readings During Compaction
Development Process
Density Direct was developed and tested as part of the FHWA Highways for LIFE Technology Partnerships Program. From 2003 to 2015, Dr. Sesh Commuri, a Gerald Tuma Presidential Professor at the University of Oklahoma School of Electrical Engineering, worked with Volvo to develop Density Direct (formerly known as the Intelligent Asphalt Compaction Analyzer), a device that can estimate the density and stiffness of asphalt pavements during construction.
"Volvo partnered with us and [in 2008] we took the proof of concept design and developed a rugged commercial prototype that we tested at several sites around the country in about nine different states and on different types of construction," says Commuri.
The technology was used on various full-depth and overlay asphalt pavement projects and later evaluated by independent users at sites across the country. The results, which were overseen by University of Oklahoma researchers, showed that Density Direct calculations were within 1.5% of core samples every time at 180 test locations.
Once the project was completed, the technology was transitioned over to Volvo, which has exclusive rights to commercialize it. The density algorithm and its use on the compaction of flexible pavement continues to be patented by the University of Oklahoma.
The Density Difference
Volvo IC with Density Direct incorporates an 8" x 10" intuitive, touch-screen digital display, accelerometer, infrared mat temperature sensors on the front and rear, a GPS antenna and base station with optional GPS rover.
The significant difference between Volvo IC with Density Direct and other IC systems is its ability to provide a density value rather than a Compaction Measurement Value (CMV) based on material stiffness.
Stiffness measures the rigidity of the asphalt surface, and provides an output in CMV. While it can have a correlation to pavement core density values, this measurement is open to interpretation. During the development of Density Direct, test results showed the efficiency of calculating density levels compared to rolling data related to stiffness.
Density Direct is also able to provide density values in real time over 100% of the mat. "At the heart of our system is an artificial neural network that can generalize and learn as the machine is doing the compaction," Commuri explains. "What we're doing is measuring the vibrations of the roller while the pavement is being built. Based on those vibrations, the artificial neural network can be trained to convert the vibrations into a number that is indicative of the density of the pavement during construction.
Video: Science Behind How Volvo Density Direct Works
"The number that you see is a direct indication of the density that you're getting," he continues. "It's a fantastic development from the contractor point of view because now you take all of the guesswork out of paving jobs. You see what density you're getting and you don't have to perform a number of tests that are either time consuming or destructive."
Set It and Get It Done
Both Volvo IC and Volvo IC with Density Direct offer real-time temperature and pass mapping data. Using the onboard color monitor, the pass mapping function captures and displays each compactor pass and drum overlap with an individual color so the operator can easily see gaps and work to maintain uniform coverage. Temperature mapping shows the path of the compactor overlaid with the last recorded surface temperature.
Within the Density Direct system is a calibration screen where the user sets the target density for the project. Once fully calibrated with data specific to the application, the map shows each square foot of rolled asphalt in a color representing density, and provides a real-time numerical density reading in the corner of the screen.
With this real-time data, the operator is given the chance to make any necessary adjustments while asphalt is being paved. This not only reduces the occurrence of inadequate densities that drive up project costs, but reduces time spent taking core samples, improves quality and leads to greater uniformity than nuclear gauge testing.
Calibrations are also saved, so operators can assign them to certain elements of a job and quickly switch back and forth between calibrations to meet the demands of specific job elements. Data gathered from pass, temperature and density mapping is stored on the IC system's internal 14-GB hard drive, which provides enough space for approximately seven months of data logging.
The data collected can be used as evidence if compaction performance is called into question. "The general specifications [for IC technology] are developed by the Federal Highway Administration, then each state is required to make those specifications more relevant to their conditions," says Commuri. "What is going to be required soon is a complete database of as-built quality so that the agency can have a record of what was constructed and what the quality was. At a time in the future, if there are premature failures, they can go back and do forensic analysis to determine what was the cause of those failures."
While the ability to quantify compaction quality is one objective, the ultimate goal of technology such as Density Direct is to enable contractors to build roads capable of lasting their expected lifetime. "That way, all of the money we are spending [to repair roads] can be used more efficiently, and also it will help with the quality of roads over time," says Commuri.
Volvo IC and Volvo IC with Density Direct will be available in Q4 2015 on new DD110B, DD120B and DD140B models sold in North America. Aftermarket availability for Volvo asphalt compactors is expected to follow in the future.
Companies in this article