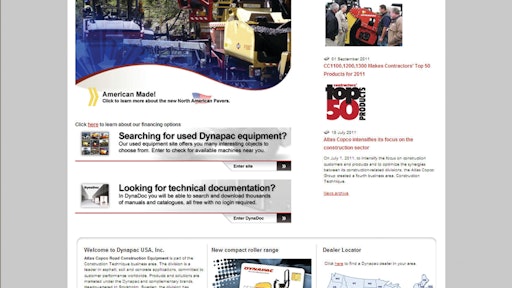 Commerce City, CO – The Dynapac website has been updated to include more product and service information grouped with each machine model.
Visitors can navigate to the product section of the website and select a specific product. The tabs directly under the product image provide the user with one-source technical data, operation and maintenance manuals, spare parts catalogs, service and repair kits, and the recommended fluid levels. (A complete range of tabs may not be available on some models.)
The improvements are designed to expand the utility of the website and make it a go-to resource throughout a product's life — from initial selection, to service and maintenance, to later resale as a used machine. Used machines can also be sold through the web site by navigating to the Used Equipment site link found on the homepage.
The improved website includes a Knowledge Center tab that provides end-user support for both soil and asphalt compaction. Tools such as CompBase for soil applications and PaveComp for asphalt paving and compaction are described.
New links to operation training for asphalt rollers and pavers are also included. The training includes self-guided courses in the Fundamentals of Asphalt Compaction and Pavers Operation.
A new Dealer Portal provides Dynapac dealers with easy access for ordering parts, obtaining technical documentation, brochures, pictures from the photo archive, and a complete promotional items shop.
Visit dynapac.us for more information.
Companies in this article