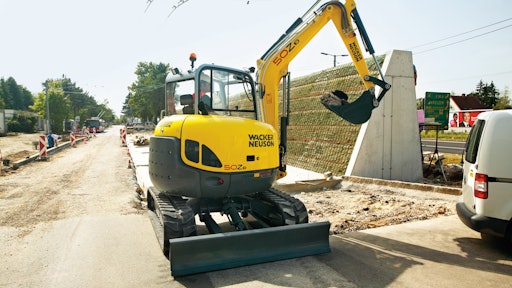 At Bauma China from November 27 to 30, 2012, Wacker Neuson, a leading manufacturer of compact equipment and light equipment, presented new products and a growth-oriented strategy for the Asian region.
"The Asian market is becoming increasingly important for our group. We would like to grow here significantly in the coming years," reports Cem Peksaglam, CEO of Wacker Neuson SE. "On the one hand, that will be realized through our new product range in the area of construction equipment, which we first introduced to a larger audience at Bauma China. We also see good market opportunities with our compact equipment."
Wacker Neuson has been represented in Hong Kong with its own sales company for over 15 years and in the locations of Shanghai, Beijing and Shenzhen since 2006. More Asian Wacker Neuson sales companies outside of China are located in India, Malaysia, Thailand and Singapore.
Wacker Neuson was able to establish a leading market position in China with the gasoline demolition hammers. "In track construction, a high degree of reliability and ease of maintenance of construction equipment is very important. Our gasoline demolition hammers are unbeatable in terms of this decision criterion. This is why we have a leading market position in China in this area, which we will utilize for more products from our assortment in the future," Cem Peksaglam continues.
In order to grow further, the group has developed its own series of construction equipment that is specifically tailored to the requirements of the Chinese market. The new series consists of compaction equipment, generators, pumps and light masts. The group sees additional potential with the introduction of a range of compact machines.
"In the medium term, we also need to manufacture these products locally in order to be able to establish a competitive position in Asia. However, when and where we open a production site in China, is currently still undecided," stated Martin Lehner, CTO and deputy chairman of the executive board of Wacker Neuson.
Wacker Neuson manufactures at eight production sites around the world. In 1994, the first production site in the Asian region was opened in Manila in the Philippines. The new construction equipment for the Asian market, among other things, is manufactured there.
"Our group is focused on growth. We see the greatest potential in Asia presently, but also in other emerging markets, such as in South America or in Africa. We already have our own distribution channels in many countries. Now it is up to us to position the products appropriately and market them successfully," concludes Cem Peksaglam.