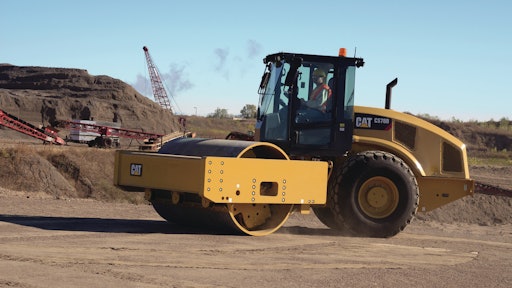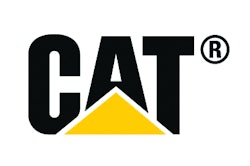 Caterpillar's new B-Series vibratory soil rollers have operating weights ranging from 11.7 to 21 tons and feature a newly designed operator station, universal bumper and enhanced compaction performance. Cat added weight over the drum and increased maximum vibration amplitude in each of nine North American compactor models: smooth drum CS54B, CS56B, CS68B, CS74B and CS78B; and padfoot models CP54B, CP56B, CP68B and CP74B. 
Cat's exclusive dual-pump propel system, providing separate hydraulic flow to the rear wheels and the drum, is enhanced by electronic control for improved forward and reverse tractive effort. A new Eco-mode helps reduce fuel use when the machine sits still for a predetermined period. Eco-mode reduces engine speed to idle until propel is engaged again, when the machine resumes working rpm. Eco-mode can also be programmed to shut down the engine entirely after a programmed amount of idle time.
A new automatic vibration function will stop vibration to optimize compaction uniformity as the compactor slows to a predetermined speed. Vibration resumes with normal propel speed. Automatic Speed Control allows the operator to select a maximum working speed. The roller will return to that speed for more uniform compaction control whenever the propel lever reaches full stroke. 
A standard control console with display unit is integrated into the operator's seat arm. The multi-language display functions as a gauge cluster and provides diagnostics and additional data to the operator. Operators can customize the interface to display the information they prefer. Cat Compaction Control density measurements can be displayed there as well. 
Machines equipped with an optional leveling blade will be equipped with a multi-control propel lever. Along with the vibration control switch, three buttons control blade up, blade down and float.
See Cat's product specifications: 
Request More Information
Fill out the form below to request more information about
B Series Vibratory Soil Compactors