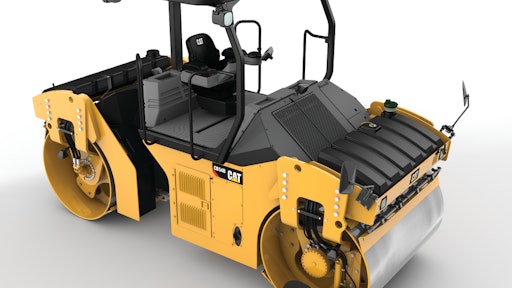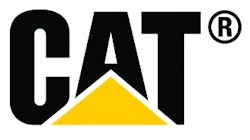 Caterpillar's new CB44B and CD44B (4-ft. 9-in drums and 7.7- to 11-ton size class), CB54B and CD54B (5-ft. 5-in. drums and 8.8 to 12.5 tons) tandem vibratory rollers offer a choice of solid- or split-drum designs. Split drums preserve mat quality in confined working areas where frequent, tight turning is required by allowing the outside drum half to rotate faster than the inside half, eliminating "pushing" of fresh asphalt.
The CB44B is powered by the 100-hp Cat C3.4B diesel engine; the CB54B (video walkaround) features the 131-hp C4.4. A newly designed center-articulating hitch allows 6 degrees of oscillation for solid mat contact and a smoother ride over uneven surfaces. An offset option of up to 6 ins. extends coverage and simplifies control next to obstacles. The CD44B and CD54B rollers feature pivoting drums and four steering modes: front drum only, rear drum only, coordinated and crab steer. Fully offset, the CD44B's total compaction width is 9 ft. 3 ins. and the CD54B covers 9 ft. 10 ins.  
Versa Vibe creates a 2-in-1 machine with four amplitudes and two frequencies. The system provides two settings for lighter impacts and higher working speeds on thin lifts; and two settings for heavier hitting at slower speeds on thick lifts or challenging mixes. Five amplitude choices offer the widest range with a single frequency.
New hand wheel steering technology eliminated the front steering console, enabling the operator to easily monitor water spray performance.  
Optional Cat Compaction Control provides much of the B Series' technological enhancement. The system combines infrared temperature sensors with digital mapping and vehicle location to keep the operator informed of current mat temperatures, machine position and coverage completion. The intuitive system is said to enhance nighttime performance, and it records density data for future process analysis and quality control documentation.
Standard Eco mode and automatic speed control save fuel and reduce sound levels. Cat aims for reliable water systems with dual pumps, triple filtration, adjustable intermittent operation, and an optional freeze protection kit.
See Cat's specifications:
Request More Information
Fill out the form below to request more information about
Cat B Series Tandem Vibratory Rollers