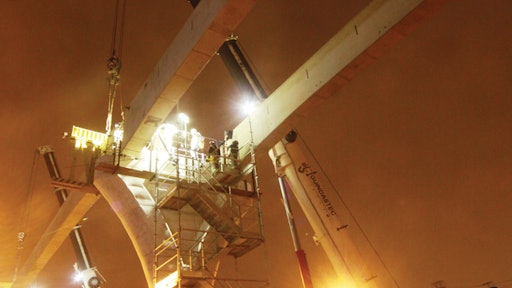 The Challenge:
Lift and place nearly 2,000 70-ton track beams to construct the tracks of Brazil's first monorail train
The Players:
Guindastec
The Process:
São Paulo-based lifting and logistics company Guindastec is laying the track for Brazil's new monorail transportation network. The company is using a Grove GMK5220 all-terrain crane to lift and place some 2,000 70-ton track beams across the project site.
Nilson Rocha, commercial director of Guindastec, specifically purchased the GMK5220 model for the monorail project. "We needed a crane that had a very high lifting capacity but could still be moved easily as the foundation of the tracks progressed," Rocha said.
The GMK5220 boasts a 220-ton lifting capacity and a 223-foot seven-section boom. The boom's Twin-Lock pinning and Megaform design make it more rigid, allowing it to lift heavier loads.
The first of three monorail lines is an approximately 16-mile connection from Villa Prudente to Cidade Tiradentes. In the first phase, which was scheduled to finish in September 2012, the GMK5220 laid 400 concrete track beams. In phase 2, which will end at the close of 2013, the crane will lay approximately 1,600 more beams.
When finished, some 48,000 people will travel on the monorail each hour. That's approximately 1,000 people per train.