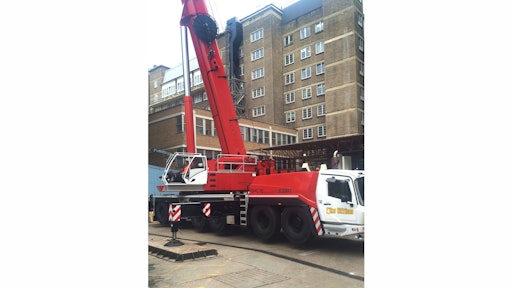 The challenge:
Install five air handling units on the roof of a nine-story hospital building in a tight jobsite in central London
The players:
City Lifting
The process:
UK-based City Lifting used the Grove GMK6300L all-terrain crane to perform a series of lifts that few other cranes could have completed without rigging a fly jib. The job was at Great Ormond Street Hospital where five air handling units had to be installed on the roof of a nine-story building. Each unit weighed up to 4 tons and was lifted at a radius of up to 177 feet – a relatively simple task. However, the jobsite's central London location meant there was no space to rig a fly jib, so all lifts had to be completed using only the crane's main boom.
To add to the complications, the team arrived on site to discover a large hole had been dug in the small access road directly outside the courtyard. But with a 262-foot main boom and independent all-wheel steering, Grove's GMK6300L made light work of both problems, as Trevor Jepson, owner of City Lifting, explains.
"Cranes and holes do not mix, but the GMK6300L is no ordinary crane – in this class, nothing comes close to it," he says. "It has a relatively small footprint and excellent all-wheel steering, which allowed us to maneuver the crane into the smallest of spaces with the narrowest of margins. It then completed all of the lifts in a single day. This was the crane's first job and I'm delighted with it already."
To get into position, the Grove GMK6300L's independent all-wheel steering came into its own and the team from City Lifting carefully edged the crane around the various obstacles on site, including the hole, the sidewalk and local traffic. Once in position, the crane was quickly set-up before starting the first of the five scheduled lifts.