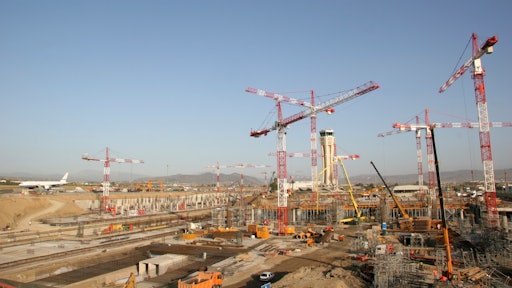 iStock/Getty Images
Crane collapses are a big deal. Not only do they cause damage to property but they can often cause injuries and fatalities. There has been no shortage of crane accidents topping news headlines in the last few years.
Seattle crane collapse

One of the most recent was the crane collapse in Seattle in April 2019 that killed four people. The tower crane, which was working on the new Google Seattle campus, collapsed killing two ironworkers on the jobsite as well as two people driving by the construction site.
After investigation, experts concluded that bolts and pins were removed too early during the dismantling of the crane. That, coupled with high winds, caused the crane collapse. In October 2019, Washington state investigators concluded that workers did not follow manufacturer instructions and that the accident was avoidable.
The general contractor, the construction crew and the crane supplier were all fined for the accident. A USA Today story from October 2019 said the general contractor, GLY Construction, was fined $25,000 while the construction crew was fined $12,000. Murrow Equipment Co., the crane supplier, was fined $70,000 for not ensuring the instructions were followed as the expert on site.
What's disheartening is during the investigation, experts said that removing bolts and pins early to speed dismantling of the crane is becoming a more common practice. Hopefully the Seattle accident will convince contractors this is not always a best practice.
Dallas crane collapse

Only a few months later in June 2019, another fatal crane collapse occurred in Dallas. In this accident, a construction crane fell on an apartment building and a parking garage during a severe storm with strong winds. One person was killed and at least five others were injured.
In December 2019, the Occupational Safety and Health Administration (OSHA) cited crane owner Bigge Crane and Rigging Co. for two serious violations related to the accident. Bigge faced a penalty of $26,520. The OSHA investigation did not reveal a cause of the collapse or claim who was at fault. Other cranes in the area held strong during the same storm in June.
According to a report from NBCDFW, the OSHA citation claims that Bigge failed to complete an inspection of the crane the day before the collapse. The citation also claims Bigge failed to "remove rusty bolts and address the decay of structural tower members."
However, a crane expert said that surface rust had nothing to do with this crane collapse.
New York mini-crane accident

It's not just the large tower cranes that can collapse and cause fatalities. In June 2018, an unsecured mini-crane overturned and fell four stories at a New York jobsite. As the crane fell, the boom struck two workers, seriously injuring them.
In January 2019, OSHA cited Western Waterproofing Co. Inc. — doing business as Western Specialty Contractors — for exposing employees to serious injuries at the jobsite. Western Specialty Contractors faced $155,204 in proposed penalties. The OSHA press release stated, "OSHA cited Western for not ensuring that the employee assigned to operate the crane was trained, evaluated, and determined competent to operate the equipment; for operating the crane in excess of its rated lifting capacity; and for not verifying that the load being lifted was within the crane's rated lifting capacity."

The Manhattan District Attorney's Office also indicted the company's project manager and superintendent on criminal charges in connection with the incident. Department of Buildings Commissioner Rick D. Chandler, PE, said, "This was one of the most appalling safety lapses in recent memory: the supervisors of this site were supposed to be responsible for safety, but instead they set in motion a reckless and potentially lethal chain of events. Their callous disregard for safety rules, combined with a wildly overtaxed mini-crane, nearly cost several workers their lives."
Crane accident statistics
According to the Bureau of Labor Statistics (BLS), from 2011 to 2015, the Census of Fatal Occupational Injuries (CFOI) reported 220 total crane-related deaths. During that same time period, 42% of fatal work injuries involving cranes took place in the private construction industry. Specialty trade contractors and heavy and civil engineering construction had the most fatal injuries involving cranes in private construction.
In 2019, OSHA recorded 16 crane accidents involving injury or death to employees operating or working near cranes. These OSHA statistics do not take into account any injuries or fatalities of non-employees. Adding in 2018, there were 58 crane accidents on the OSHA list.

Crane safety tips

So what can be done? Construction and crane operation are dangerous jobs by nature. A more vigilant focus on safety and proper operation, of course, is the best start to reducing crane collapses and accidents.

Here are a few of OSHA's top crane safety tips:
Cranes should only be operated by qualified and trained personnel.

A designated competent person must inspect the

crane and all crane controls before use.

Be sure the crane is on a firm/stable surface and

level.

During assembly/disassembly do not unlock or

remove pins unless sections are blocked and secure

(stable).

Do not exceed the load chart capacity while making

lifts.

Do not move loads over workers.

Be sure to follow signals and manufacturer instruc

tions while operating cranes.
There are a lot of other resources for crane safety. Check out the list of resources available here:
Improper Rigging and Crane Safety
Crane Safety - Weather Conditions