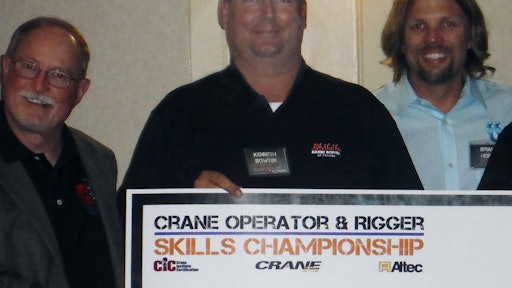 ALL Crane Rental of Florida's Kenneth Bowyer has once again taken the top prize at the national crane rodeo competition, also known as the Crane Operator & Rigger Skills Championship. The event was held September 29 during the 2015 International Construction and Utility Equipment Expo (ICUEE) in Louisville, KY. The rodeo, hosted by Crane Institute Certification (CIC), Crane & Rigging Hotline magazine and Altec, Inc., is a crane operation challenge drawing on contestants' skills in training, certification and experience in safe crane operations.
Crane operators from around the country competed for the $10,000 championship prize after each won a previously held regional event. Competition was heavy, and several entrants showed up the day before the championship contest for the final of the regional competitions, also held at ICUEE, hoping to win the last spot available to compete for the big prize. There were more than 100 entrants in the various regional events, eventually resulting in a field of 14 entrants to the national competition. Bowyer was an automatic entrant for this year's event because of his victory last year, and he worked hard to defend that title.
"The course was more challenging this year," said Bowyer, a 20-year crane operator. "It required us to implement a lot more skill while working to have the best time without making a mistake that could disqualify you. I was really shooting to win a second time, as nobody has ever won it consecutively before."
Contestants competed on an Altec AC45-127S, a 45-ton-capacity truck-mounted crane with a 127-ft., five-section telescopic boom. The competition included a rigging challenge, as well as maneuvering the crane — with 100 ft. of boom — through a tough obstacle course. The weather provided a further challenge with rainy and muddy conditions, so operators had to close the cab windows and rely on their depth perception more heavily. "Four feet can look like 6 in. when you're in the seat," said Bowyer, "but we work in that environment, so skill in those conditions is part of the job."
The obstacle course included maneuvering a barrel through a course, tipping a pipe end-to-end and dunking the machine's headache ball into a barrel. The headache ball is a heavy ball attached to a hook to keep the crane's lifting cable taut. Crane Institute Certification (CIC), a nationally accredited organization that provides rigger, signalperson and crane operator certification, designed the competition's standards and scoring.
Feeling the support of the entire ALL Family of Companies behind him at the competition, Bowyer also brought his entire family — his wife and five children — from Florida to Louisville so they could watch the competition.