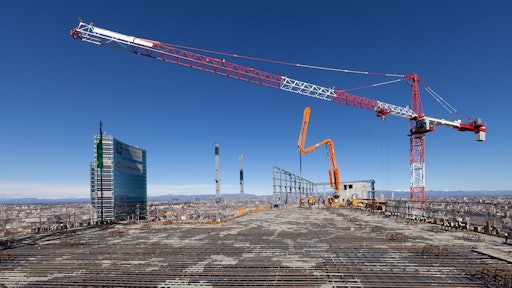 Manitowoc Cranes

Contractor Colombo Costruzioni, working on behalf of Italy's leading real estate investment, development and management company COIMA SRG, has deployed two Potain top-slewing tower cranes — an MD 365 B L16 and an MD 208 A — for the construction of UBI Banca's new headquarters, the GIOIA 22 skyscraper in the Porta Nuova district of Milan.
Nicknamed Scheggia di Vetro or Shard of Glass, the 120 meter building has been designed by Pelli Clarke Pelli Architects as the first skyscraper in Italy to meet nearly zero-energy building (NZEB) standards. Sustainable building practices will be employed throughout, and upon completion, its exterior will be covered in more than 6,000 square meters of solar panels, generating enough power for the equivalent of 306 homes.
Engineer Matteo Pastore from Manitowoc Crane Care Lift Solutions Southern Europe has invested a lot of time in the development on the jobsite, in particular the placement of the cranes.
"Planning takes place in plan view and vertical view. In plan view, it's necessary to avoid interference between the cranes and provide, in addition to the assembly, the disassembly phases for the cranes to return to ground level with the tower built in front of them," he explained.
"In the vertical view study, the cranes must rise together with the building by anchoring on it — and to do that, it is necessary to design the right number of anchors, avoiding interference with the rampant formworks," he continued.
The 16 ton capacity MD 365 B L16 will reach a maximum height of 136 meters and has been fixed with two anchors. The 10 ton capacity MD 208 A will reach a maximum height of 151 meters and use three anchors. Each anchor consists of an 18 meter beam and weighs 3 tons.
The project is due for completion in March 2021.
Companies in this article