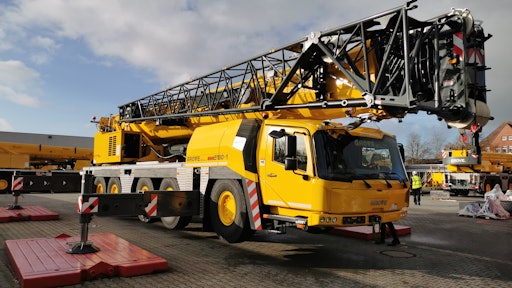 Manitowoc Cranes

Contractors are often met with the challenge of lifting heavy materials while balancing the use of limited location space. LOTOS Serwis, an oil company based in Poland, combatted this common problem by deploying the Grove GMK5180-1 all-terrain crane, a solution that employs a compact size design and does not sacrifice its strong lifting capacities.
The crane's MAXbase system provides multiple outrigger configurations with asymmetric positioning — assisting with jobsite size restrictions. LOTOS Serwis deployed the crane to help carry out maintenance, repairs and diagnostic operations, a project that aims to modernize and renovate an older refinery.
"The LOTOS Group refinery is currently undergoing renovation and modernization work carried out by Polish companies. Thanks to this, we modernize the plant and support local enterprises," said Paweł Jan Majewski, LOTOS Group's chairman of the board. "The new crane fits perfectly on site, enabling us to complete all the tasks we need to."
The GMK5180-1, reaching a total height of 101 meters, features a 180-ton capacity with a maximum counterweight of 50 tons. In addition, the crane includes a VIAB turbo retarder clutch, a 520-horsepower Mercedes-Benz OM471LA six cylinder, Tier 4 Final diesel engine and the Standard Crane Control System (CCS).
Product and Jobsite information provided by Manitowoc Cranes and edited by Chantal Zimmermann.