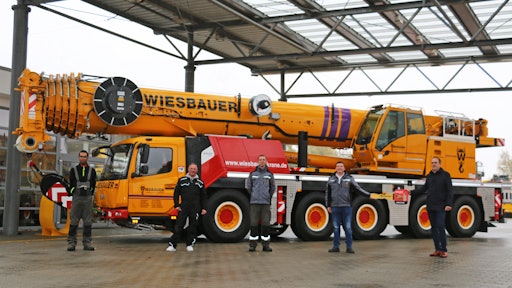 Manitowoc Cranes

Just like many in the industry, such as Tamini Rentals' investment in Grove rough-terrain cranes and MSG Krandienst's crane fleet enhancement, Wiesbauer purchased a new addition, the GMK5150L, to join its fleet of around a dozen Grove cranes — a decision based on past experience.
Manitowoc's integration of MAXbase technology allows the crane's outrigger base to be adjusted asymmetrically,  increasing lifting capacity and flexibility with limited space. The GMK5150L combines maneuverability with its compact footprint making it ideal for various projects of height and spatial difficulty.
"The strong price-performance ratio from Grove along with the high capacity of the GMK5150L convinced us to invest in the 150 ton Grove crane. As a family-owned business, it is important to us that our crane operators feel comfortable at work. The Grove cab and MAXbase system definitely contribute to this," Felix Wiesbauer said. 
The first job for the new Grove all-terrain crane was to relocate a 22-ton fire water tank.
The second task included the erection of a Potain MDT 178 tower crane from 18 meters away with components weighing up to 10.5 tons.

The GMK5150L is equipped with a 17.8 meter bifold swingaway jib and a 60 meter long MEGAFORM boom with a TWIN-LOCK pinning system.

The 150 ton Grove crane is ideal for erecting tower cranes, lifting prefabricated elements onto roof surfaces, installing air conditioning units in buildings or mounting billboards at great heights.
Wiesbauer acquired the new Manitowoc Grove GMK5150L all-terrain crane in October during a handover ceremony with Florian and Felix Wiesbauer and crane operators, Jannik Weigle, Ralf Hoffmann and Samuele Polidori.