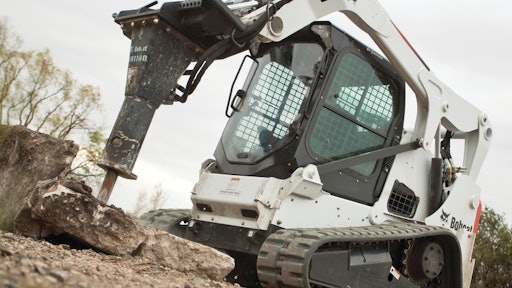 Given the variety of compact track loaders (CTL) that are now available in the market, how do you know which is the right machine for the job? CTLs have exceptional flotation, traction and versatility and will perform well with most materials in almost any ground conditions. But not every CTL is right for every application.
Sizing the machine is only the starting point. "Selecting the proper size equipment for the application is the first step, but it's not as simple as choosing the largest machine available," says Mike Fitzgerald, product specialist, Bobcat. It's important to analyze how the machine will be used, including requirements for lift height, reach, rated operating capacity, horsepower, pushing power and jobsite conditions.
"Choosing the proper CTL depends primarily on what you will do with that machine," agrees Paul Wade, brand marketing manager, New Holland Construction. "If the machine will be used in general construction, a more rugged design is appropriate. More breakout force in the bucket will be necessary if you will be moving a lot of dirt, and a different style of boom should be considered if you will be performing more lift/carry operations."
It's important to evaluate the machine and all of its capabilities. "Know the CTL's operating capacity, including tipping and lift capacities," says Jamie Wright, product manager, Terex Construction Americas. "Ensure the CTL you choose can handle the materials you will be moving. The weight of the material and how quickly it needs to be moved will also influence the size of the bucket required. The bigger the bucket, the bigger the loader."
Yet, bigger isn't always better. "Higher horsepower offers more dynamic force for pushing and production, but it also translates to a heavier machine," says Wright. "With so many different sizes and options of loaders available, horsepower and operating capacity are important, but should not be the only considerations."
In order to select the right machine, David Steger, product and training manager, Takeuchi-US, recommends, "Look past the written spec sheets and operating capacity and test drive several machines. If you can compare CTLs side by side, you can develop a true understanding of what each machine can do in similar working conditions.
"Time spent operating each model from different manufacturers will help you determine the best machine for the application," he adds. "A spec sheet is a great place to start, but seat time can certainly confirm your decision."
Undercarriage is of utmost importance
Rigid or suspension track frames are the two primary styles currently offered on CTLs. Each has its advantages.
In Bobcat's case, CTLs are available with either a solid-mounted standard undercarriage or a roller suspension system utilizing an all-steel design with steel imbed tracks for increased durability. The roller suspension includes permanently sealed and lubricated rollers suspended by steel leaf springs to reduce vibration and improve operator comfort.
"Choose the undercarriage based on what's important to you," Wade advises. "Rigid track frame undercarriages reduce maintenance costs with fewer moving parts. Suspension track frame undercarriages offer a smoother ride, but higher maintenance costs."
Regardless of the style you choose, he recommends looking for a rugged undercarriage design. New Holland 200 Series compact track loaders feature a dozer-style undercarriage with a rigid track frame and fewer moving parts for added durability and easier maintenance. The heavy-duty drive motor/final drive increases component life by using an oversized bearing in line with the drive sprocket and elevating the drive assembly to keep it out of material.
"The CTL's undercarriage is a central focus for most contractors upon machine selection," Steger comments. "The undercarriage is a large factor in the cost per hour of the machine. A machine with a higher purchase price but a more durable undercarriage will ultimately cost less per hour to operate."
The size of the undercarriage and layout of its rollers can also be an indicator of potential overall life, he adds. Takeuchi CTLs feature a welded track frame incorporating a unitary design with full-width structural crossmembers to add strength and rigidity. Maintenance-free rollers include metal face seals, large bearings and oversized components.
How undercarriage components wear is another consideration. "The components of the undercarriage should wear evenly," says Wright. "If some components wear more quickly than others, it can affect productivity."
The Terex Posi-Track undercarriage technology and multi-level suspension offers 48 contact points on the ground for greater traction and high flotation in all ground conditions. Wright asserts that the greater number of bogie wheels provides more even weight distribution, lowering impact when traveling over rocky or rough terrain. Less impact helps to increase track life and overall undercarriage life.
Go With the Flow
By their nature, CTLs are multi-purpose tool carriers. Equipped with a universal quick-coupler system, they allow for quick change-out of various types of attachments, providing versatility and ease of use.
To maximize versatility, pay particular attention to the flow requirements of the attachments you plan to mount on the machine. "Attachments that require continuous hydraulic flow, such as augers and brooms, do not work as efficiently if the CTL's hydraulic specifications do not meet the attachment's needs," says Wright. "This can be very frustrating to owners and operators who are trying to increase the usage of the equipment."
"If you are utilizing attachments more frequently than a bucket to dig with, you may want to consider high-flow options," Fitzgerald advises. "The high-flow hydraulic option gives more power to the attachment."
When selecting a CTL, take into account both the hydraulic horsepower and engine horsepower ratings. Hydraulic horsepower is most important when operating work tools such as trenchers, cold planers, mulching heads and other high-flow attachments that require a high percentage of the machine's total available power. Engine power is most important when the machine is multi-tasking – for example, while simultaneously moving under load and powering the attachment.
Also consider the design and capacity of the cooling system. Larger coolers and high-capacity hydraulic tanks will more effectively dissipate heat from the oil, resulting in longer life for the lubricating oil, as well as the machine and attachment components.
Ease of maintenance
The ease of maintaining a CTL should be factored into the purchase decision. How easy is it to check the daily maintenance points? If the points aren't easily accessible, says Wade, they aren't likely to be checked.
"If you are performing routine, daily maintenance, you are less likely to have issues with the machine," he notes. "If you let things go because it's not easy to access the maintenance points, your costs will skyrocket."
"Actions such as greasing and checking fluid levels and servicing the machine regularly may be the most important things you can do for your CTL," adds Steger.
Cleaning the machine — especially the belly pans, undercarriage and coolers — goes a long way toward keeping the machine in tip-top condition. "It also gives you the opportunity to inspect every area of the CTL to see if there are any problems," says Steger.
Cab designs and control systems
"Attributes like cab design and control systems are important during the buying decision of a CTL because they contribute to higher productivity and lower cost of ownership," says Wright.
A comfortable operator is a productive operator. Pressurized, roomy cabs, all-around visibility and fingertip controls to operate the CTL and attachments are all desirable attributes. "It gets more difficult to find good operators today, and even more difficult to keep them," says Fitzgerald. "Features as simple as cup holders, power outlets and storage compartments are important and can increase operator productivity."
Control preferences vary by operator experience and even by region, Wade notes. To accommodate operator preference, many manufacturers offer mechanical foot-operated controls, and electrohydraulic controls that are switchable between ISO and H-patterns.
Manufacturers are also taking cues from the automotive industry when it comes to CTL cab design. Optional features such as deluxe instrumentation and control systems, enhanced climate control and air-ride seats are becoming commonplace.
"You will see the evolution to automotive-type cab designs, with many more creature comforts, in the future," Wade predicts. "If an operator is spending eight hours a day in a CTL, they want the simple things like a radio, somewhere to plug in their cell phone and stash their lunch box."
"Basically, it all boils down to this," says Fitzgerald. "If you can analyze the work you will be doing, and take into account the operators who will be doing it, you will be able to choose the right machine with the right options/accessories, utilize it properly and have a cost-effective CTL for any application."
Companies in this article