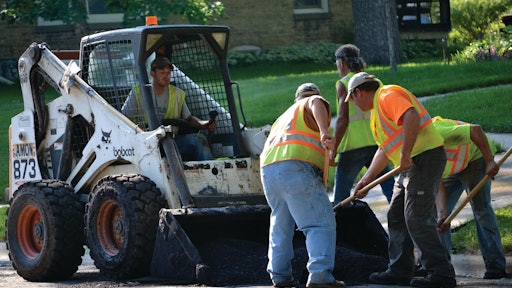 The same design that makes skid steers such nimble machines on the jobsite means you must understand your application requirements to choose the most cost-effective tires.
"Skid steers are designed to basically tear up tires by the way they turn," says Gregg Zupancic, product marketing manager, John Deere Construction & Forestry. "The tires work against each other, so hard surfaces are difficult on a tire. When you counter rotate at full speed, that is going to be the worst situation. It increases friction and therefore wears rubber more quickly. Limiting tire spin on those hard surfaces definitely would help."
The operator does play a critical role in tire life. "If you don't spin your tires, you can significantly increase your tire life from 50% to 75%," says Zupancic. "But you would really have to work hard at not spinning your tires." Yet, you also need to consider productivity and find a balance.
Extra Mile Landscape, West Bend, WI, has lots of experience with various skid-steer tire options. The company spent many years focused on design/build, performing hardscapes, new construction and remodels. Recently, the company has switched gears to primarily snow removal while still offering landscape services to its current customers.
The company has six skid-steer loaders, including three Case SR200s, a Caterpillar 236, a Bobcat S70 and a Gehl model used in the yard. "They are mostly mid-frame machines," says Aron Rodman, Extra Mile Landscape.
According to Rodman, "Wear on a tire is not necessarily a bad thing. There is a cost/benefit ratio. If the operator is costing you an extra $250 in tires but he is getting jobs done much quicker and making an extra $1,000, then keep wearing out $250 worth of tires." But he is quick to point out there is a balance between that and being foolish, which results in unnecessary wear.
Analyze Costs
Extra Mile Landscape tried several different approaches to manage skid-steer tire costs. "We tried cheap tires that you can get for $100 a piece," recalls Rodman. "The theory was we go through so many tires, let's just keep throwing cheap tires on the loaders. That ended up costing us more money in downtime. The sidewalls were thin. We had trouble with the beads not sealing. If we ran them on pavement in the winter, the lower quality rubber wears out quicker. Sidewalls are a big deal with skid-steer tires because you can plug a nail hole in a tire tread, but if you get a gash in a sidewall your brand new tire is shot."
Extra Mile Landscape then tried another approach and purchased high-quality, severe-duty tires for $250 to $300 a piece. "You can tell the weight difference," says Rodman. "You pick up one of these $100 tires and they are 50 to 70 lbs. You pick up one of the more expensive tires and it takes two men to lift it. Three sets of cheap tires probably gets you the longevity of one set of severe-duty tires.
"Cost wise, that is probably going to come out about the same on the tire," he states. "The real savings is not having to pull your tire off three times to swap out complete new sets of tires, not having the flat tires, not having to run back for spares, not having to patch. You can say it is $400 less up front with less expensive tires; but when you add the next four years up, you probably cost yourself $1,500 vs. buying a severe-duty tire."
"You get what you pay for in that the lowest priced tire may not be the lowest cost tire to operate," says Mike Fitzgerald, product loader specialist, Bobcat. "If you buy a more expensive tire that lasts longer, it will minimize downtime and trips to get new tires mounted up. Buying more expensive tires may be the most cost-effective solution on a dollars per hour cost basis." In addition, the more expensive tires have added features such as rim guards, thicker tread and wider lug bars, all of which help enhance the life.
Understand Options
Most manufacturers offer a standard-duty, heavy-duty and severe-duty tire. "Each one of them subsequently will have different features," says Fitzgerald. "You are going to find better rubber compounds as well as more rubber on the tire on each subsequent step up."
The standard-duty tire will typically be narrower for more penetration and traction, and it will have tall lugs that are spaced to promote clean out in muddy conditions. The heavy-duty tire may be wider with more rubber for longer life. The severe-duty tire is suited for working on improved surfaces with the lugs placed closer together, which means yet more rubber to increase life.
"You trade off a little bit of traction in mud and soft ground conditions because you don't have as much void to clean out," notes Fitzgerald. "So you have to look at your application and decide do you want tires that clean-out better or do you want longer wearing tires?"
"We offer a good quality tire as a standard tire from our factory, but it would be what I would call the price point tire," says Zupancic. "It generally matches the standard tire of many key competitors. But they tend to start in the 8-ply range. That is a basic entry level, dirt-type tire. The higher the ply [rating], generally the more durable the tire is."
The ply rating can also indicate ride quality. "The sidewall with lower ply tires tends to be softer, so you get more bounce," says Zupancic. "As you are pushing, the tires will squat more. As you are operating on harder surfaces, you will get more bounce. You will feel it as you counter rotate and the tires work against each other. You may get bucking or oscillation motion back and forth. You may even have to take your hands off the controls to let it settle down. If you want a smoother ride, definitely the higher the ply rating, the better."
Manufacturers have to balance several factors when choosing a standard tire. "When we do testing, we try to bring in the best tire that will last the longest for that size machine," says Zupancic. Cost, durability and ride quality are all carefully examined. "It does take a lot of time to make sure we match the tire to our machine to give the customer the best experience."
But other options are available. "Most manufacturers allow dealers to order a variety of tires to meet customers' needs," says Fitzgerald.
"If a customer knows his application and he has some idea where he will be using his machine most often, he can make more of an educated purchase of the tire," says Zupancic. "We have the ability to get any tire that you want."
There are even specialty tires for extreme applications, such as the Brawler. It is a solid flex tire with pre-drilled apertures for a cushioned ride. "It is one solid piece of rubber that is pressed onto a rim. There are aperture holes drilled throughout the radius of the sidewall that create the feel of a pneumatic tire," Zupancic describes. "The lugs on this style tire are about twice as tall as a typical dirt tire, so you will get a lot more tire life out of it. You don't have to worry about potential damage. The lugs are geared toward more of a dirt application, but we see that tire being sold in hard surface applications such as mining, recycling and quarrying so you don't have to deal with punctures."
Bobcat also offers cushioned solid tires with air holes. "The holes allow the tire to flex and absorb some of the impacts," says Fitzgerald. "Do they do as good a job of absorbing impacts as a pneumatic tire? No. Is it better than a completely solid rubber tire? Yes. Choosing the correct tire depends on your application. Usually, contractors who select the cushioned solid tire will be in demolition or concrete tear-out applications where they want to eliminate flat tires while providing a long service life and absorbing some of the impact."
Another consideration in operational cost is that the solid tire is more expensive to purchase than a pneumatic tire that has been foam/poly filled.
No matter what tire you choose, life really depends on the application. "On a severe-duty set, I can probably get about 400 hours," says Rodman. Snowplowing cuts that almost in half. "If there is snowplowing, I can probably get about 200 hours. With the inexpensive tires from $100 to $150 a piece, I would say I am getting 160 hours. When I find a good tire, I usually stick with it. Having a separate set for winter is definitely a big thing for us."
Loader size also impacts life. "A 10,000-lb. machine will wear a tire twice as fast as a 6,000-lb. machine given the same application and the same operator," says Zupancic. "With the larger machines, you are probably looking at a 600-hour average life if you take care of them. If you are primarily running on harder surfaces, it could be as little as 200 hours."
"Smaller machines, which are lighter with a shorter wheelbase, are often used for utility purposes," notes Fitzgerald. They might not need a heavy-duty or severe-duty tire. "Larger machines are heavier, have longer wheelbases and normally are in more heavy production-type applications."
Due to these differences, smaller Bobcat loaders come with standard-duty tires or you can opt for heavy-duty or severe-duty tires. "On larger Bobcat loaders heavy-duty tires are included as base equipment," says Fitzgerald. "We have chosen to install heavy-duty tires to give the customer the best value." The severe-duty tire is available as an option.
Prevent Flats
Flat tires on jobsites quickly add cost in unplanned downtime. "We used to run into a lot of flats with new construction," says Rodman. "We looked into foam filling. But skid loaders do not have a suspension system. The only suspension is air in the tires. Once you start foam filling them, it is such a hard, bumpy ride. It is really hard on the operator. So we have always just shied away from that."
John Deere got out of the foam fill business after the solid Brawler tire was developed. "[Foam-filled pneumatic tires] were not a great value to the customer," says Zupancic. "There is an added expense and added weight that will more quickly wear out tires originally designed specifically to be filled with air."
With dedicated solid rubber tires like the Brawler, the extra weight is factored into the design. "The lugs are twice as tall and there is twice as much wear that you could put into that tire," Zupancic explains. "It is optimized around being that weight and being a solid tire."
Bobcat does offer an alternative to foam fill that it calls poly fill. "It is actually a softer durometer fill that allows the tire to flex. providing a better ride for the operator," says Fitzgerald. "Only the most premium severe-duty tires are filled at the factory. That is because if you wear the tread out on filled tires, you have to find a specialized retreader to put tread back on that casing. Customers want to have the longest lasting tire to realize the best return on their investment."
Fitzgerald notes that even with poly fill, you should expect a rougher ride than a pneumatic tire. "It does not flex as much as an air-filled tire," he says. You also need to factor additional weight into the equation. "Poly fill can add 100 to 200 lbs. of material to each tire (depending upon tire size). That extra 400 to 800 lbs. of weight will also cause tires to wear out quicker."
One thing that did work well for Extra Mile Landscape was the use of a tire sealant. "In my experience, that has substantially cut down on our flats. But it does tick off the guy who is changing the tire the next time because it is just a big mess," says Rodman.
The biggest game changer in eliminating flats proved to be a move to severe-duty tires. "The tread pattern was probably the biggest game changer for eliminating flats and increasing wear time on our machines," says Rodman. The voids between the chevron tread blocks are smaller with these tires. "If you get a nail in the chevron, it is usually not that big a deal because it has to go through 2 in. of rubber before it actually punctures the tire. But you get in between those lugs and it is easy to puncture the tire there." Still, less void space means less chance for a puncture.
"There was a slight traction loss, but it was quite minimal," says Rodman, "and it was more than made up for by the longevity of the tire. There is more rubber on the ground."
Severe-duty tires also typically feature bead protectors for the rim. "That does help," says Rodman. "I would not buy a tire without a bead guard. Sooner or later, you will hit a rock or a piece of concrete that bends the rim."
When choosing the best tire for your application, Fitzgerald recommends seeking advice from your local dealer. "A dealership will be able to tell you what specific tires work best for each application based on their experience with other customers."