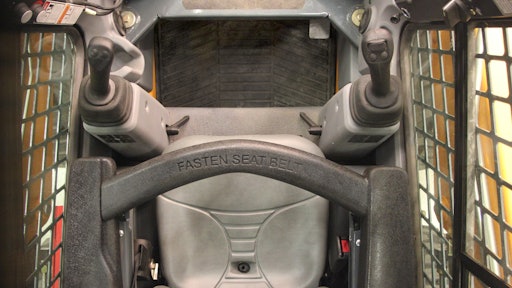 A long list of options for your skid steer or compact track loader can dramatically increase versatility and comfort, but also drive up the cost. It helps to understand how the choices impact your cost/value equation.
"The best way to understand which option will be the most profitable is to break it down to jobsite operation costs multiplied by time savings potential of the option," says Brian Rabe, Gehl Company.
There is no magic formula for calculating the return for any given option. "Some options may increase the utilization of a machine. Others will increase the operator comfort, therefore the productivity is better," says Mike Fitzgerald, Bobcat Company. Determine what each option does for you or your operators.
Many popular options are grouped into packages, similar to what you experience in the automotive industry. "If you purchased each individual option separately, it would cost more than buying it in a package," says Fitzgerald. "Customers get better value in option packages due to it being more efficient for manufacturers to produce machines this way."
The Starting Point
While not technically an option, the choice between an equivalent size compact track loader or a skid-steer loader is your first choice.
Gregg Zupancic, product marketing manager for skid steers and compact track loaders, John Deere, estimates the compact track loader can be 20% to 50% more productive in many applications. "That is factoring in the increased uptime you get because the track loader can work 365 days a year," he adds.
But this performance comes with a price. "For an equal size (same horsepower, same dimensions), it costs between $10,000 to $15,000 more for a track loader vs. a skid steer," says Zupancic.
Control options Drive Productivity
Perhaps the next biggest decision is the actual control system.
The simplest and lowest cost system is a mechanical linkage. "If you are not going to put many hours on the loader, it is okay to buy the low-cost controls," says Zupancic. "They are durable. The drawback is they are more physical. Your arms get a workout."
Joystick controls can have a significant impact on productivity. "You can run them for longer periods of time with less fatigue," says Zupancic. "And they are very configurable." The choice of control patterns can also be switched to the operator's preference.
Rabe adds, "Pilot-operated joysticks allow for smoother operation, less material loss and reduced operator fatigue."
Joystick controls are increasing in popularity. Zupancic reports that almost 100% of John Deere track loaders over 75 hp are spec'd with joystick controls, while 90% of large skid-steer loaders have joystick controls. "Under 75 hp, 70% are ordering the joysticks on the track loader and skid steers and 30% are still ordering low-cost manual controls," he notes.
Many companies offer different levels of joystick packages, with premium packages often tied to software-driven performance features. "Our EH Performance Package offers response rate and Creeper Mode and other features that are dealer installed," says Zupancic. This includes the ability to switch a foot throttle pedal to a decelerator pedal.
These advanced features can help recoup the investment made in your machine more quickly. "It's about protecting your investment and maximizing the productivity by using the features available to the operator," says Kevin Coleman, senior marketing engineer, Caterpillar.
"For example, the return-to-dig feature allows the operator to set the digging angle of the bucket and then automatically recall the setting by depressing a trigger switch on the joystick as the lift arms lower," says Coleman. "This makes repositioning the lift arms and bucket in a cycle loading application much easier, which allows the operator to focus on returning to the pile for the next load."
He adds, "The work tool positioning feature allows the angle of the tool to be preset ­— as when positioning a trencher for the proper depth— and then to automatically recall the setting if the machine is repositioned. This has benefits in any application where a work tool can be moved and returned to a set position to help produce a more consistent, finished product for applications such as trenching, cold planing, backdrag grading, broom work, etc." These features make it easier for the operator to complete the tasks and minimize or eliminate potential rework.
The price of joystick controls depends on which package you choose. Zupancic estimates it will cost you about $2,000 more to get a joystick package and another $1,000 for performance feature add-ons.
Bobcat Company currently offers three control packages to meet different requirements and preferences. "You can buy our machine with foot pedals and hand levers," says Fitzgerald. "You can step up to our Advanced Control System, or you can go to our Selectable Joystick Controls, therefore matching the control preference of the operator to the most preferred type of control. You have invested extra money, but your operator is going to be more efficient, more productive." These machines also offer features such as Speed Management, Horsepower Management, Drive Response and Steering Drift Compensation that can yield substantial productivity gains.
Application Comes First
Jatec Electric Limited is an underground electrical utility contractor based in Edmonton, Alberta, Canada. The company installs the electrical infrastructure and signs for highways. "We are one of the primary installers of underground utilities for subdivisions," says Jeff Allen.
Jatec's equipment fleet includes 200+ units. It runs JCB and Bobcat skid-steer and compact track loaders, predominantly 3,000-lb.-capacity machines, which are ideal for Jatec's applications. It has only one loader rated at a lower capacity. "We prefer it would be bigger, but our intended use when we bought it was one thing and now we want it to do something else, and it is too small," Allen comments.
The larger loaders are advantageous when using fork attachments since you don't have to worry as much about counterweight. They are also more productive when using auger attachments. "We auger to a 30-in. diameter, 10-ft. deep in the ground," Allen notes.
Skid-steer and compact track loaders serve multiple roles on Jatec jobsites, which include moving earth and material, cleaning the streets and augering holes for streetlight bases. "We can put 2,500 hours on a machine a year. We are working six days a week, 10 hours a day," says Allen. Attachments include brooms, earth augers and pallet forks.
"We have multiple operators on any given day," says Allen. Being able to accommodate operators who are used to different control patterns is important. "That ability to go one way vs. another — SAE vs. ISO — is something that we enjoy with all of our machines."
Certain options have become mandatory to fit Jatec Electric's needs. "The hydraulic quick-attach coupler option and [keyless switch] option have to be there and a cab with heat and air conditioning (HVAC) is imperative," says Allen. The units are always spec'd with auxiliary seven-way power on the front for hydraulic accessory work. Jatec also requires air suspension seats, and has unique requirements depending upon the brand.
Putting a Price on Comfort
Requirements for air ride seats and HVAC are not unique. "We have seen a 15+% increase in options such as air ride seats, cab enclosures with heat and air conditioning and joystick controls," says Rabe. "Operators have experienced more of these options being standard in their cars and trucks and, in some cases, they expect it in the equipment they operate. Owners see productivity benefits in soft costs and increased seat time."
He adds, "The best way to understand creature comfort options is to calculate the 'in seat time' benefit."
Take an air ride seat. Rabe provides calculations with the realization that actual numbers will vary with each customer and application. Actual customer numbers can be easily plugged into the equations. "An estimated 25% more comfort/less fatigue during operation can result in an operator being able to remain in the machine longer during the day," says Rabe. "This could result in 6% more seat time per day. In an earthmoving application, that could mean 30 minutes additional productivity per day. Five days times 30 minutes equals 150 minutes (2.5 hours) saved." At a $35 operator/machine rate per hour, that equates to $87.50 per week.
So these comfort features have measurable benefits. "For John Deere, our take rates on enclosed cab machines are very high on the big units," says Zupancic. Half of the machines under 75 hp are equipped with an enclosed cab. Seventy percent of machines over 75 hp get an enclosed cab. In the industry, the list price for cabs with air conditioning, heat and defrost starts at $3,500 and goes up to $4,500.
It is easier to justify the price of a cab enclosure on a larger loader. "The cost to add that cab enclosure on a [Bobcat] large-frame machine is the same as it is for the smallest skid-steer that we offer," explains Fitzgerald. "So when you look at a percentage difference, it has less impact on the large machines." This is also true for many other options.
Some options, such as air suspension seats, are easy to justify and offer multiple benefits. "We find they are more durable and the operators are finding they are more beneficial to their backs," says Jatec's Allen. "We get longevity out of the air suspension seats vs. the repair that takes place on the mechanical seats. After about two years, we have to repair the mechanical seats. They just don't take the pounding. The air suspension seats will take more."
According to Zupancic, "The advantage of the air ride seat that people often miss is it is really quick to adjust on the fly. It has a 7- or 8-in. travel. You can raise yourself up in the seat another 6 in. to get a better birds-eye view or lower yourself down to look under that crosstube without having to contort your neck."
Keyless Start Offers Advantages
A recent option that has become mandatory for Jatec is the keyless start. This not only accommodates multiple operators, it deters theft. "The keyless start means the guy who wants to steal it has to pretty much guess the right combination," says Allen. "They will go to the one they can put the key in."
John Deere also reports that its Sealed Switch Module with keyless start is becoming a popular option. "There has been a bottleneck in the industry with customers losing keys," says Zupancic. Not only does the keyless start eliminate this issue, it also serves as a theft deterrent and as an enabler for other performance features.
Some loaders track operator preferences by individual code. For example, Caterpillar's Advanced Display allows up to 50 individual operator codes and provides the operator with the capability to customize up to 11 different parameters. "The ability to tailor machine response to the operator's experience level or application provides the opportunity for a 'performance match' between the operator and machine for maximum productivity," says Coleman.
A keyless switch also prevents unauthorized use. "It is much harder for somebody on a jobsite to just grab it and use it for a short period," notes Fitzgerald. "If you put a code in it, only your employees would be the ones to utilize it."
When Speed Equals Productivity
Jatec Electric depends on the two-speed drive option to increase control and reduce bounce. In low speed, the operator has more control with less bounce, yet high speed maintains productivity by allowing the skid steer to quickly traverse a jobsite. For this same reason, Jatec orders all of its machines with a boom suspension system.
"The two-speed feature can be extremely beneficial for both skid-steer loaders as well as track loaders as it provides additional travel speed to allow the operator to complete the job faster. This decrease in travel time on large jobsites or [when] performing load and carry applications can translate into a time savings that allows the customer to complete more jobs in a season or year."
Zupancic says the two-speed transmission on a skid steer can raise travel speed from 7 or 8 mph up to 10 or 12 mph. "On a standard track loader, the speed range is 6 to 7 mph in the standard speed; with the two-speed option, you can get 8- to 10-mph travel speed," he notes. "A two-speed option is typically $1,500 to $2,500."
Because its loaders are used for multiple applications throughout the day, Jatec Electric orders all of its loaders with hydraulic quick couplers. "We switch attachments a fair amount of times during a day, so we ask that they be hydraulic, not manual," says Allen.
"If you are changing non-powered attachments, it is very effective," says Zupancic. "The one drawback is no one has figured out how to hook up the hydraulic portion automatically."
The take rate on the powered quick couplers has a strong correlation with whether the machine has a cab. "Ninety percent of the time, our machines with cabs go out with a Power Quik Tach," says Zupancic. Industry prices for this option range from $700 to $1,000.
The payback on this investment can be measured in time savings. On Gehl machines, Rabe estimates it takes approximately four minutes to change from a bucket to a pallet fork without the Power All-tach powered coupler. "With the Power All-tach, it takes approximately one minute to change from a bucket to a pallet fork." That is a 75% time savings. If you did 30 attachment changes a day, saving three minutes each time, that would equate to 90 minutes saved. Assuming a $35 operator/machine rate per hour, that would translate into a $52.50 daily savings.
"The Power All-tach may take longer to generate a return on investment if attachment changes are not frequent," Rabe acknowledges. "It is beneficial for all applications that have the potential for more than five attachment changes per day."
The High-Flow Option
High-flow hydraulics can increase productivity, but only if your applications utilize high-flow attachments. "It is tied specifically to some of the more expensive attachments that are made for high productivity," says Zupancic. "Key attachments that require high flow include larger trenchers that reach 5-ft. depths, cold planers that are 18 in. in width or wider and some land clearing attachments."
In the John Deere line, any machine above 50 hp has high-flow capability. "Machines over 75 hp, we see about a 30% take rate on high flow," says Zupancic. "Below 75 hp, it is approximately 15%." Prices in the industry can range from $1,500 to $2,500.
Some systems offer both increased flow and pressure. "The Cat High-Flow XPS and XHP auxiliary hydraulic systems provide the greatest benefit to customers who are looking for maximum output when using high-performance work tool attachments," says Coleman. "These systems use a load-sensing, variable displacement axial piston pump to provide both high flow and high pressure to efficiently run even the most power hungry work tools."
He adds, "The additional pressure benefits the customer by providing higher torque to power high-production, high-performance tools such as mulchers for land clearing, cold planers for concrete or asphalt milling or wheel saws for asphalt patch cutting, road expansion joint cuts and utility trenching. "
Options Impact Resale
"All options impact resale value, and up-spec'd machines are more versatile and attractive to buyers. However, buying a machine with options based on potential resale value is dependent upon product ownership life-cycle plan," says Rabe. "When buying a machine, it is important to review with the dealer what options can easily be added in the future if needed. Gehl has almost every factory-installed option available as a field-installed kit, giving our dealers option flexibility for on-hand inventory and also the end customer the ability to tailor existing machines as required to adapt to future product needs."
Depending upon which options you have, it will have a larger resale market. "If you have a basic, no option machine, you limit who that machine can be sold to," says Fitzgerald. "A perfect example comes from when I was working with a recycling contractor who had open cab machines for inside the buildings."
This company was located in a northern climate where there isn't much demand for a used skid steer without an enclosed cab. The local dealer had difficulty selling these high-hour, decent-looking, late-model units on the secondary market.
"We provided the recycling center with a test machine which had an enclosed cab, heat and air for evaluation," recalls Fitzgerald. The site manager reported the operators really liked the air conditioning, especially in the summer. "The salesman broke the cost down and said it would cost approximately $1.50 a day to have those options. This was based on initial purchase price compared to trade-in value."
For $1.50 a day, the customer was able to increase the operator comfort and resale value of used machines. "Subsequently, they have purchased machines with enclosed cabs, heat and air conditioning for an inside application," says Fitzgerald.
Companies in this article