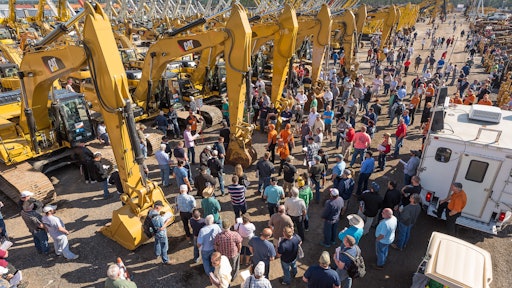 Anyone who has purchased pre-owned equipment can relate to the anxiety of the unknown. Was the equipment maintained properly? How hard was it used? Is it reliable, or does it have a long history of repairs? Has it ever suffered catastrophic damage that could affect future performance?
Many of these questions can be addressed through proper documentation. But maintaining those records can prove challenging, and wading through a stack of work orders may still not provide a complete picture. The emergence of telematics systems promises to solve such dilemmas by providing detailed information on machine utilization, maintenance and repairs in an easier to use format.
Currently, used equipment documentation is all over the board. "Each equipment owner is different. Some keep complete detailed reports on every single machine; some not so much," says Doug Olive, senior vice president, pricing, Ritchie Bros. "Anything that decreases paperwork is welcomed. We will share whatever information the owner has with interested buyers, and will continue to provide as much information as possible online."
Well-documented machines are not necessarily the norm. "Complete maintenance records are not as common as one might think, and telematics can certainly help streamline the process," says Randy Berry, senior vice president, operations and services, IronPlanet. "Integrating telematics with a maintenance management program enables contractors to easily store their maintenance plans and records in one location.
"A complete set of maintenance records has a heavy impact on the residual value of a machine," he continues. "When time to divest, it gives future buyers confidence in the current condition of your asset, as well as setting it apart from other similar machines that may be available… The more usage a machine has, the more important records become."
Automation Improves Recordkeeping
How telematics data is managed is critical. "The telematics data itself is important, but how well an owner manages the data is what makes an impact," says Berry. "Using telematics can improve keeping track of maintenance records. This summary of a machine's life has a big impact on the ultimate resale value."
Documentation should include who performed the work and what parts were used. "Buyers are particularly interested in knowing how well a machine has been maintained — not just what work has been done, but whether the work was done by a certified or OEM dealer, and whether or not OEM parts and components were used," notes Olive.
The goal is to verify machine condition and maintenance. "One of the factors that determines machine value is obviously condition," says Tom Jacobson, division manager, equipment remarketing services, John Deere Construction & Forestry. "One of the drivers of condition is maintenance.
"Maintenance records and maintenance verification are going to be key drivers," he continues. "What telematics offers is a more efficient way of delivering that information — better than a folder that is full of a bunch of work order pieces. The more efficient and automated and digital it can be, the more value it adds."
Rental companies understand the value of complete maintenance documentation. "Well-maintained machines command a premium when sold," says Helge Jacobsen, vice president, operations excellence, United Rentals. "It's one of the advantages we have when cycling equipment out of our fleet. United Rentals has made it a strategic imperative to have the highest caliber of maintenance in the industry, and customers see the value in that. Maintenance and repair data was logged manually in the past, but with the intersection of our enterprise technology and telematics, we have an opportunity to capture data at an unprecedented level of granularity."
Telematics data results in more detailed records for United Rentals' fleet. "We have always kept excellent maintenance records, so I wouldn't characterize it as better," says Jacobsen. "But the data will be significantly more detailed. We have deployed about 150,000 telematics devices to date, each one transmitting the status of the equipment on a very regular basis. And with the ever-decreasing cost of sensors, we foresee continuing to increase the data that we capture. This is a much more valuable process than manually entering records when equipment is returned to the yard."
Data Continues to Improve
Data collection through equipment telematics systems continues to improve as manufacturers add more features and capability.
John Deere began putting telematics on its equipment in January 2011. "We just recently launched our Maintenance Manager feature on our JDLink Dashboard telematics portal," says Liz Quinn, product marketing manager, John Deere WorkSight. "We also recently launched a complimentary My Maintenance mobile app that makes maintenance recordkeeping easier, and therefore more likely to be done."
This technology makes it more difficult to miss maintenance intervals. "Maintenance Manager will provide the customer either a factory recommended interval checklist or the customer can put in his own checklist if he wishes," says Quinn. "It comes with a My Maintenance mobile app that is designed for a service technician or someone who is responsible for doing the daily walk-around inspection to be able to efficiently document what has been assigned to them."
Such technology promises to revolutionize maintenance management. "When we started down the development of the Maintenance Manager feature, we went all over the country and looked at how customers were managing their maintenance today," says Quinn. "It is very much done on grease boards, Excel spreadsheets and spiral notebooks. We have seen a lot of different ways.
"Contractors who know how important maintenance is have been using third-party telematics systems to try and automate things a bit more," she adds. "But with our connection to the machine and our factory recommendations on a particular model, it gives us a little more of an advantage to provide a comprehensive maintenance management, checkup and documentation tool."
"You will see better recordkeeping as machine owners begin to take advantage of the growing number of individual machines equipped with monitoring technology," Berry predicts. "Technology has helped provide more detailed records in other industries and will do the same in the construction industry.
"A major hurdle is the sheer volume of data — a single download from the ECM of a truck or piece of equipment can generate tens of thousands of lines of data on everything from fuel efficiency to engine warning codes to oil pressure," he points out. "There is a lot of data available, but there is still a lot of work to be done analyzing trends in performance of individual systems to accurately predict how much useful life is left in a given unit."
United Rentals is still finding ways it can utilize its telematics data. "We know infinitely more about equipment today that we ever did," says Jacobsen. "As a safety conscious company, we have always documented maintenance events, but now we can capture the status of a unit in real-time updates. We are currently building the analytical capability to use the data to predict failures, create proactive alerts and get even more granular in calculating the useful rental life remaining for a given unit. We invested in telematics knowing that it has implications for fleet management on many levels, and that is proving to be the case."
In addition to maintenance and repairs, telematics is also capturing how the machine was used. "As we begin to monitor more pieces of information off the machine, we are also very involved in monitoring production," says Quinn. "How much dirt has that truck or loader moved? That also comes into the equation of how hard the machine worked, how productive it was, how healthy it was. It plays into that decision at the trade-in conversation."
Changing the Resale Process
The first generation of telematics-equipped machines is just hitting the resale market, so it's premature to predict the full impact telematics data may eventually have on resale value. Most manufacturers only recently began equipping the majority of their machines with standard telematics capability from the factory, and the technology continues to evolve.
"At this point, we don't have enough information to determine whether telematics data is having an impact on pricing at our auctions," says Olive. "However, the more a customer knows about a machine, the more confident they will be when they bid — and that generally translates into higher sales prices."
Any additional information on a piece of equipment can help alleviate potential concerns. "Transparency has always been a key element of business since we began," says Olive. "Our live unreserved auctions are open to the public and equipment is available on our yard for inspection ahead of the sale. We provide detailed equipment info and high-res photos on our website. We also make service records available to bidders. So we certainly encourage increased info being available."
Many customers are becoming more aware of the existence of telematics data. "We have had customers ask to see telematics data on used equipment, and I believe that will become more commonplace as telematics become more popular," says Olive.
Telematics may also have more of an impact on how machines are purchased in the future. "I don't see the increasing use of telematics having an influence on the way we sell equipment," says Olive. "However, as more information becomes available to people, it should have an impact on how they bid — and how much they are willing to pay. The more informed they are, the more confident they will be when they bid."
IronPlanet claims telematics data can help remote buyers bid more confidently online. "The increasing use of telematics is another indicator of the shift to online marketplaces for buying or selling equipment," says Berry. "Telematics is another advancement that places information in a company's hands without the need to go and inspect a piece of equipment. They can make decisions on the machine or an upcoming project based on real-time data via their phone, tablet or computer. Businesses want to spend their time focusing on the projects that drive their profits."