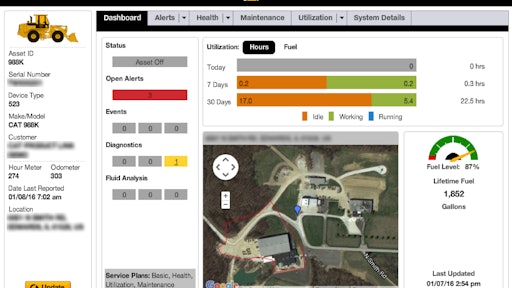 The detailed data about what's going on in the field that is delivered by telematics and digital grade controls can make the systems vastly more valuable than traditional, largely manual, field data collection. Extracting actionable intelligence from the sheer volume of that data may be the greatest administrative challenge that many contractors will ever face.
Adding the job of receiving and analyzing telematics data to current staff's responsibilities retards the systems' ability to improve most organizations' jobsite performance. To realize the potential of digital machine monitoring will require deliberate focus, clear direction, and dogged persistence.
Start by finding a telematics point person for your company.
"The minimum you want to start off with is someone who is going to champion telematics information in your organization," says Craig Cutting, system application rep for Caterpillar's Product Link telematics. "Somebody has to be responsible for receiving and looking at this data, doing some analysis and pushing key information to people in the organization who can improve your operations based on what they've learned, whether it's a maintenance supervisor, a site supervisor, or even an equipment purchaser."
Look for somebody who understands not only your company's core competencies – priority activities where your company adds maximum value to the construction process – but who also understands what motivates various equipment users.
"We identified a handful of champions," says Kerry Sudrla, equipment operations manager for Kiewit Corp. The Omaha-based construction giant is involved in hundreds of construction projects across North America and in Australia. "We've got six or eight men and woman that are technology champions spread geographically. Their charge is to address technology issues programmatically to raise the bar. They own it (technology implementation) like a business. They plan, train, execute, audit, and then adjust the process as necessary."
When Kiewit, with 2014 revenues of more than $10 billion, started trying to plumb the depths of telematics' benefits five or six years ago, the company started small.
"We knew then that technology could help us on a lot of fronts – better productivity, better maintenance, safety, compliance, environment, all those things," Sudrla told equipment managers gathered at the Association of Equipment Management Professionals' Asset Management Symposium. "Technology evolving. It has a lot to offer, but we saw that it could easily outrun our headlights if we weren't careful in how we started the technology process.
"We elected to identify and focus on just a few basics and grow from there," he adds. "And we're still in the growing and learning phase, certainly."
Kiewit's three-phase telematics attack started with learning to use hours and location information from telematics feeds in company operations. Phase 2 includes managing and using machine-health information. Sudrla says Phase 3 will implement connected worksites, where company managers will monitor site productivity and job progress with telematics and grade-control systems.
"Machine hours, if you think about it, drive everything – for us anyway," Sudrla says. "It's the denominator for all of our costs: repair costs per hour, tire and track cost per hour, technician labor cost per hour. It drives utilization data, certainly, and it drives component management decisions.
"So with the ease of getting accurate machine hours telematically, we think the payback we get is big, in time, accuracy, and even safety."
Learning to manage telematics data with just one or two data streams that help measure key equipment challenges can demonstrate proof of concept that's invaluable to an organization trying to gauge the ROI of new technology investments. The focus allows people to see how the data flows, figure out what they can practically be expected to learn from it, and how it can improve operations.
"The next small step (after selecting a champion) is to really get to know what the customer's pain points are – sitting down with them and talking about what keeps them up at night," says Caterpillar's Cutting. From many customers' lists of five to ten critical issues, Cutting can identify one or two of the highest-priority ones that telematics data will address.
"I'll show them where to get and how to read the key portions of the data, what the data means, how they can interpret the data, and then they can go about pushing it to the right people who can keep an eye on it or use it to modify behaviors to fix the issue," he says.
Every organization's issues are different, but Cutting says most Top 10 lists include three or four common ones that telematics data is uniquely suited to address. Reducing fuel used and hours put on machines while they're running at idle is probably one of the most universal.
"After idle time we're usually looking at improving preventive maintenance scheduling, productivity and managing fault codes. We want to help them realize when there is an issue going on with a machine and figure out how to fix it before something breaks down," says Cutting.
Kiewit's savings from accurate machine hours and location have helped them move on to Phase 2 of their telematics implementation plan: monitoring and improving machine health and reliability.
"A couple of market dynamics make it (using fault codes communicated by telematics) critical: 1) it can be a issue finding and retaining good technicians; and 2) today's equipment has become very complex," says Sudrla. "Together, they're a challenging mix. It can make troubleshooting very tough.
"When I started in the industry, you diagnosed problems with an excavator the same way whether it was a Caterpillar or Komatsu, Volvo or Case. The mechanical systems were the same," Sudrla adds. Proprietary control-system coding, unique diagnostic codes and special tooling required to deal with modern machines' electronic complexity has magnified the diagnostic challenge.
"With an evolving workforce, we can't be that good," says Sudrla. "We've got the whole United Nations of brands of equipment, so we rely very heavily on dealer technicians and on the onboard health system to allow us to mitigate downtime to keep us working."
Equipment dealers can be natural allies in the transition to data-driven jobsites. They have access to your data, and the best of them already have expertise in analyzing data and working with customers to solve equipment problems.
"I would much rather a distributor call me and say, 'Hey, we just saw a fault code on your machine. We've got a service truck in the area; we've got the parts on the shelf. Can we come up there around noon and work on the machine over lunch?'" says Dan Samford, a 21-year equipment-management veteran at Herzog Contracting Corp. Samford recently started an equipment-management consulting firm. "In most cases, I would have responded, 'Can you come any earlier? Let's not wait 'til noon.'"
Of course not every contractor's response to a dealer service call is as enthusiastic as Samford's, and not all dealer service departments should be equally welcome on site. But the challenge of achieving the dramatic improvements in machine cost efficiency made possible by telematics will take additional resources that not even the biggest organizations are anxious to commit.
"I can promise you that even in the best-run equipment operations there are people on vacation, people in meetings, people in review sessions that just can't respond to those telematics alerts," says John Meese, senior director for heavy equipment in Waste Management's disposal operations. "And knowing that you have a dealer partner who is an extra set of boots on the ground for you and an extra set of eyes on your data is really important.
"When you enter into an agreement or you get a machine with telematics, think honestly about your capabilities and your limitations, and decide how much involvement you want from your dealers," Meese adds. "Then communicate what you need from them: 'I got this level of alert covered – don't worry about it. If I get a high-level alert, get on the phone with this person, this person or this one, and let's get it taken care of.'
"That arrangement is key to having a successful telematics system. It's up to each of us to decide what we want from that support system."
Remember that machines monitored by telematics will start warning you of a failure the first time any of its operating conditions wanders beyond the equipment manufacturer's acceptable range. It's one of the reasons the systems transmit so much data. Waiting until those early, typically low-priority, alerts turn into red alerts is like waiting until you have a heart attack to balance your diet. 
"Customers will say, 'I just want the red alerts – the high-level alerts. I don't want to see all those codes," says Steve Pirnat, product support manager at Ohio Cat. "I don't want the information overload.
"But the problem is, if you have no one looking at those low-level codes, they develop into yellow, or medium, and red alerts," he continues, underscoring the advantage of responding to low-level warnings. "You can catch a problem ahead of time and your cost to repair – things like an oil filter or seals and bearings – is greatly reduced."
Pirnat says low-level alerts can often be initiated by operator behaviors that push a machine out of normal operating parameters. The distinction sounds like classic contractor-vs.-dealer controversy, but telematics data offers new perspective on how to deal with it.
"It's important to understand the difference between an event and a fault in a piece of equipment," says Pirnat. He defines a fault as something mechanically wrong with the machine, like a fouled injector or overheated hydraulic reservoir, and an event as an out-of-spec condition induced by the way the machine is operated, like engine overspeed or high-speed direction changes. "Are we seeing codes induced by operators? How do you want us to present that information? Because, quite honestly, I can't dispatch a technician and fix that."
Telematics can change this question from a finger-pointing session to a business-philosophy challenge. Sensors feeding the electronic controller on the machine will identify the abuse an operator can inflict on a machine, count the number of times it happens and stamp each with a time and date. A few isolated events may not be worth spending a lot of time addressing. But there's no escaping the higher costs of habitually operating a machine beyond its design limits – in fuel consumption, accelerated wear, component life and, in some cases, compromised safety. The type, frequency and severity of those events should determine whether or not contractors consider them acceptable costs of production or opportunities to improve efficiency.
Dicing and comparing the records of event codes by operator, job site, and machine type will help identify operators and site supervisors who get the necessary production without sacrificing component life and safety. And the data will indicate those who can learn from the company's best performers. Construction professionals committed to being the best in their field will figure out how to use telematics data to improve production, cost efficiency and safety.
Meeting with dealers monthly or quarterly to talk about progress using telematics data will inevitably make them better partners supporting the equipment-management end of telematics. One reasonable goal in developing that relationship should be to free up your management resources to focus on improving operations. An equipment-department champion can keep an eye on dealers supporting fleet aspects of your telematics effort. Keep the main thrust of your telematics program focused on achieving the greater profit potential in applying data to improve production.
"Ultimately we see down the road some form of connected work site – something I bet is in all of our future," says Kiewit's Sudrla. "Jobsite logistics, optimizing productivity, fleet optimization, autonomous trucks – a lot of that technology exists today."
Sudrla says combining automated graded-control systems and load-management systems like on-board scales now available on trucks, loaders, excavators and pavers can make production management accurate in near real time. Transmitted by telematics, measurements of actual work accomplished day by day offer one of the greatest production-improvement opportunities since internal combustion.
Don't underestimate the fact that the technology necessary to manage job production digitally is already in place. Using it to reshape expectations for project cost efficiency is only a matter of management innovation.