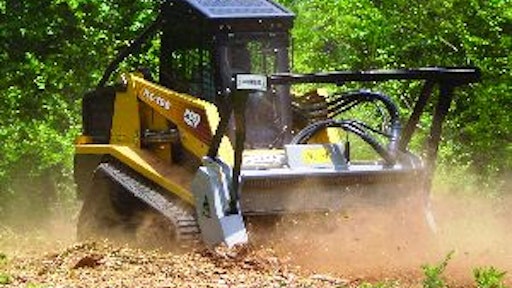 Mulching heads, brush cutters, heavy-duty mowers and other hydraulically powered attachments are very effective for converting skid steers and compact track loaders into land clearing machines. But they can also be abusive to both the equipment and its user.
When pairing a loader and attachment(s) for land clearing applications, you need to ensure the loader and attachment are not only compatible, but equipped to maximize the safety of the operator and critical machine components.
Ensure a perfect match
First, start by selecting the appropriate attachment for the task.
"Contractors should examine the specific applications where they will be working," says Justin Odegaard, Bobcat attachment product specialist. "This will help determine which attachments are best suited for their needs. For example, if the primary application is clearing brush, a rotary cutter or flail cutter would be a good choice. However, if larger trees and stumps need to be removed, then a forestry cutter attachment and stump grinder may be just what the contractor needs."
Once you understand the application and requisite attachment(s), look to your local dealer for help in making the right match between the attachment and carrier. Among important specifications are the size of the skid-steer or compact track loader, its rated operating capacity and horsepower (to match the application) and the available hydraulic flow for powering the attachment.
"Although standard-flow hydraulics will typically [work] for light or medium jobs, using an attachment with an under-powered machine will result in lower productivity," Odegaard points out. "High-flow hydraulics will provide additional horsepower to the attachment to get the job done more quickly."
Take a forestry mulcher, for example. "Our heavy-duty skid-steer forestry mulcher has a 5-ft. cutting width with the capability to handle 8-in.-diameter limbs," says Giorgio Carera, CEO, FAE USA. vNewly introduced in 2008, a variable-displacement motor gives the attachment added torque to handle the toughest jobs."
But not just any skid steer or track loader can effectively operate the attachment. "The unit requires a skid steer with at least a 90-hp rating, and high-flow hydraulics with a flow rate of 37 gpm and a pressure rating of 3,500 psi," says Carera. For contractors using an existing skid steer with a standard-flow system, FAE USA offers a cooling system mounted inside the head that maintains proper hydraulic system temperature.
The carrier must also be equipped to handle the weight of the attachment, plus anything it may be required to lift. "Heavy lifting attachments will require counterweights for better stability - for example, the use of stabilizers for removing trees," says David December, marketing manager, New Holland.
Bill Schaefer, product manager at Loftness, suggests cutting right to the chase. "My advice is to buy the biggest and most powerful loader you can when thinking about equipping the unit with a land clearing attachment," he states. "This is tough work and you don't want your productivity hindered by having an under-powered unit."
Protection inside and out
Given the potentially abusive nature of land clearing applications, several features and options are available to minimize the risk of premature component wear and tear.
"If you're trying to fit an attachment to a loader you already own - one that isn't fitted for forestry work - you will likely need to add a few options, depending on the application," says Schaefer. "One important one would be an auxiliary oil cooler to avoid overheating the hydraulic oil, ruining seals and damaging the pump and motor."
According to December, "In dusty areas, precleaners and aspirators can extend engine performance by protecting air intakes. A flow control valve will extend the life of critical hydraulic components by allowing only as much flow and pressure as required."
John Deere builds added protection right into its new D Series skid-steer and compact track loaders. "A hydraulically driven cooling fan with a reversing option will automatically reverse direction to blow out the machine engine and hydraulic cooler cores," says Gregg Zupancic. "This would otherwise need to be blown/cleaned out manually and regularly while operating in any harsh, dusty, dirty environment.
"Keeping the machine coolers free from debris will ensure optimum operating temperatures," he adds, "and provide longer overall life to engine and hydraulic components."
Options are available to protect external components, as well. "When using a skid steer for clearing land, you should protect the tires with tire liners, and heavy-duty applications may require over-the-wheel rubber or steel tracks," says December.
"If contractors are considering a compact track loader for its increased flotation and pushing power, but know they will use the machine in an environment that might lessen the life of rubber tracks, a steel track may be an option," adds Odegaard. "Bobcat offers a steel track undercarriage on its largest compact track loaders that is ideal for applications such as land clearing and forestry work."
The company also offers a specialized forestry kit. "Bobcat's forestry kit is required for use with the forestry cutter attachment," says Odegaard, "but is also a good option for contractors to have for similar applications in which machine doors, windows, lights and other components require extra protection."
Of course, protecting the operator is the first priority. "When going into a land clearing operation, the machine needs to be equipped with an impact-resistant/severe-duty door. This is typically a non-glass door," says Doug Laufenberg, product manager for attachments, John Deere. "Deere offers a Severe Duty door that incorporates a Lexan material and polycarbonate coating for scratch resistance."
Other options offered by the company include a Level II FOPS protection plate to protect the operator from falling limbs; add-on side and rear screens; cylinder and hydraulic coupler guards; and an add-on belly pan and heavy-duty rear bumper.
Attention to detail
Keeping your loader and attachments in safe, productive condition calls for vigilance.
"Know what your attachment is designed for and do not use it for anything other than the specific purpose," advises December. "If the job at hand is pushing dirt and your attachment isn't designed for pushing dirt, don't use it."
He also reminds operators to check visibility all around the machine (360°) as often as possible. "Land clearing involves uneven terrain that can creep up on you with sudden depressions," he points out.
Paying attention to details can pay dividends in the long run, Schaefer asserts. He cites a few examples.
Brush shredding operations will naturally cause airborne debris to accumulate on hot spots in the engine compartment, as well as any screened areas and radiators on the power unit. This accumulation can cause engine and hydraulic system overheating and potentially become a fire hazard.
"It is imperative that all screens and shields be opened up regularly, and the entire machine - including all radiators and oil cooler cores - be cleaned out with compressed air or a pressure washer," Schaefer emphasizes.
The same airborne debris that causes problems for these components is also a constant menace to polycarbonate windshields and side windows. "If not kept clean, the lack of visibility will surely affect your efficiency of operation," Schaefer notes. "But more importantly, it could become a serious safety factor."
Yet, constant cleaning, even with a spray cleaner, can scratch the windshield surface. Schaefer advises rinsing off the worst of the debris with water prior to wiping it away. "Some customers have reported good results removing the scratches in polycarbonate windshields with an automotive buffing wheel and a buffing compound typically sold for renewing poly headlights, airplane windshields and so forth," he adds.
Pay particular attention to debris clean-out in critical areas. "Anytime the carbide tips, knives or a shear bar on an attachment are removed for service, take special care to thoroughly clean out the mating surfaces with a scraper or, if possible, clean the area with compressed air or a pressure washer," says Schaefer. "Any debris accidentally left between the surfaces could keep bolts from properly holding these critical components in place.
"On a mulching attachment," he continues, "tree sap and debris can build up on the surface of the rotor and knives or carbide teeth, or in the gap between the rotor tube and the bearing anti-wrap device. This accumulation on the rotor may cause an imbalance that could shorten bearing life if left unchecked."