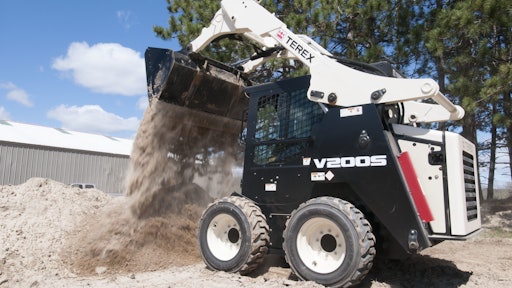 With over half of construction equipment manufactured now being sold through the rental channel, manufacturers are realizing the necessity to offer machines targeted to the needs of those customers. The result are models designed to be durable, reliable, easy to use and simple to maintain.
With that mind, Terex Construction has introduced a new line of loaders targeted to rental centers. The new GEN2 skid steers and compact track loaders (CTLs) were introduced in September with the intent to offer rental companies machines that could satisfy the end user while earning a competitive and profitable rate for rental companies. The company will also be introducing a new backhoe-loader at the Rental Show next month.
Dean Barley, vice president and general manager of Terex Construction Americas & Global Aftermarket, says the line represents a new focus for the company. "If you dial back to the years prior to 2009, before the market crashed, we were heavily focused on retail. We built machines with lots of creature comforts," he explains. "Fast forward to post 2009 and rental has become a bigger piece of the market as a whole."
He continues, "Now our largest focus is ROI. We try to get rental companies the machines they need to get the most ROI."
To achieve this goal, Terex put significant focus on gaining feedback from rental companies about what they really need. "It's pointless to give them a really great machine if they can't make a lot of money from it," Barley says. "We want to give them the right machine for the right job. Nothing more and nothing less."
Responding to the needs of the market
Terex introduced its skid steer in 2011, primarily with its distribution network in mind. Following that, the company noted an increase in rental purchase options as many contractors were still uncertain about the economy and were turning to rental as their primary means of equipment acquisition. Terex saw the writing on wall, and turned its focus toward building machines with rental companies in mind.
When a new product concept is born, Terex goes through its NPPD - New Product Process Development - which moves through five "gates" to take the concept from idea to production. The first step is to develop the concept, and in this instance, it required engineers to think outside of their usual box. The emphasis was not on bigger and better, but on how to make more money for the rental customer. Every aspect of the machine was analyzed to ensure it was developed to make the machine more profitable.
One of the important things that came out of the NPPD process with the GEN2 machines is the approach to meeting Tier 4 emissions requirements. Customer feedback indicated rental companies have some concerns about Tier 4 technology and its effects on machine maintenance. 
"Look under the hood of other Tier 4 Final machines and you'll see a lot of wires, sensors and so on. Not with our machines," Barley says. "We're giving customers a Tier 4-compliant product, but we're giving it to them without giving them too much."
Cost savings were also found in commonality of platforms on which the machines are built, and the use of common components which offer a history of simplicity and reliability.
Barley is quick to point out, however, that these are not a dumbed-down machines. "The operator is still the focus, but it's really all about the total cost of ownership. We're offering a low-cost machine with the same quality as existing products. We don't want to overbuild. It's all about uptime and value."
New Backhoe-Loader Coming Soon
Terex's new TLB840R backhoe-loader went through the same NPPD process that the skid steers and CTLs did. Configured to meet the rental market's need for a low-acquisition-cost, high-performance backhoe, the competitively priced TLB840R is designed to give rental business owners a more immediate return on investment without sacrificing performance and/or quality.
"We took a good hard look at the needs of our rental customers and configured this backhoe-loader specifically for the market," says Vice President and General Manager of Terex Construction Americas and Global Aftermarket Dean Barley. "With the growth forecast for the North American rental industry continuing to be encouraging well into 2017, we took the opportunity to poll our customers in the rental community to gain a better understanding of the market's specific needs, and what we can do as Terex to help them be more competitive. Because rental rates are driven by equipment acquisition costs and utilization, we focused on a product that would be competitively priced without sacrificing quality and features our backhoe products are known for, at a price point that drives return on investment for our customers."
With a 9,441-lbf. bucket breakout force, a loader lift capacity of 7,291 lbf. and bucket capacity of 1.0 yd3, this new Terex backhoe-loader offers high-capacity production to tackle any project a customer needs a backhoe for. Terex has designed this unit to give operators unrestricted visibility to the bucket edge, which is ideal in grading applications. The curved boom design and up to 13-ft. 5-in. loading height (with an extendable stick) of the new TLB840R offers operators excellent clearance to reach up and over obstacles, as well as the ability to load closer into trucks for greater productivity.
This rental-ready backhoe-loader comes standard with four-wheel drive, tilt steering wheel, suspension seat and selectable pattern change pilot controls. It can be ordered with either a canopy or fully enclosed cab that includes heat and A/C, as well as a choice of a standard or extendable dipperstick. All Terex TLB840R backhoe-loaders are equipped with a fully tilting hood for easy access to all service points, including the engine, oil cooler, radiator and air cleaner.