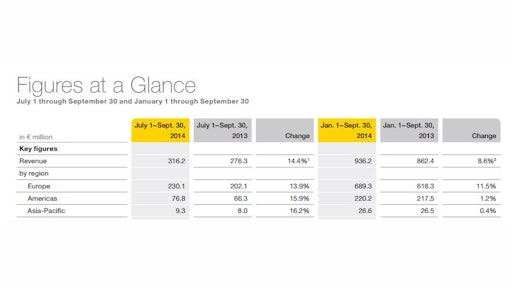 The Wacker Neuson Group revenue for the third quarter of 2014 amounted to EUR 316.2 million, an increase of 14% relative to the previous year (Q3 2013: EUR 276.3 million).
Sales of light and compact equipment were driven primarily by an upturn in business in North America and by the group's broad sales platform in Europe. Reflecting its firm commitment to continued globalization, the Wacker Neuson Group is planning its first production line for compact equipment in the U.S.
Strong profit in third quarter of 2014
Profit before interest, tax, depreciation and amortization (EBITDA) grew 34% to EUR 55.1 million, resulting in an EBITDA margin of 17.4%.
"We are focusing not only on diversifying our target markets but also on extending our international reach," said Cem Peksaglam, CEO of Wacker Neuson SE. "Our strict cost control measures and ongoing efforts to improve and streamline processes across all lines of business also bolstered our earnings performance."
Numerous new product launches in 2014 also contributed to the group's sustained market success. These include new zero-emissions battery-powered rammers and a zero-emissions compact electric wheel loader.
All regions contributed to revenue growth in the third quarter of 2014. Europe reported 14% growth, while the Americas and Asia-Pacific both saw revenue rise by 16%.
"The U.S. construction industry is clearly picking up," said Peksaglam. "Demand is also rising among industrial firms and the energy sector in North America. This had a positive impact on the light equipment segment during the third quarter, with revenue generated from equipment such as generators, heaters, light towers and compaction equipment growing 12% relative to the prior-year period. This positive trend is set to continue in North America. Markets in South America, however, are likely to remain weak."
The Americas region currently accounts for 24% of Wacker Neuson Group revenue. In line with its internationalization strategy, the group plans to relocate the production of skid steer loaders from its facility in the Austrian town of Hörsching to its site in Menomonee Falls (near Milwaukee, Wisconsin).
"In future, we will be developing and producing skid steer loaders in North America as this is the market in which we have identified the greatest sales potential. The move aligns perfectly with our strategic principle of manufacturing products 'in the region for the region'," said Peksaglam.
Record figures in 2014 to date
Revenue for the first nine months of 2014 increased 9% to EUR 936.2. This corresponds to a rise of 11% when adjusted to discount currency fluctuations.
"Once again, our compact equipment segment was a key revenue driver this year. Revenue from this segment grew 17% in the first nine months of the year, and by an impressive 25% in the third quarter," said Peksaglam. "Our strategy to expand our international footprint and diversify our target markets also boosted our performance here."
The light equipment segment, which has a very broad global footprint, reported a rise in revenue of just 0.2% (4.2% when adjusted to discount currency fluctuations). The strong euro impacted that business, although falling demand in key markets also dampened segment performance. The EBITDA margin rose to 15.8%.
Margin forecast raised
The group's performance in October indicates that the positive trends in the first nine months of 2014 are set to continue. In light of this development, the group's executive board revised its profit forecast for 2014 as a whole upwards on November 4. The group now expects EBITDA margin between 14.5% and 15.5% (previously between 13 and 14%; in 2013, it was 13.2%). The executive board confirms its previous group revenue forecast for fiscal 2014, estimated between EUR 1.25 and 1.30 billion (in 2013 it was EUR 1.16 billion).