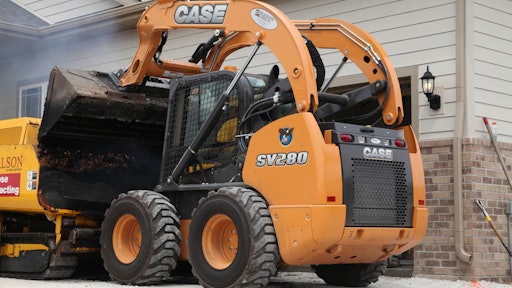 One of the most time-consuming things contractors say about completing a job is getting everything organized, loaded up and transported out to the jobsite. Not to mention that most of the work you're doing requires multiple pieces of equipment to complete any given job.
This is why many contractors choose to add a versatile piece of equipment like a skid steer to their operations. The advancement in available attachments allows contractors to complete multiple jobs on a pavement maintenance jobsite faster and easier than ever, and without the hassle of transporting several pieces of equipment. More jobs completed faster goes right to your bottom line.
"Owning a skid steer with a few key attachments can help lower total capital equipment costs and expand the capacity/capability of the machine," says Scott McElroy, SSL/CTL sales training manager, CNH Industries America LLC. "The ability to alternate between dozens of attachments also proves cost effective in minimizing the total numbers of machines that a contractor needs to bring to a jobsite, as well as the total number of machines they need to own/rent. Look at a skid steer as a platform that allows you to do work. The more attachments it has, the greater the opportunity for the machine to make a profit." 
Size Matters
Most of the jobsites you're working on are small, filled with obstacles and close to buildings. One huge advantage to bringing a skid steer to a jobsite is its compact size and maneuverability in tight places.
"Skid steer loaders can turn within their own length, making them maneuverable in applications that require a compact, agile loader," says Jason Archbold, marketing manager at Bobcat Company. "Additionally, skid-steer loaders can move around tight obstacles and in close quarters where larger earthmoving machines typically cannot go. Operators can choose from a variety of sizes, engine horsepower ratings and lift-path types, depending on the type of work they need to accomplish."
Pavement contractors have limitless utilization opportunities with these smaller loaders — main applications for skid steer loaders are tasks related to loading, picking and carrying, back dragging or material-removal jobs. There are also attachments available for milling, sweeping, patching and planing.
 "Pavement maintenance contractors should have a skid steer on their jobsites because they're compact and small enough to work in confined areas and closer to buildings," McElroy says. "Their size allows them to get closer to whatever obstacle they may need to get close to. Another benefit of their size is that they're easy to load on and off trailers and transport."
Skid steer loaders are also hard to beat for grading work, as well as for working on and around existing infrastructures because of their low ground pressure. These loaders are also extremely stable on slopes or uneven ground and have excellent traction in many types of ground conditions.
"Compared to other machines, skid-steer loaders have increased mobility and wear advantages on paved surfaces such as streets, sidewalks, trails, parking lots or driveways," Archbold says. "Depending upon the typical surfaces a contractor might be working, there are several tire options to provide for optimal performance with extended tread life."
"Skid steer loaders are extremely valuable tools for pavement contractors because of their ability to maneuver in tight places and to use a variety of attachments to increase their productivity," says Gregg Warfel, division sales manager – compact at Terex Construction Americas. "Contractors are always looking for ways to increase revenue with their current machinery inventories, and a skid steer loader coupled with a variety of attachments can totally revolutionize a pavement contractor's business."
There's an Attachment for That
From jobsite prep, to milling, paving, patching, striping and site cleanup, adding these attachments to your skid steer inventory can help you be more competitive.
"Equipment utilization for any contractor is very important," says Jeff Brown, compact construction product specialist at Caterpillar, Inc. "The versatility of the skid steer loader is what keeps this type of machine busy. It minimizes the number of dedicated machines on site, so the contractor ultimately gets more out of the skid steer investment." 
"One way pavement contractors can better manage their fleet inventories versus cost of equipment acquisition is to think outside of the box when it comes to equipment offerings and utilization," Warfel adds. "Equipment utilization is the key to a profitable bottom line. What if contractors could instead invest in a multipurpose tool, such as a skid steer loader with a dozer blade attachment, to handle dozing applications and other tasks as well? How much more utilization could be achieved per unit? How would that increase profitability?"
Manufacturers have made attachments for applications you may not have ever dreamed of being able to offer your customers, but with the purchase of a skid steer loader and the attachment, that new scope of business is now feasible. Here are some attachments that can help you at every stage of job completion:
Site-Prep:                
Buckets: Regular buckets and 4-in-1 buckets can be used as a clam, dozer or scraper
                Buckets: Regular buckets and 4-in-1 buckets can be used as a clam, dozer or scraper
Blowers: Clean and prepare wet pavement for maintenance procedures
                Brooms: Angled brooms are available for debris removal before seal coat applications
Milling:
Cold Planer: Whether you're performing continuous milling or doing the occasional repair, cold planers are extremely productive and are available in a variety of widths from 12" to 48"
Brooms: Needed for effective cleanup after milling
Paving:
                Buckets: A broad range of buckets can be chosen for the skid steer to charge the hopper
Paving Attachments: There are attachments out there that act as fully-functional pavers. These hydraulic attachments are able to accept aggregates or hot asphalt into the auger, lay it down and then screed it into place with an automatic leveling system
Rollers: A vibratory roller can be used as a very mobile compactor to hit these small patches
Concrete Pumps/Mixers: These attachments can really help contractors to expand their business from asphalt to concrete if the job requires   
Patching:
Wheel Saws: These attachments can cut out problem spots in the pavement that need to be repaired
                Asphalt Heaters: Asphalt heaters are essentially generator attachments with infrared heating elements. They can heat areas as large as 30 sq. ft. to 300°F to soften the damaged asphalt in preparation for reprocessing
Asphalt Processors: These attachments are designed to mix existing asphalt that has been heated in place by heating systems. The also screed material into place over the patch in preparation for compaction
Hot Box Attachments: Mobile asphalt recyclers attach to the skid steer for production of hot mix asphalt on demand for patching. Millings can be shoveled, dumped or mechanically loaded into a mixing drum which heats and recycles asphalt into a 300°F hot mix that's ready for laydown in minutes
                Screed Attachments:
Rollers: A vibratory roller can be used as a very mobile compactor to hit these small patches      
Striping:
                Planers: This versatile attachment can also help prepare parking lots that may have stripes that need to be removed before re-stripping can occur
Demolition:
Attachments like drop hammer, breakers, rock bucket and grapple forks easily handle debris during demolition, construction, site cleanup and recycling applications. These attachments also play a large role in handling the debris during the clean-up process, loading the material into trucks for haul away.
Sweeping/Cleanup:
        Brooms: Pick-up brooms, angle brooms and grapple buckets are a usual part of contractor's inventories, making jobsite cleanup quick and easy
 Attachments can offer construction professionals the ability to grapple, shear, hammer, break, crush, cut, compact, clean, and scoop up debris on a variety of different jobsite applications.
Decide Before You Buy
Small to mid-sized chassis skid steer models are great options for smaller paving contractors, however spec'ing a loader for maximum productivity isn't as simple as choosing the loader with the most horsepower. With so many different sizes and options of loaders available, horsepower is only one consideration. Here are a few things to consider before choosing the right size machine for your needs: 
What type of attachments will you run on the jobsite? This will help determine the auxiliary hydraulic flow level needed from their machine. If you're running planers, graders or wheel saws, you may need to consider a larger machine with more hydraulic axillary power for better performance.
What do you need to move? You need to make sure the loader you choose can handle the materials you'll be moving. The weight of the material and how quickly it needs to be moved will also influence the size of the bucket you need — the bigger the bucket, the bigger the loader.
What type of trailer do you own? Heavier pieces of equipment may require larger trailers and possibly a commercial driver's license (CDL) when transporting the machines from job site to job site. If you don't want to replace your trailers, you need to consider the weight of the machine and attachments you plan to haul.
What is the height or distance you are typically dumping or lifting material? This will help you determine the lift height needed and the appropriate sized machine for their needs. You know it's time to graduate up to a larger loader when you need the higher payload and larger bucket capacity. The wider and longer wheelbase on larger loaders offers enhanced stability in all ground conditions, as well as a smooth ride for the operator over rough terrain.
Are you typically dumping material into a truck or over the side of a wall? This may help determine if you want a radius lift path or a vertical lift path. The radius lift path raises the load in an arc which provides maximum reach at mid-range heights like dumping over walls, backfilling or unloading flatbed trucks. The vertical lift path raises the load in a straight line which is designed to provide more reach at full lift height without any decrease in performance. A loader with this lift pattern is ideal for lifting into high sided truck boxes or placing pallets loaded with heavy materials such as brick, block or sod. 
No matter what size you choose, the investment in this single piece of equipment is sure to benefit the productivity and the bottom line for years to come. Plus with new attachments being designed every year, contractors can rest assured they will continually be able to expand their business with these versatile machines.
"New attachments are coming along every day, and contractors should be on the watch for new attachments that make their job more efficient," Warfel says. "Adding attachments to perform profitable tasks is always a good financial decision, simply because attachments cost very little compared to the revenue stream they can see as a result of performing more tasks on the jobsite."