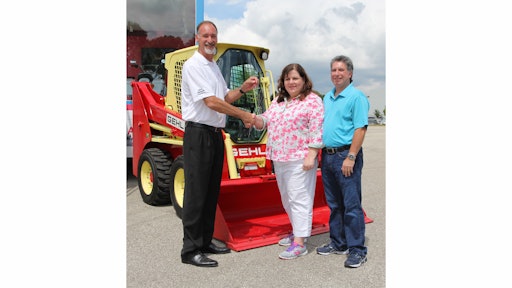 In January, 2014, Manitou Americas, Inc. announced a six-month sweepstakes for a Gehl R190 "Throwback" skid loader, custom-painted in the original color scheme from 1973, maize (yellow) and blaze (red). This nostalgic skid loader was created in honor of the 40th Anniversary of manufacturing and designing the Gehl Skid Loader, blending new technology with a historic look. Out of 35,000 entries, Beth Hodges from Indian Trail, N.C., was handed the keys to the new loader on August 11, 2014, at the Manitou Americas (MAM) headquarters, in West Bend, Wis. The presentation occurred during MAM's "I Make America" community event, held in conjunction with the Association for Equipment Manufacturers (AEM).
"It's been an exciting six months promoting the 40th anniversary of our Gehl skid loaders," said Lori Heidecker, Manitou Americas Director of Marketing. "We were thrilled to meet our sweepstakes winner, Beth Hodges, in person and give our Gehl R190 'Throwback' a new home."
Hodges and her husband traveled to Wisconsin for the first time to accept the keys to the new machine. She said, "I have sons who are 21 and 13 and I think we'll come up with a good use for it, maybe open a landscaping business. It's been a wonderful trip, and everyone has been very nice."
The 'Throwback' skid loader was delivered to the Hodges' Residence by King Machinery, the Gehl dealership in Statesville, N.C., on September 3, 2014. King Machinery will assist the Hodges family with service, parts and support.
Sweepstakes entries were taken from January 2, 2014 through June 30, 2014. One entry was allowed per person during the sweepstakes period, regardless of entry method or location. The winner of the wweepstakes was selected in a random drawing, from all eligible entries received by an independent judging organization.