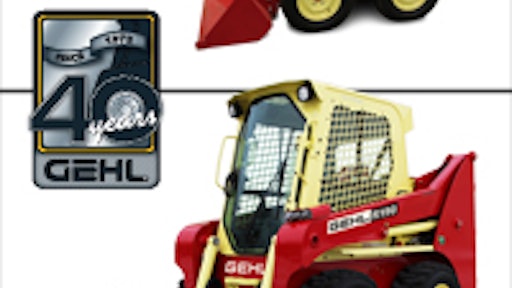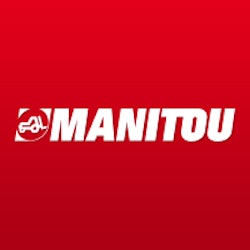 In 1973, Gehl Company (today Manitou Americas Inc.), a leading manufacturer of compact earthmoving and material handling equipment, began designing and manufacturing its own line of skid loaders. Four decades later, a complete line of seven radial-lift and three vertical-lift models, including the V400, the
world's largest skid loader, are offered under the Gehl brand name. To celebrate 40 years in the skid loader industry, Manitou Americas Inc. presents a sweepstakes for one custom-painted Gehl R190 skid loader.
The skid loader is painted in maize (yellow) and blaze (red), the same color scheme as the first line of Gehl skid loaders in 1973. "The Gehl Throwback R190 Skid Loader and sweepstakes is a celebration of our 40 years in the skid loader business," said Lori Heidecker, Manitou Americas marketing director. "With an industry full of newcomers, we are proud of our four decades of design, manufacture and customer satisfaction."
Sweepstakes entries will be taken through June 30, 2014 at all Gehl trade shows and through an online entry form. The online entry form can be
accessed at www.gehl.com/R190-sweepstakes. One entry allowed per person during the sweepstakes period, regardless of entry method or location. For
additional photos of the Throwback R190 Skid Loader, visit the Gehl Compact Equipment Facebook page - https://www.facebook.com/GehlCompactEquipment.
The winner of the Gehl Throwback R190 Skid Loader will be announced at the 2014 Wisconsin Farm Technology Days in Portage County. The winner will receive one (1) Gehl R190 Skid Loader with the following: joystick controls, 2-speed, enclosed cab with heat and air, 70-inch bucket. The approximate retail value (ARV) of the prize is $53,095.
"The R190 Skid Loader Sweepstakes is our way of showing appreciation to our loyal customers for supporting the Gehl skid loader for over 40 years," said Dan Miller, Manitou Americas, Inc. CEO. "Good luck to all participants, as this throwback unit is one-of-a-kind – blending our
new design and technology with our long history in the skid loader business."