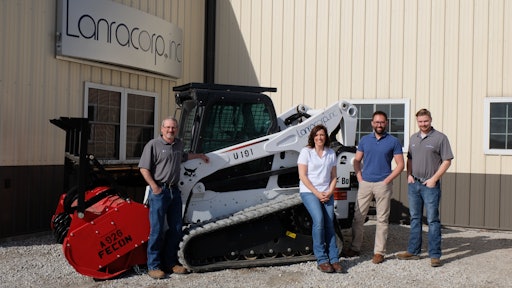 Lanracorp, Inc., Brownstown, IL, specializes in various types of land clearing operations, including right-of-way, trimming, full reclaiming and grounds management/maintenance operations. Its fleet includes Bobcat compact track loaders equipped with Fecon or Bobcat mulching heads, a Jarraff side trimmer, as well as 100-hp tractors equipped with Bull Hog attachments for clearing sites with minimal trees.
Decisions on what equipment to use for a particular project are made as part of the pre-bid process. "The planning stage is when we try to do that," says Brent Hoerig, operations manager. "We try not to go to a job and realize we need something different."
That said, Lanracorp relies heavily on its Bobcats and mulching heads for most projects. "The track machines are about the only thing that can get through the terrain, and they're bigger and have more horsepower," says Hoerig.
Lanracorp began using compact track loaders four or five years ago. It started with Bobcat T320s but moved up quickly in size as it became more familiar with the machines and how they fit into its operations. Today, the fleet consists of Bobcat T770s or T870s spec'd with a forestry package plus a winch on the back.
The winch has proven to be an essential option. "If you get stuck in the middle of nowhere and you can't get a truck or [other equipment] down there, that is strong enough to pull you out," says Hoerig. "It definitely works great."
Attachment versatility is a major benefit of these machines. In addition to the mulching heads, Lanracorp equips the loaders with brush mower, tree shear, bucket, fork, tiller and other attachments as needed for a project.
Yet, while they are used for a variety of tasks, according to Hoerig, where the compact track loaders really shine is on sites populated by trees too small and numerous to remove efficiently by hand. "You can do it using a Bobcat with a [mulching] attachment and get so much more work done, and faster, than cutting them down by hand," he points out. "And it's so much safer because you don't put yourself at risk. Every single day is an example of how good they are for what we do."
Ease of transport is another benefit of the smaller machines. "A lot of jobs we do, we're not necessarily clearing non-stop the entire way," Hoerig notes. Equipment often must be moved from one area of a site to another. The compact track loaders are light enough to be pulled by a pickup and gooseneck trailer. "We can get our spot done, load up and use the truck to transport them to the next spot, so it's saving us a lot of time being able to do that."
The loaders can be easily transported back and forth for service, as well. "The only way our Jarraff — our extremely large side trimmer — can be moved is with a semi. If we have to service that, we have to pay a service tech to go out [to the site] and somehow fix it there or load it up [on a semi] and take it somewhere," says Hoerig. "To be mobile with the Bobcats saves us time and it saves us money. It keeps it simple. It keeps everything on one rig and one truck."
Companies in this article