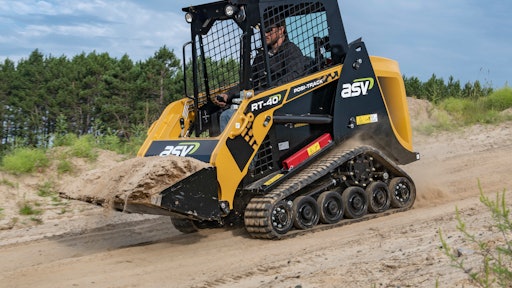 By Buck Storlie, ASV Holdings Inc. product line manager
There's no question that compact track loaders are one of a jobsite's most versatile tools. The right selection of attachments is one aspect that makes the possible applications nearly endless. But the size of the machine can be another gateway to new business for rental centers.
Many rental houses offer primarily mid-size compact track loaders, but there are big benefits to rounding out a fleet with the industry's smallest sit-in track loaders. The equipment opens new market opportunities and improves utilization. It also provides a solution for the trend away from walk-behind and stand-on loaders toward safer equipment that can still deliver high productivity. This type of equipment allows rental centers to better train customers and improve safety. Plus, not having any small sit-in compact track loaders in the fleet could mean business lost to a competitor down the road.
Improve Equipment Utilization
The size of these small sit-in compact track loaders helps them fit into the varying needs of a wide customer base. The resulting high utilization makes them extremely valuable to rental businesses. Walk-behind and stand-on loaders are popular for similar reasons, but are flawed with safety, comfort and productivity limitations. Rental centers can offer small sit-in compact track loaders as a similarly priced alternative.
The smallest sit-in compact track loaders are only about 4 ft. wide, giving them the flexibility to get into tight areas that would be difficult to access with larger models. Their size and low weights of about 3,600 pounds or less make them generally easy to transport with a 1/2-ton pickup truck and standard trailer. The sit-in loaders can also feature speeds almost two times faster than walk-behind or stand-on versions and rated operating capacities as much as 931 pounds. This means getting around the jobsite or from site to site more quickly while hauling more material.
Homeowners with a lot of land or DIYers working on backyard projects don't necessarily need a huge machine. Rental businesses can offer a small compact track loader as an economical choice that is faster than doing the work manually and safer than using a walk-behind or stand-on loader. This could include stump removal and backyard landscaping projects such as installing a new garden, reshaping, or installing a retaining wall.
As contractors know, new housing developments are often built with structures very close together, providing little leeway for moving equipment between houses and into backyards. Smaller equipment can often fit through those tight spaces and can mean the difference between driving through the fence gate and removing a portion of the fence to accommodate the machine.
These small machines are also useful for finishing work, such as trenching for wiring and piping. Contractors can take advantage of equipment heights as low as 6 ft. to work below jacked up houses for adding additions.
Small sit-in compact track loaders excel at clearing snow in tight areas such as alleyways, small parking lots, driveways or sidewalks. The loaders not only fit in these areas, they provide more maneuverability, speeding up the job and posing less risk of property damage. In addition, some manufacturers offer compact track loaders with excellent flotation on snow, ice and slush, providing much better performance than most other tracks on the market. Rental customers will be thankful, as well, if the equipment has a heated cab.
Look for small sit-in compact track loaders with low ground pressures for minimized turf damage. Some manufacturers offer unique undercarriages that allow lower pressures than anything else on the market. Because they have a shorter track base, walk-behind and stand-on loaders generally have 25% higher ground pressure, usually starting at 4 psi compared to 3.1 from some small sit-in compact track loaders. That means less risk of a torn up lawn and better flotation on soft surfaces and mud when operating a small sit-in compact track loader.
Provide Safer, Easy-to-Use Equipment
Rental houses know their biggest risk comes from inexperienced customers operating equipment, so there are significant benefits to machinery that is safer and easy to use.
One tradeoff for that open-air, no-cab feel found in walk-behind and stand-on loaders is operator safety. Such equipment, when used improperly, may be prone to tipping, meaning a higher risk of an operator being thrown off or injured by the machinery during a rollover. The operator is also exposed with no protection on any side from debris, branches or other obstacles. Some of the smallest sit-in compact track loaders have ROPS and FOPS rated cabs, allowing for excellent protection from rollovers or falling objects.
Another benefit of small sit-in compact track loaders for rental centers is the equipment's usability. The size of the machines can make them less intimidating to new operators such as homeowners, and they are easier to operate and learn for the same reason. This is especially true for equipment with standard joystick controls rather than dual-lever foot or H-Pattern controls. For an experienced operator, these features allow them to be more productive. In addition, some of these compact track loaders feature 360 degree visibility so it's easy to see in all directions.
Many of the same features that make a compact track loader safer than a walk-behind or stand-on loader also mean more comfort. Sitting on a padded seat means less fatigue on a long work day, and a pressurized cab outfitted with HVAC and a radio improves the overall experience. There's also the comfort of familiarity. Walk-behind and stand-on loaders often have different control systems from manufacturer to manufacturer, while a small sit-in compact track loader has controls familiar to anyone who's operated a larger unit.
The undercarriage can also contribute to operator comfort. Walk-behind and stand-on loaders generally have little to no suspension, meaning every bump is transferred to the operator and the machine. Certain small compact track loaders feature independent torsion axles and a flexible track that contribute to more comfort and less wear on the machine, as well as less material loss from the bucket caused by bumps.
Save on Maintenance
Ease of service can mean a faster ROI and lower total cost of ownership. Many small sit-in compact track loaders are easier to service than their larger counterparts thanks to ground-level access.
Rental centers know how common compact track loader derailments can occur. It often means driving to the customer's site and spending half the day putting the track back on, translating to downtime for the customer and time spent that rental center personnel could have used on other projects. Some small sit-in compact track loaders are virtually derailment-proof. These machines include an undercarriage with extra track guiding and a flexible high-strength Polycord-embedded track for more ground contact, almost eliminating the possibility of derailment.
When track change-out is necessary, the size of the loader can make it simple to change a track with just one person. This is especially true if the equipment features an all-rubber track, which is lighter than steel-embedded versions. General service items are close to ground level, speeding up the process, and can be serviced with normal-size tools.
Some models require no exhaust after treatment, saving the time that would need to be spent maintaining a larger model with the requirement. For even easier maintenance, look for models with a large rear-tilting hood providing easy access to all maintenance points, including filters, oil and fuel tanks and reservoirs, hydraulic and water separator drains, and the battery. Easy loader valve access is another plus. Another feature to watch for is standard metal-face seals on the front and back to ensure the drive hubs don't require maintenance for the life of the machine.
Round Out Your Fleet
Many jobs call for a mid-sized compact track loader or skid steer, but having smaller sit-in models on hand can mean big benefits for a rental house's business and customers. From new markets and high versatility to excellent rentability and uptime, the industry's smallest compact track loaders may bring in customers rental centers didn't know they were missing.