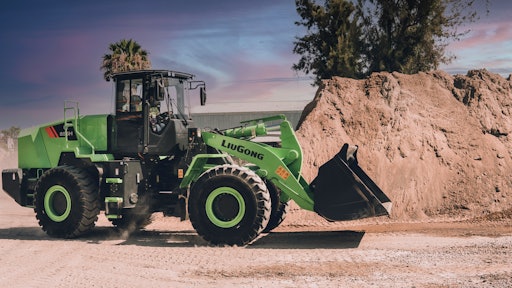 LiuGong

LiuGong showcased its newest battery electric wheel loader for the North American market at CONEXPO. The LiuGong 856H-E MAX Wheel Loader is part of the company's range of electric construction vehicles worldwide. At CONEXPO, LiuGong will highlight its battery electric vehicles and guide dealers through the process of going electric.
"The industry is talking about battery electric vehicles at a greater volume than in years past, particularly going into CONEXPO," said Andrew Ryan, president, LiuGong North America.
"LiuGong is the world's largest manufacturer of wheel loaders, so it makes sense for our company to lead the industry in the adoption and application of battery technology."
Applications and Strengths
The 856H-E MAX is reinforced by an IP67 rated wiring harness and waterproof integrated battery package. This machine is designed for worksites where traditional combustion engines aren't allowed, or in fixed site operations where investments in charging infrastructure make sense.
During use, the 856H-E MAX consumes zero fuel, produces zero emissions and creates lower noise and vibrations.
Specifications and Details
The 856H-E MAX features intelligent controls and a human-centric design to support the operator experience. This includes load-sensing hydraulics, an EAT700 transmission with electro-proportional valve for shifting and independent control of the dual-motor drive for hydraulic lift.
The LiuGong Intelligent Auto Digging System automatically carries out repetitive digging cycles. Its electric control box also improves transmission. The vehicle's cab has full ROPS protection and reduces dust and noise contamination.
Powering the 856H-E MAX is a 432 kWh large capacity lithium-ion phosphate battery from battery manufacturer CATL. The machine is capable of 10 hours of working time for light applications and eight hours for heavy applications. It also features an Intelligent Battery Management System that can be fast charged in 90 minutes (1.5 hours).
856H-E MAX Specs:
Battery Type: LFP
Rated Storage Energy: 432 kWh
Operating Weight: 46,297-lbs.
Rated Load Capacity: 12,786.8-lbs.
Standard Bucket Size: 4.6 yd3
Standard Breakout Force: 36,419-bf.
Standard Dump Clearance: 9-ft, 9-in.
Request More Information
Fill out the form below to request more information about
LiuGong Displays 856H-E MAX Wheel Loader at CONEXPO